Preaching is a central way the living God speaks to his people. In churches today, however, not enough preaching is expositional in nature. Worldwide, 75 percent of Christians are being taught by preachers with little or no training.
Jesús is 37-year-old Presbyterian pastor in La Ceiba, Honduras, a city with a population of about 120,000.
Seventy-five percent are Roman Catholic, and most "evangelicals" have succumbed to prosperity teaching or false doctrine. His church has 50 faithful members.
Jesús tirelessly shepherds his flock, but like 85 percent of pastors in Latin America, Africa, and Asia, he has no seminary training
(and just six years of primary school). He is bi-vocational, pastoring the church and running an ice cream business to pay the bills and provide for his wife and two kids.
In the cool Honduran mornings, Jesús counsels families and visits the sick. In the evenings, he leads small groups. To prepare to preach on Sundays, he reads his Bible, consults the four books he owns, and takes Saturday walks to the library to read and watch videos on TGC's Spanish website. He recently e-mailed us (in Spanish): "I am in great need of training to rightly handle the Word of God in my preaching. Can you help?"
Expository Preaching Project
For Jesús and millions of pastors like him we are inviting you to join our Expository Preaching Project (details below). We believe The Gospel Coalition is uniquely positioned to carry out this project for three reasons:
(1) The Lord has assembled gifted expository preachers to lead the project, including Don Carson, Tim Keller, Bryan Chapell, Ed Copeland, Andy Davis, Dan Doriani, David Helm, Julius Kim, Sugel Michelen, Sandy Willson, and George Robertson.
(2) TGC's web presence in English and Spanish is a trusted resource for global pastors, with 13.2 percent of our total traffic coming from Latin America, Asia, and Africa.
(3) Our International Outreach (TGC IO) team has forged a global network to produce print translations in 40 languages, with 600,000 free books and Bibles distributed since 2005.
How to Give
Give online: Click here and select "Expository Preaching" from the designation list.
By check: Make checks out to "The Gospel Coalition" with "Expository Preaching" in the subject line and send to: The Gospel Coalition, Office of Advancement, P.O. Box 583542, Minneapolis, Minnesota 55458-3542.
Questions: If you have questions about this project or ways to give, including stock and business interests, contact director of advancement Dan Olson at [email protected] or 612-460-5402 in our Minneapolis office.
---
EXPOSITORY PREACHING PROJECT DETAILS
Our prayer is that God would use this Expository Preaching Project to equip pastors like Jesús to further gospel-centered renewal in North America, Latin America, and around the world. Join us in training preachers like Jesús as we together declare God's powerful Word to the nations.
PROJECT COSTS:
Part I: $100,000 ($40K project management; $30K filming and editing; $15K web platform; $15K travel and miscellaneous)
Part II: $50,000 ($22.5K translation; $20K printing; $7.5K project management)
Project Part I
Part I includes a video series on expository preaching in both English and Spanish that will be finalized and produced in 2016.
The project is entering its second phase of planning. Among the 23 topics to be included are sessions such as: "The Biblical Purpose and Power of Preaching," "Why Expository Preaching," "Connecting Text and Culture," "Fire from Heaven: The Holy Spirit and Expository Preaching," and "How Does God Equip the Preacher?"
Planning Committee: TGC Council members Don Carson, Tim Keller, Bryan Chapell, Ed Copeland, Andy Davis, Dan Doriani, David Helm, Julius Kim, Sugel Michelen, Sandy Willson, George Robertson.
Estimated Costs: $40K project management; $30K filming and editing; $15K web platform; $15K travel & miscellaneous.
Project Part II
Part II includes translating a global edition of David Helm's Expositional Preaching: How We Speak God's Word Today (Crossway, 2014), edited for cross-cultural use. This resource will be translated into five languages, with 30,000 copies printed. When complete, copies will be available for free distribution by you through TGC IO's Packing Hope.
Planning Lead: Bill Walsh, director of International Outreach
​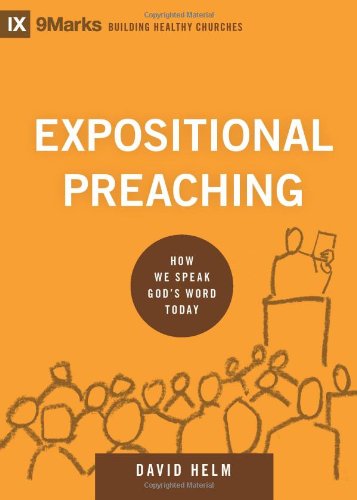 Title(s): Expositional Preaching (Global Edition) plus Spanish translations of two other books
Languages: Burmese, Vietnamese, Russian, Ukrainian
Author: David Helm
Copies: 30,000 total
Estimated Costs: $25K translation; $22.5K printing; $7.5K administrative
"David Helm has written the most helpful, concise, and useful book on expository preaching I have ever read."
— Matt Chandler, Lead Pastor, The Village Church (Dallas, Texas)
"If I were teaching a preaching class and could assign the students only one book, this might be the one. It's a rare find that both introduces a topic to the novice and instructs the experienced."
— Mark Dever, Senior Pastor, Capitol Hill Baptist Church (Washington, D.C.)
"Helm has given us a finely wrought and utterly compelling brief on what needs to be understood and done in order to faithfully preach the Word. This is an important book."
— R. Kent Hughes, Senior Pastor Emeritus, College Church (Wheaton, Illinois)