I love to use music to tell the stories of Scripture: each song parachuting into a different biblical scene, using all the tools in a songwriter's belt to tell God's story as creatively and faithfully as I can. But as I release a handful of singles and a new EP over the next few months, I'm parachuting into a more personal space. This time, I'm dropping into my living room and kitchen, exploring the way God's story has spoken into my relationship with my kids, my husband, even my phone.
"The Wonder" is the first release in this collection of personal songs. It chronicles my journey as a mom: the joys, the struggles, and the way this season has caused me to savor and run to the gospel. You can listen to the song below. It's also available on Apple Music and Spotify.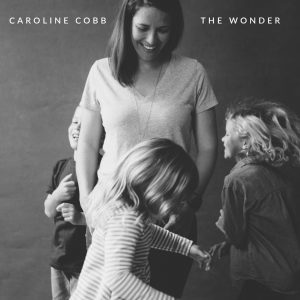 Being a mom of three young kids has felt a bit like being thrown into a pressure-cooker. The heat and stress of my everyday caused sin patterns that had probably always been there to bubble up to the surface again and again. I struggled with losing my temper, with my words coming out in anger. And then I struggled with the subsequent shame, frustrated with myself that I'd fallen short yet again and failed my kids, who I loved. Next, I would pull myself up by my bootstraps, determined to try harder, to do better. But inevitably, in a high-stress moment, my sin would spill out again.
In this season of failing and falling, God in his kindness helped me rediscover the beauty of the gospel. I had believed it all along, but I was functioning in motherhood as if it were not true. As I came to the end of myself and to the place of acknowledging my utter spiritual poverty, I found that God was carrying me to the foot of the cross. He pointed me back to the good news I could never achieve or deserve. It was as if he took my face tenderly in his hands, looked me in the eye with love and said, "Don't you see? This is why I sent my Son."
As a mom, I still fail every day, and more often than I'd like to admit. But like the snakebitten Israelites in Numbers 21, God invites me not to stare at my own "snake bites" and sin, but to behold the brazen serpent lifted high on my behalf. In the gospel, he invites me to run to the wonder of the cross. Rather than wallowing in my shame or striving to make the grade as a mom, I can ask my kids for forgiveness and then point them not to a perfect mom, but to a perfect Savior. And I do it again and again, because we never outgrow the gospel.
Rather than wallowing in my shame or striving to make the grade as a mom, I can ask my kids for forgiveness and then point them not to a perfect mom, but to a perfect Savior.
So, as Mother's Day approaches, let's cast aside both self-condemnation and self-reliance and live instead in the reality of the good news. Let's run more quickly to the cross when we fail our kids and get things wrong. Let's boast more often in Jesus and the power of the Spirit when we get things right. And may our love for our kids point them to the deeper, wider, longer love bestowed on those who belong to the family of God.    
Oh, what a wonder!
---
---
'The Wonder' Lyrics
Little fingers they run / Through my hair / A tiny head on my shoulder / When you reach for my hand / Just to know I'm there / The things I'll miss when you're older
But in the rush of the day / How I turn away / How I forget the wonder / I forget the grace / And the giving of thanks / For the weight of the love that I'm under
Oh the wonder. . .
When my temper is short / And the day is long / And my words come out in anger / And I tell you I'm sorry / But the moment's gone / I'm so heavy with my failure / But let me tell you darlin' / Where your mama she is running / To the cross (oh what a wonder!) / All my love, just a shadow / Pointing on to the hallowed / To what's deeper, wider, longer
Oh, oh, oh the wonder. . .
When my hair is gray, and my words get slow / And my days are almost over / And I whisper to you, "how I love you so" / I hope you never had to wonder / And you know, my child / You've never been only mine / Though I wish I could hold you longer / Though I leave you, He is near / He will wipe away your tears / You're so loved by God the Father
Oh, oh the wonder. . .