I've worked as a counselor with high school seniors most of my adult life, and every year I watch them advance to college. Some students are well prepared for the challenges of college. They know what their passions are, and they're committed to serving others.
Others flounder in college in various ways. They end up hijacked by stress, escaping through video games or worse. Desperate for approval, they settle for shallow friendships. They are riddled by perfectionism and anxiety as they push harder and harder to make the grades that define their self-worth.
Why do some students soar while others get stuck?
We must intentionally teach our children the skills and character traits they'll need to thrive in college and beyond. We must teach them about their need for three things in particular: passion, humility, and trust in a sovereign God.
1. Passion
Many students are grade-obsessed, hoping to secure a glowing future. Those who launch well, however, are motivated by zeal. Their goals aren't their parents' dreams, nor the result of societal trends. God crafts each person in unique ways with particular qualities. Our hope is to help adolescents uncover their God-given passions and use them in ways that bless others and advance the kingdom.
Sadly, some students don't see this type of passion modeled by adults, and their dreams are lost on lesser pursuits. They're driven by a desire for good grades, and that desire is later replaced by the goal of a larger paycheck or a nicer home. These things won't ultimately satisfy because we're meant for something more: the invigoration of working out of our God-given passions with an eye to eternal consequences.
As educators, parents, and mentors we must ask questions and provide opportunities for kids to develop their interests. Creativity and service are gateways to discovering passion. For those exiting high school, an intentional gap year or internship might be a better initial path than college. A directed passion provides confidence, motivation, and a healthy sense of accomplishment.
2. Humility
I tell my students, "Humility is the essential quality of a thriving human." The world tells students, "You're special. You can be the greatest." This message is supposed to boost their self-esteem, but it often gets warped into a challege to prove their worth. To truly be special, they need to be the best player on the best team, get the best grades to get into the best university, and be the most popular with the most friends.
Jesus spoke a counter-message. According to him, the one who serves is the greatest. Our children will have profound weaknesses, failures, and limitations. But while those limitations might prevent them from getting into Harvard or competing in the Olympics, they can still serve others. Teaching our children humility helps them value their ability to serve more than their ability to get into the limelight. That way, whether they wind up in the limelight or out of it, they'll be centered on their value in Christ alone.
3. Trust
Theology matters. It's imperative in our homes to live out the fundamental belief that God is in control, especially because adolescents are paralyzed by fear of the future. Believe it or not, when I ask my 10th-grade students, "Raise your hand if you think your entire future depends on your grades," the majority of hands shoot up.
Parents believe this lie, too. We look to class loads, SAT scores, and report cards for our security, rather than trusting God's plan for our kids. We've confused our role with God's role; he determines our children's course.
Parents, let's examine the pressure we project. When teens see us panicking over their shortcomings, lack of organization, or weakness in a subject as if their entire future is at risk, our stress becomes their stress. But when we trust God with their future, there's a good chance they will too.
Get a FREE eBook to strengthen your family discipleship!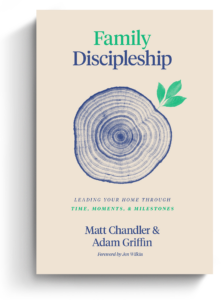 The back-to-school season is stressful for moms and dads. New rhythms of school, sports, and other extracurricular activities can quickly fill up a family's already busy calendar. Where do busy parents look for resources on discipling their family well? Aside from prioritizing church, what else can Christian parents do to instill healthy spiritual habits in their household?
Matt Chandler and Adam Griffin cover these questions and more in Family Discipleship: Leading Your Home through Time, Moments, and Milestones. And we're excited to offer this book to you for FREE as an eBook today.
Click on the link below to get instant access to your FREE Family Discipleship eBook now!