As the end of the year approaches, we eagerly look forward to 2011 and make resolutions. The challenges of 2010 fade as we dream of new possibilities next year. But it's also worthwhile to reflect on what's changed in the last 12 months. The discipline allows us to transcend the constant, daily internet noise and take stock. So I've compiled a list of the top ten theology and church stories from 2010 in the United States. This list includes many of the most-read and most-discussed stories on TGC's site. But I've also applied subjective analysis of stories that have shaped evangelical life, thought, and mission. Before the calendar turns, let's take one last look back on 2010.
10.) Crystal Cathedral Files for Bankruptcy
The famed Southern California church made headlines in recent years due to a messy transition between founding pastor Robert Schuller, his son, and then his daughter. Still, when church leaders announced in October that they had incurred $55 million in debt, media couldn't resist pointing out the obvious failure of the church's hallmark "Possibility Thinking." Lest you be tempted to rejoice in Schuller's downfall, consider that his ministry has already spawned a thousand Crystal Cathedrals small and large across the United States and around the world.
9.) BioLogos Stirs Debate Over Evolution
National Institutes of Health director Francis Collins launched BioLogos in late 2007 with money from the John Templeton Foundation. This year BioLogos reignited the evolution debate among Christians in earnest. The controversy began last spring. Venerable Old Testament scholar Bruce Waltke resigned from Reformed Theological Seminary-Orlando after recording a video for BioLogos in which he said Christianity risked becoming a cult if the "data is overwhelmingly in favor of evolution." Then BioLogos picked a fight with Al Mohler, a young earth creationist. Neither side appears willing to retreat.
8.) Philip Ryken Becomes President of Wheaton College
Some stories flare hot for a day, a week, or even a month. But other developments bear the potential to simmer for decades. That's the sort of influence beloved university presidents can wield with the support of their board of trustees. Ryken served his alma mater on its board before taking over as president in 2010. Students sported "I'm Likin' Ryken" T-shirts to celebrate their president's return to Wheaton. Ryken's career change also left vacant the senior pastorate at one of the most prominent evangelical churches in the country, Tenth Presbyterian in Philadelphia.
7.) Liberty Removes Ergun Caner as Seminary President
Ergun Caner has developed a reputation as an outspoken, provocative educator, apologist, and speaker. He has captured attention with dramatic stories of his childhood and conversion. But it turns out those stories are filled with contradictions. Liberty University investigated the seminary president and demoted him this summer. But they retained him as a theology professor, leaving one major question unanswered: Was Dr. Caner raised in Turkey as a Muslim terrorist trained in jihad?
6.) Matt Chandler Fights Malignant Brain Tumor
Chandler suffered a seizure on Thanksgiving 2009 and learned his grave diagnosis later that year. His prognosis improved a great deal in 2010. He spoke candidly about his fears and doubts, but he consistently expressed faith and hope in the God who is sovereign over all things. Christians surrounded him with prayer, as at the Together for the Gospel conference in April. His model of suffering caught the attention of several major media outlets, giving Chandler an opportunity to proclaim the gospel of Jesus Christ and declare his dependence on God.
5.) Glenn Beck Grabs the Religious Right's Megaphone
With so many leaders of the Religious Right dying or retiring in recent years, media have speculated that the movement is finished. As with every other mistaken projection of this durable coalition's demise, the analysis proved to be wishful thinking. But no one could have predicted before last year that Glenn Beck, a Mormon, would grab the leadership mantle. His brash defense of God and country led many evangelicals to counsel that we preach Christ and him crucified, not political agendas, while others overlooked heretical Mormon doctrine for the sake of social co-belligerence.
4.) David Platt Pricks the Evangelical Conscience with 'Radical'
Every year a few books aimed at evangelicals become bestsellers. But that doesn't mean they shape our agenda. David Platt's Radical, however, has propelled at least two major issues into the forefront of conversation and debate. First, Platt challenges evangelicals to consider whether they have been spiritually compromised by pursuing the American dream. Second, Platt's book has helped expose a divide among Reformed evangelicals about the church's obligation to alleviate suffering in the world. Even if Platt's book sales eventually fade, these issues will always be with us.
3.) John Piper Takes Leave of Absence
Bethlehem Baptist Church has dealt with Piper's writing sabbaticals and intense travel and speaking schedule for many years. But this year the Minneapolis congregation got an extended look at life after their famed preacher is gone. Piper stepped away from preaching and writing for much of 2010 while tending to personal issues. But that didn't stop him for making headlines. He published another book, traveled to Cape Town to preach for Lausanne, and shocked many by inviting Rick Warren to speak at the Desiring God national conference. His leave also provoked ongoing discussion about the strain of public ministry.
2.) Wright Clarifies Justification Views in ETS Debate
More than a month has passed since the much-anticipated discussion over justification at the Evangelical Theological Society annual meeting featuring N. T. Wright. Even now, many don't know what to make of the showdown. Tom Schreiner and Frank Thielman offered many words of thanks to Wright, even while critiquing his views, while the former bishop of Durham sharply criticized his detractors. When it seemed to some that Wright had changed his view on one of the most controversial points—whether we're justified "on the basis" of our works—he and others explained that the scholar merely wanted to clarify that he does not mean what his critics allege. So maybe the debate has progressed. Maybe not. Either way, this face-to-face dialogue was long overdue, and we may need 2011 for the full effects to become known.
1.) Francis Chan Steps Down from Cornerstone
Chan's conference addresses and bestselling books have made him increasingly influential among evangelicals. Young believers , in particular,resonate strongly with his earnest style and sensitive conscience. He doesn't come across as telling you what to do, but his example compels many to follow. These followers, however, remain unsure where exactly he's headed next after stepping down as pastor of Cornerstone Church in Simi Valley, California, and traveling around Asia to escape the spotlight. Some pastors have publicly wondered about the wisdom of his decision, but Chan continues to pursue a vision of organic church growth in Los Angeles and beyond.
Get a FREE eBook to strengthen your family discipleship!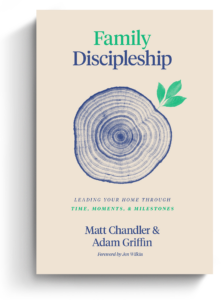 The back-to-school season is stressful for moms and dads. New rhythms of school, sports, and other extracurricular activities can quickly fill up a family's already busy calendar. Where do busy parents look for resources on discipling their family well? Aside from prioritizing church, what else can Christian parents do to instill healthy spiritual habits in their household?
Matt Chandler and Adam Griffin cover these questions and more in Family Discipleship: Leading Your Home through Time, Moments, and Milestones. And we're excited to offer this book to you for FREE as an eBook today.
Click on the link below to get instant access to your FREE Family Discipleship eBook now!