Airline pilots are exposed to many challenges: time zone and body clock flips, noisy hotels, and the availability of food at all hours of the day, to name a few. Another challenge facing pilots is illness, and that's what I faced after a recent flight to Germany.
Outside the U.S., I must abide by the laws of the country in which I find myself. Upon my arrival in Germany, I followed normal protocols, rested, took a rapid COVID test (required to eat in a restaurant), and met a colleague for dinner. After dinner, fatigue set in, and I went to bed. When I woke up, I felt achy and was unable to clear my ears (a necessity for flying). I called my company about the illness and was told that I'd been contact-traced from a previous flight. German law required a seven-day quarantine until I recovered.
Thankfully, I recovered quickly and was able to spend the required isolation time reading, writing, and enjoying time with the Lord. On day seven, my normal Bible reading schedule brought me to Psalm 23. It can be hard to believe the Lord is caring for us when we experience suffering and trials. But the psalm encouraged me to see how God had already used quarantine to shepherd my soul. Whatever challenges you're facing, I know he'll meet you, too.
'The LORD Is My Shepherd; I Shall Not Want.'
Wanting is something I've rarely experienced in a Western context. Whatever I need, I can buy. But in quarantine on a foreign continent after contracting COVID, I looked at "wanting" a little differently. Yes, I had room service at my fingertips. But the six-hour time difference between my home in the States and my hotel in Germany meant the hotel was closed when I wanted to eat dinner. Thankfully, the Lord, my shepherd, provided through the kindness of colleagues who brought me food and water. Physically, I wanted for nothing because fellow pilots asked, "What do you need?"
'He Makes Me Lie Down in Green Pastures.'
The Lord knows what I need before I do. Before Christmas, our family lost a dear friend, and my wife flew to Seattle to help the deceased's daughter. When Christmas and New Year's came, more stress came. Family issues led my wife and me to seek the Lord through prayer. But the circumstances left me stressed and worn out. Through my quarantine, the Lord made me lie down and rest. COVID symptoms manifested, but they passed quickly, and this allowed me to rest in God's presence. After I felt better, I read, wrote, communicated with friends and colleagues, and enjoyed the solitude.
'He Leads Me Beside Still Waters. He Restores My Soul.'
Shepherds lead their sheep to calm waters to drink, but the sheep need to drink the water that the shepherd leads them to. Likewise, simply having a Bible is not enough for a Christ-follower to have their soul restored—he or she must also reflect on and apply the Scriptures. I had nothing but time in Germany, so I dove deep into God's still waters to reflect on different areas in my life.
In my quarantine, the Lord made me lie down and rest.
For instance, from Matthew 20 I reflected on when Jesus gave me sight through salvation. Salvation opens my eyes to serve him better—specifically, I was convicted about caring for, loving, and serving my wife. When meditating on Matthew 21:5, I saw a cross-reference to Isaiah 62:12 where the prophet says, "you shall be called Sought Out." Like he sought the nation of Israel, God also sought me out for salvation through the sacrifice of Jesus. As I read Psalm 23, I was reminded of these moments earlier in the quarantine week when God's Word had been a cool glass of water to satisfy my parched soul.
'He Leads Me in Paths of Righteousness for His Name's Sake.'
The Lord placed me in quarantine. He gave me the gift of time to reflect deeply on my mental and emotional life. As I rested and read on that Sunday, Psalm 23 helped me to assess my walk with the Lord, and it encouraged me to trust his will and provision.
I wouldn't have chosen a seven-day stop, but nevertheless God provided for me. In quarantine, the Lord was my shepherd, and I did not lack. I was cared for by friends. The Lord made me rest when I needed it. And I received the gift of time to meditate, reflect upon, and apply his Word. Our God doesn't always provide for us in the ways we expect, but the physical, mental, emotional, and spiritual provision I received during my quarantine solitude was a great reminder that we are needy little sheep, and he is the Good Shepherd.
Get a FREE eBook to strengthen your family discipleship!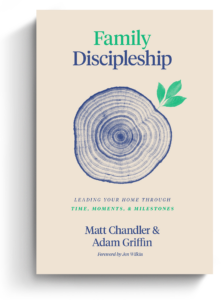 The back-to-school season is stressful for moms and dads. New rhythms of school, sports, and other extracurricular activities can quickly fill up a family's already busy calendar. Where do busy parents look for resources on discipling their family well? Aside from prioritizing church, what else can Christian parents do to instill healthy spiritual habits in their household?
Matt Chandler and Adam Griffin cover these questions and more in Family Discipleship: Leading Your Home through Time, Moments, and Milestones. And we're excited to offer this book to you for FREE as an eBook today.
Click on the link below to get instant access to your FREE Family Discipleship eBook now!