As a parent of two little girls, I have a love-hate relationship with screens. Tablets give my oldest a chance to play games with some of her favorite characters or learn basic math and reading skills, and the TV can offer a moment to breathe or prepare dinner while my girls sit quietly. But then there's the question of how much is too much. If it were up to my daughter, she would be in front of a screen for hours! And if she's on her tablet for too long, she gets very grouchy.
Today I interview Betsy Childs Howard, the author of the children's book Polly and the Screen Time Overload, releasing in April. Polly's story will help families start an ongoing conversation about self-control and how to enjoy technology within healthy boundaries. The colorful illustrations and easy-to-understand language are engaging and relatable. Join Betsy and me tonight at 8:00 PM EST for an Instagram live conversation about her new book and navigating technology with young children. You can pre-order Polly and the Screen Time Overload today.
---
Most literature about screen time is directed to parents. What led you to write a book on this topic for kids?
I was surprised to discover that there has been very little published for young children on keeping technology in its place, even though this is an ongoing struggle in many families. It's true that most children won't be making their own decisions about screen time until they're older, but they can nevertheless begin to understand why their parents are making choices to limit the time they spend in front of a screen.
Someday our children are going to be deciding for themselves how they use screens. I believe talking with children at a young age about the effect technology has on our minds, our imaginations, and our days will better equip them to make good decisions when the time comes.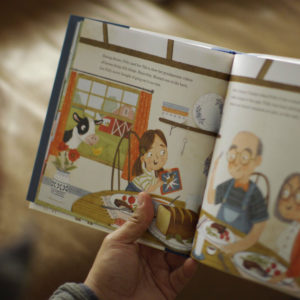 What is Polly and the Screen Time Overload about?
Polly lives in the city, but she loves to spend time on her grandparents' farm feeding the animals, riding their horse, and playing with her cousins. One year when she arrives on the farm, she receives a tablet as a birthday gift. She becomes so engrossed in the device that she misses out on doing all the things she loves best about time at the farm. A conversation with her grandfather helps her understand that although technology isn't bad, it can keep us from enjoying other good gifts from God. Polly decides to put the tablet away and spend the rest of her visit doing all the things she loves on the farm.
Does the Bible have anything to say about how we handle screen time for ourselves or our children?
Although the Bible doesn't directly address modern technology, it has plenty to say about our need for self-control. Proverbs 25:28 says "A man without self-control is like a city broken into and left without walls." We need "walls" or boundaries to keep technology in its proper place, and children need their parents to set those boundaries. Long before they're making their own choices, we need to help kids understand that technology is a good gift from God, but it needs to be enjoyed in moderation.
Polly and the Screen Time Overload is an illustration of 1 Corinthians 10:23, which says, "'All things are lawful,' but not all things are helpful. 'All things are lawful' but not all things build up." Polly comes to see that while screen time is not sinful, it doesn't build us up when we let it take over our lives.
How would you recommend parents use this book to help guide their children as they navigate screen time?
I hope children will think of this book as a story about a little girl named Polly rather than a lesson about screen time. But the next time a discussion about technology use comes up, parents can remind their children of Polly's story when they explain why they set limits on screen time. Polly learns that too much screen time can prevent us from enjoying other good gifts God gave us (like friends, books, and playing outdoors). Even if children don't cheerfully agree to the limits parents set, having Polly's story in their minds will help them see why we all need boundaries when it comes to technology.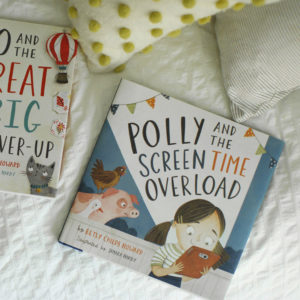 What's the vision behind TGC Kids books?
Secular publishers produce book after book with clever plots and engaging illustrations that encourage the worldview of expressive individualism. There's currently a wonderful wealth of kids' books coming from Christian publishers that teach theology and the story of salvation. But there are far fewer books that help children learn how to live as Christians in the world.
TGC Kids titles are fictional picture books that we hope will catch children's imaginations while at the same time teaching and reinforcing biblical morality and discernment. The first book, Arlo and the Great Big Cover-Up, was released in 2020.
Are there more TGC Kids books in the works?
Yes! We currently have three other books in the publishing pipeline. The next book after this one is called Meg Is Not Alone by Megan Hill, and it's scheduled for release in January 2023.