Margaret Lacey has been driving school buses in northern Alabama for almost 20 years. For 8 years, she had the same 40-minute, 12-stop route with 65 children. "We have a good school system," she says, "but I had the roughest route—a lot of latch-key kids without much discipline at home."
She now drives a bus for children with special needs. Her new route takes twice as long, even though she only picks up 5 kids. "We do door-to-door pick ups and sometimes have to use ramps or lifts," she explains.
Margaret's work doesn't seem to matter much to the world or the church. It isn't powerful, strategic, or lucrative. She'll probably never run for political office, speak at a national conference, or underwrite a church's capital campaign. "I know being a bus driver isn't glamorous," she admits.
When we say that all work matters, do we really mean all work—even driving school buses? Is that really kingdom business?
Culture Making
In his book Culture Making, Andy Crouch points out that, as image bearers of the Creator, we imitate him by creating culture more than copying or critiquing it. We are "sub-creators"—not creating something from nothing, but fashioning the raw materials of creation to make new cultural goods. We turn eggs into omelets, sounds into symphonies, and apples into apple pies.
Redemptive culture making, though, is something more. It's sub-creating in a distinctive way. It's working like Jesus, who reframed broken cultural goods by pointing to their restoration in him—the law (Matt. 5:21-48), the Sabbath (Mk. 3:1-16), the Seder feast (Matt. 26:26-28). Most significantly, he redefined the cultural meaning of the cross—turning it from a symbol of death to an icon of life.
Following the example of Jesus, Margaret is reframing her work. "My first year was tough," she confesses, "because I replaced a more lenient man. He didn't apply the rules equally or regularly. Since these kids didn't have much discipline at home, they felt like they could disrespect and ignore me, too."
One day, though, she did something different. "We came to some railroad tracks," she remembers, "and I stopped the bus, opened the door window, and nicely asked the kids to quiet down. After 10 unruly minutes, I yelled, 'Shut up!' That was language those kids understood—even though my own kids' eyes got as big as saucers because they never heard me talk that way at home!" It worked. "You could hear a pin drop."
That day the children started to respect her. It was her love, not the threat of law, that changed them. "They realized that I didn't play favorites," Margaret says. "I treated all of them the same. It took a while, but they eventually got to the point where, if they knew they'd done something wrong, they'd say to me, 'I know you gotta take me to the office, but I just wanna say I'm sorry.'"
Her love drove her to implement fair and consistent rules. Her care caused her to enforce those rules to keep them safe. Her kindness led them to repentance—a distinctive way of working in light of redemption (Rom. 2:4).
World Changing
For Christians, culture making leads to changing the world. We long to change the world because the church—gathered and scattered—is God's appointed means to display his love for our broken world. This means that, when we work in places that don't embrace their kingdom purposes, we are signposts, pointing to the coming reality of redemption, praying, "May your kingdom come, and your will be done, on earth as it is in heaven" (Matt. 6:10).
Our work to change the world by advancing the kingdom, though, doesn't always look like we might expect. It's less like a stallion, more like a donkey. Less like a politician, more like a carpenter. Less like an earthquake, more like a mustard seed. As Crouch writes,
[The kingdom] is like a mustard seed, almost imperceptible at first, but flowering into a living plant that grows, flourishes, and provides shelter for the 'birds of the air,' shaping the life of the world around it.
Today, we can see the resurrection's broad cultural power all around us—even in the work of school bus drivers. Margaret, for example, is only one member of the body (1 Cor. 12:31), but she plays a part in unfurling the kingdom.
Over the years, she has driven more than 300 children, seeing many of them grow up. Today, she'll go to the market and hear someone joyfully call out, "Hey, Mrs. Lacey!" The influence of her faithful presence, though imperceptible at first, has grown like a mustard seed in her community.
"I don't know why," she wonders, remembering a "troubled" girl she once drove, "but she'd tell me what she'd do wrong every day. I'd pray for her, but I'd always think, There's no hope for this child."
Years later, she got a call. "It was her," Margaret smiles. "I almost fell out of my chair. 'I want you to know,' she said, 'that I'm going to church, I'm married, and I have a baby.' That phone call was worth any trouble any child gave me."
Even now, she and her husband have befriended a former student, going to his Miracle League baseball games as often as possible. "He's got cerebral palsy, but is incredibly sensitive with an amazing memory," she says. "He's become part of our family."
Margaret's work may never change the world, but it's changing her world—which is really what most of us mean when we talk about changing the world. "'To change the world,' Crouch writes, "is really shorthand for 'to change our culture at a particular time and place.'"
We need more people like Margaret—Christians who aren't desperately trying to change the world, but who are excited to change their world—whether that's driving school buses in northern Alabama or closing deals on Wall Street. We need people who are faithfully present in their work, listening to the needs of their neighbors, and working distinctively to change their culture—especially when that change is imperceptible. These are the culture makers who are changing the world. And this, indeed, is kingdom business.
---
Related: 
Get a FREE eBook to strengthen your family discipleship!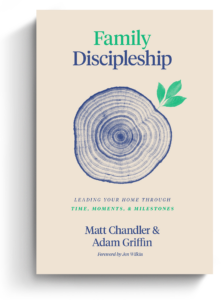 The back-to-school season is stressful for moms and dads. New rhythms of school, sports, and other extracurricular activities can quickly fill up a family's already busy calendar. Where do busy parents look for resources on discipling their family well? Aside from prioritizing church, what else can Christian parents do to instill healthy spiritual habits in their household?
Matt Chandler and Adam Griffin cover these questions and more in Family Discipleship: Leading Your Home through Time, Moments, and Milestones. And we're excited to offer this book to you for FREE as an eBook today.
Click on the link below to get instant access to your FREE Family Discipleship eBook now!