The Gospel Coalition 2017 National Conference celebrated the 500th anniversary of the Protestant Reformation (see all TGC17 media here). We walked through the book of Galatians, remembered the saints who paved the way for church reformation, and sang hymns highlighting salvation by faith alone. The hymns we sang were well-worn, simply arranged, and emphasized the practice of congregational singing.
One highlight was the privilege of hearing the Masterworks Festival Orchestra from the Performing Artists Fellowship, conducted by Miriam Burns. They gave a remarkable performance of Mendelssohn's Symphony No. 5 (Reformation). The fourth movement of the symphony includes the melody of Luther's Hymn of the Reformation, "A Mighty Fortress Is Our God," so at the conclusion of the piece we had everyone stand and sing the hymn accompanied by the orchestra. The strings provided the soundtrack for some of the most passionate singing of the conference.
The singing itself was the greatest gift. This conference was one of the great joys of my time leading others in song. Here is the list of hymns:
Monday
Session 1
Holy, Holy, Holy (Reginald Heber)
Come Thou Fount (Robert Robinson)
We Will Feast in the House of Zion (Sandra McCracken)
There Is a Fountain (William Cowper)
Come Behold the Wondrous Mystery (Michael Bleecker, Matt Boswell, Matt Papa)
Session 2
In Christ Alone (Keith Getty/Stuart Townend)
Session 3
No Songs
Session 4
Reformation Symphony (Felix Mendelssohn) – Masterworks Festival Orchestra from the Christian Performing Artists Fellowship, conducted by Miriam Burns
A Mighty Fortress Is Our God (Martin Luther)
How Firm a Foundation (K. Probably John Keith or John Keene, perhaps others), from John Rippon's Selection
Tuesday
Session 5
Praise to the Lord, the Almighty (Joachim Neander/Catherine Winkworth)
It Is Well (Horatio Spafford)
The Solid Rock (Edward Mote)
Session 6
Our Hearts Still Burn (D. A. Carson/Matt Boswell)
Session 7
This Is My Father's World (Maltbie Babcock/Franklin Sheppard)
He Will Hold Me Fast (Ada Habershon/Matthew Merker)
Wednesday
Session 8
O Great God (Bob Kauflin)
Our Hearts Still Burn (D. A. Carson/Matt Boswell)
Rock of Ages (Augustus Toplady)
How Deep the Father's Love for Us (Stuart Townend)
When I Survey the Wondrous Cross (Isaac Watts)
Session 9
A Mighty Fortress Is Our God – a cappella (Martin Luther)
Word of Thanks
I want to thank the members of The Gospel Coalition Council for the investment they are making in modern hymnody. While most of the hymns sung at the conference were gathered from history, new songs are written every day because of their encouragement and influence. Writers and artists are sitting under great teaching from the members of the Council and those they influence; this teaching is inspiring an incredible resurgence in biblically rich and doctrinally sound songs.
We concluded the conference with an a cappella version of "A Mighty Fortress Is Our God." The moment carried a somber yet hopeful tone as we scattered back to our lives and ministries, back to the work of "always reforming." Before the closing benediction from TGC president Don Carson, we admonished one another, singing:
That Word above all earthly powers
No thanks to them abideth;
The Spirit and the gifts are ours
Through him who with us sideth.
Let goods and kindred go,
This mortal life also;
The body they may kill:
God's truth abideth still;
His kingdom is forever!
Wonderful a cappella singing of last verse of Martin Luther's "A Mighty Fortress Is Our God." Closing of #TGC17 pic.twitter.com/zJ01ZlHctM

— Albert Mohler (@albertmohler) April 5, 2017
Get a FREE eBook to strengthen your family discipleship!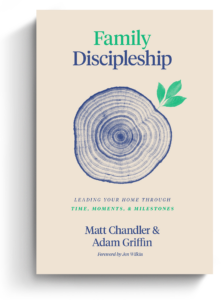 The back-to-school season is stressful for moms and dads. New rhythms of school, sports, and other extracurricular activities can quickly fill up a family's already busy calendar. Where do busy parents look for resources on discipling their family well? Aside from prioritizing church, what else can Christian parents do to instill healthy spiritual habits in their household?
Matt Chandler and Adam Griffin cover these questions and more in Family Discipleship: Leading Your Home through Time, Moments, and Milestones. And we're excited to offer this book to you for FREE as an eBook today.
Click on the link below to get instant access to your FREE Family Discipleship eBook now!