Like many other college football fans, I have watched closely the astonishing collapse of Ole Miss head football coach Hugh Freeze. One of the most outspoken NCAA coaches about his Christian faith, Freeze resigned last week when Ole Miss athletics officials discovered a "pattern of behavior" whereby he called escort services from his state-owned phone.
The media pile-on following this revelation has been intense. Journalists and fans have feasted on and condemned the hypocrisy of the former coach.
"Scores of coaches across the country smiled," CBS Sports writer Dennis Dodd said of Freeze's resignation. "They were sick of Freeze's self-righteous Bible-thumping. They were also sick of his recruiting methods."
Public Religion, Private Immorality
Freeze justly received this reaction. Freeze's Twitter feed has read more like that of a pastor than a football coach. Freeze occasionally posted pictures of underlined quotes from his daily devotionals. He tweeted Bible verses. He boasted of numerous Ole Miss players attending Fellowship of Christian Athletes camp. From the beginning Freeze promised to lead a Christ-centered program.
Meanwhile, many recruiting fans and football journalists viewed the rise of Ole Miss under Freeze with much skepticism, especially since the Rebels' banner recruiting class in 2013. These accusations have become increasingly credible as the NCAA has investigated the program and unearthed more than a dozen major violations. Ole Miss faces the prospect of serious sanctions.
Allegations of hypocrisy reached a crescendo last Thursday and Friday when the sordid details of Freeze's double life flooded the internet.
At the height of Ole Miss's unexpected 2013 recruiting haul, where countless critics cried foul, the coach declared:
If you have facts about a violation, send it to [email protected] If not, please do not slander these young men or insult their family.
Every time news of NCAA allegations and sanctions has come, journalists retweet and repost those words. Multiple people retweeted them in the wake of his personal indiscretions and resignation went public. The tweet has come to symbolize Freeze's hypocrisy.
To many observers Freeze appears to validate his Christian faith by his religious works. His tweets describing quiet times and boasts of his team's religious activities communicate, "Look, I'm good."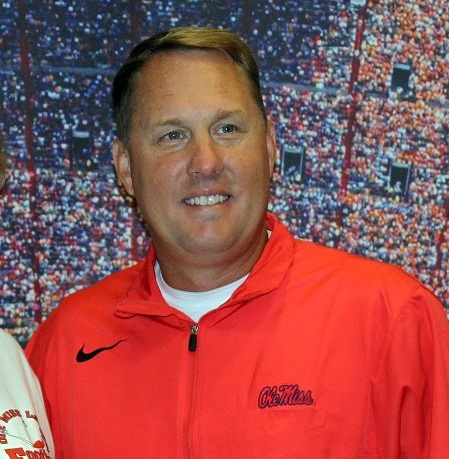 No matter the Christian—whether the non-drinking teenager, the stay-at-home mom, or the preacher—if he or she projects an air that righteousness comes from religious performance, he or she will be viewed as self-righteous. When that person demonstrates even a hint of moral failure, detractors will pile on the charge of hypocrisy.
What non-Christians seem to hate most about believers is the perception of moral superiority. And when well-known Christians fall, some take opportunity to say, "See, you're not any better than I am."
And they're right. Absolutely right.
Universal Unrighteousness
If Christians believe their righteousness comes from "moral success," charitable acts, or humanitarian deeds, they have missed the essence of Christianity.
At one level, the Bible is a chronicle of human failure. Whether it's King David's rape and adultery, Jonah's sulking, Noah's naked debauchery, or the disciples' cowardice and betrayal, Scripture amplifies the moral weakness inherent to mankind. It proclaims the moral superiority of one person alone: God in the person of Jesus Christ.
True Christianity proclaims that any righteousness a person possesses is inherited, not generated. Jesus repeatedly said all people are equally bankrupt before a holy God. In the Sermon on the Mount, he explained that one who hates another has committed murder in the heart. Any person who has lusted sexually over someone not their spouse has committed adultery. All people repeatedly fall, and thus no room exists for comparison, condescension, or shame.
This standard applies not only to those accused of hypocrisy but also to the one judging them. Do any who condemn Freeze really want their boss, their wife, their kids, or their girlfriend to see all their internet history? Does anyone really want every thought, fantasy, or resentful thought projected on a screen for the world to see? I certainly don't. An honest inventory of every thought and deed instantly undermines condemnation.
Paul spoke of a righteousness that comes "apart from the law," apart from human effort or religious success. If we possess any righteousness, we received it from Christ. We did not generate it; God gave it through faith in Christ. God takes the righteousness earned by Jesus in his perfect life and attributes it to sinners who seek forgiveness. Therefore, no Christian can boast in religious or moral accomplishment. The apostle Paul summed this up well: "May I never boast except in the cross of our Lord Jesus Christ, through which the world has been crucified to me, and I to the world" (Gal. 6:14).
Power in Weakness
I'll never forget a speech I heard in 2008 by former Georgia and current Miami football coach Mark Richt. He defied typical Christian sports talk, telling how often he was afraid of advances in his coaching career. He nearly declined the Georgia job because he felt afraid and inadequate. He lay on the floor and cried when it seemed like things were falling apart early in his career.
Richt boasted in his weakness and amplified the goodness of Christ. Several non-Christians in attendance told me how refreshing and attractive Richt's witness was. Richt contradicted the expectations of non-Christians for believers, who often talk about either how to be good or how good they are. Instead, Richt offered a transparent, humble, and non-flattering version of himself in order to elevate the work of God in his life. He gave off a vibe that communicated, "I'm just as scared, insecure, and flawed as the worst person in this room." He attracted people both to himself and to Christ.
When we believe we can demonstrate our righteousness through moral performance, we have forgotten the gospel. Public figures and everyday Christians alike must remember the most attractive witness for Christ is a humble one. We best glorify God when we honestly profess our weakness and failures and boast in nothing but the grace and mercy of Jesus.