In ancient times it would take weeks to travel several hundred miles across land. Then came the era of the railways and the time was cut to days. Information traveled at the speed of the traveler and for most of human history, news—whether good or bad—was often no longer new by the time it reached its destination.
In our modern age, though, the speed of news has increased so rapidly that we are bombarded with more information than we can process, either intellectually or spiritually. Yesterday, for example, there were two mass shootings on either side of the United States—an attack in Savannah, Georgia that killed one woman and three men and a rampage in San Bernardino, California that claimed 14 lives. Whether you lived near these events or on the other side of the world you were able to hear news about them near instaneously and receive updates—both rumors and facts—in real time.
Every single day we face a barrage of negative news stories. The constant focus on the evils in the world can even cause us to become anxious and pessimistic and fall into despair.
To keep from letting the news cycle rob our joy, we can redeem the news through prayer. "Praying the news" can be a practical way to shift our focus from the temporal events of our fallen creation to our eternal Creator who can heal our broken world.
Here are a few practical tips to get you started on praying the news:
Develop a "beat" — We can't keep up with every news item, nor should we try. Instead, we can follow the example of the media. Many journalists have a particular beat, an issue or sector they cover exclusively and develop an expertise on, such as business, sports, or local news. Similarly, we too can specialize, praying for news items that align with our own individual interest or areas of special concern.
Develop a note-taking system  — For news items that you don't pray about immediately, make note of their details and add them to your prayer list. For print or web publications, circle or highlight the relevant details. If you listen to the news on TV or radio, have a notebook handy to write down the relevant information.  For example, in the case of yesterday's shootings you could note to pray for particular victims, law enforcement officials, and even the perpetrators of the murders.
Pray for authorities — Scripture commands that we pray for "kings and all who are in high positions" (1 Tim 2:2). Yet even when we remember to add them our prayer list, we tend to pray for the office being held rather than for the individual. Since government and civic leaders are often tied to the daily news, we can use the news as a prompt to remind us to pray for them by name.
Pray for the media — We are frequently frustrated by their biases and mistakes, yet we rely heavily on journalists to bring us the news of the day. Set aside time during your prayer schedule to pray for these people, both the reporters and broadcasters, as well as the workers behind the scenes, such as the editors and producers. If you often get your news from a particular source or medium, you may want to regularly pray specifically for certain journalists by name.
Pray for social media — Rather than bring us together in times of tragedy, social media tends to deepen the divisions and harden the factions that already exist in society. The reaction to the shooting on social media yesterday even revealed an undercurrent of hate and disdain for fellow citizens that is being driven largely by preferred narratives. Last night, after reading through Facebook and Twitter, Rod Dreher wrote, "The certainty that there will be millions of people disappointed when the identity of the killers and their motives are revealed makes me despair of what we have become in this country." Dreher is right that we should be saddened, and perhaps even disgusted, by those who use such tragedies in this way. Yet instead of slamming them on social media, pray for peace and healing of the divisions that lead to putting partisanship over humanity. Use your social media feeds to pray both for the news and for those who use the news to promote their ideological agendas.
Avoid news idolatry  — Most of us pay far too much attention to the news. We often spend minutes (if that) reading the Word of God and then hours watching cable news or tracking the latest news updates on Twitter. Watch and pray the news, but don't be consumed by it. And don't let the news become an idol. Never let the bad news brought by the media supplant your focus on the good news of Jesus.
Get a FREE eBook to strengthen your family discipleship!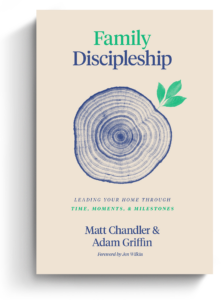 The back-to-school season is stressful for moms and dads. New rhythms of school, sports, and other extracurricular activities can quickly fill up a family's already busy calendar. Where do busy parents look for resources on discipling their family well? Aside from prioritizing church, what else can Christian parents do to instill healthy spiritual habits in their household?
Matt Chandler and Adam Griffin cover these questions and more in Family Discipleship: Leading Your Home through Time, Moments, and Milestones. And we're excited to offer this book to you for FREE as an eBook today.
Click on the link below to get instant access to your FREE Family Discipleship eBook now!