Editors' note:
A key component of TGC's view of gospel-centered ministry is the integration of faith and work. We seek to help Christians work with distinctiveness, excellence, and accountability in their trades and professions. To aid in this effort we're launching a new series, "How I Work," in which we ask people to share their shortcuts, tools, and routines that help them do their jobs or fulfill their vocational roles. (The concept and format are borrowed from the excellent Lifehacker series on work.
For our latest interview in this series I talked to Daniel Patterson, the chief of staff at ERLC.
---
What are your current vocational roles?
I serve as Chief of Staff at the Ethics & Religious Liberty Commission. In this role, my main responsibility is directing the staff and daily operations of the office of the president. On top of that, I also oversee public relations and coordinate a number of strategic initiatives across departments in our Nashville, Washington, and Middle East offices.
What work tools can you not live without?
The item that I'm probably most dependent on is my iPhone. I have a few apps that have one-button shortcuts that make my life easier (i.e., a button that sends my wife a text when I'm on the way home that evaluates traffic and estimates how long it will take me to get home), and I am on the go a lot and end up processing a lot of my workflow on my phone. Beyond that, Dropbox is invaluable, hosting everything from receipts, to my dissertation, to family photos, and briefing memos.
What are the apps or online tools that you use every day that you can't live without?
Spark—the best iOS mail client I've found yet (see below for more)
Captio—lets you email yourself a note with one tap and is a great on-the-go capture tool
IFTTT—extremely customizable time saver
Text Expander (Mac)/Keyboard shortcuts (iOS)—no brainer for items you find yourself typing frequently
Snap to Dropbox—one click takes photo of receipt or idea and uploads to Dropbox folder of choice.
Voxer—walkie talkie for your phone. Great for non-urgent asynchronous communication.
Workflow—amazing app that automates frequent iOS tasks and creates one-click shortcuts
Launch Center Pro—a home in my dock for these one-click shortcuts
What types of social media do you frequently use?
Twitter, Instagram, and Facebook by far the most. I probably use Twitter the most but enjoy Instagram the most. I also use Feedly for news (yes I still have an RSS reader) as well as the new Apple News app, and send these over to Pocket for reading later.
What kind of workspace do you have?
I have a study at home, but keep most of my books and do most of my work at my office at our ERLC suite in downtown Nashville at the Southern Baptist Convention building. I love our space here. My office has a lot of natural light, and I'm able to both to write and work and also have small meetings in my office. Just outside my office, we have a communication suite with standing desks, TVs, and two conference room areas, which is great for collaborating with our team and hosting larger meetings. And in another part of our office we have a treadmill desk which is great for getting in some extra steps (see more on that below).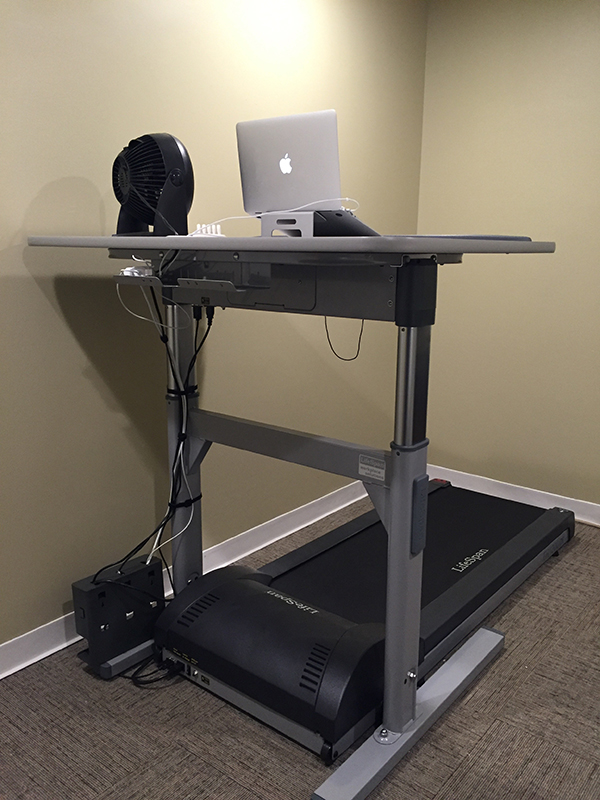 Do you have an exercise routine?
I try to run three miles a day most every morning before I head into the office. Beyond that, I try to average around 12,000 total steps a day. My Fitbit has been helpful in keeping me competitive with others on that front. Working downtown is helpful too, as I'm in walking distance to quite a few lunch and coffee spots. Also, in a tucked away room in our office we have a treadmill desk which I love. I'll generally try to get an extra mile or two a day in that way, while I process my non-urgent daily email.
What are your work hours?
I'm generally up around 5:30 am. Time in Scripture and prayer and then off to run. Around 6:30 am I coordinate press strategy for the day on email and over the phone. Generally, I spend a little time with my family after that before heading into the office around 8:00. I try to reserve my mornings at the office for writing and long-range projects that require focus. Lunch generally around 11:00 am especially if I'm meeting someone (to beat the downtown Nashville and/or DC rush). Then, I try to stack most of my meetings in the afternoon, and get home somewhere between 4:30-5:30 pm.
How do you manage what you have to do?
I have two tools and one rule. My tools are (1) Evernote and (2) a Field Notes pocket notebook. My rule is the basic unit of measurement in terms of personal productivity is not the day, but the week. To talk about the rule first, I've found that when I spend a lot of time trying to plan out long daily task lists I am over-ambitious about what I can accomplish and spend an unnecessary amount of time writing new lists. So, what I do is sit down on Sunday night, look at my calendar, and create a note in Evernote with the most important big-picture items I need to get done, along with any concrete actions or conversations I need to have. That is my go-to list through the week. I also carry around a pocket-sized Field Notes notebook, and each day I list out the top 2-3 things I must get done that day (this is also a place to capture things I need to handle later). I let these top-level 2-3 items shape my day and work in other things as I'm able. I've found this keeps me focused and also provides enough margin to where, when something unexpected arises, it is much less likely to wreck the day.
What book has helped you improve your productivity or work habits?
Matt Perman's What's Best Next is useful for me because it synthesizes a lot of the best of what is available in other productivity resources, but casts it in the context of a Christian vision of work and productivity.
Are you a morning person or a night owl?
At this point in my life definitely a morning person. With my family, it is the quietest and most productive time of day for me, and it is the time in which I'm most likely to not be interrupted with calls and emails.
What's your sleep routine like?
Generally in bed between 9:30-10:00 pm and up around 5:30 am.
What's the best work-related advice you've ever received?
Perfection is the enemy of the good. My tendency is to want perfection down to the smallest detail. I've found that if I give myself, for example, 2 hours to complete a project, I will take inevitably take the whole time, and waste a lot of it. But if I challenge myself to focus and give myself only, say, 20 minutes, to complete the same I can often force myself to complete that project with nearly the same level of quality. For some things, you have to have perfection. But for the vast majority of your workflow, challenge yourself to work faster and more focused and you will be far more productive with your time.
Do you have a process for handling email?
Sometimes it feels like a full time job, but yes. In terms of process, if an item can be responded to quickly (1-2 sentences), I do it immediately. If it requires a bit more but is not immediately urgent, I "snooze" it to a folder called "Later" which I process once a day. If it requires multiple steps, I send it to Evernote to incorporate it into my week. In terms of tools, I use the native Gmail web interface on my laptop, and the incredibly helpful Spark Mail app on my iPhone. Spark integrates well with Evernote, Dropbox, calendars, and it allows for one-button custom replies for things you tend to email regularly (i.e., "Thank you." "Approved." "Like."). In terms of organization, I archive everything and do not spend any time at all organizing things into folders. Gmail's search features are so robust, for me it would be an enormous waste of time to try and classify everything into subcategories. I have one folder "Later" where I snooze items to batch process later that day, and where I have items items filtered to bypass my inbox that I don't need interrupting my day (newsletters, press releases, articles, etc.).In terms of actually writing and sending emails, I try to be quick, clear, and short. For one, I find if you send less email you receive less email, so I don't email if a call or text or conversation would be more efficient. Two, I tell our team that email (especially internally) is not designed to be poetry: keep it short, lead with the request or action, and use descriptive subject lines. If it requires a long backstory or could be prone to misunderstanding, then it's not meant to be an email.
Is there anything else you'd like to add that might be interesting to readers?
One thing that has been enormously helpful to me is keeping a very short daily log each day. I use Day One for this. I simply type out 5-10 sentences of what I did during the day, which normally takes me less than five minutes. Then, each day I look at the entry from that date the previous year (I also use an app called TimeHop to do the same with social media posts). I am absolutely amazed at how much I forget in the flurry of day to day responsibilities. But I'm also amazed at how much comes rushing back with just the briefest prompting like these short little daily paragraphs. This has helped me both in terms of long-range productivity, but even more importantly, in producing gratitude to God in my own life, as I'm reminded anew of all the ways the Lord has shown me kindness, answered prayers, and brought me through all sorts of situations that might otherwise never come to mind without prompting.
Get a FREE eBook to strengthen your family discipleship!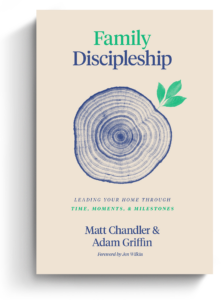 The back-to-school season is stressful for moms and dads. New rhythms of school, sports, and other extracurricular activities can quickly fill up a family's already busy calendar. Where do busy parents look for resources on discipling their family well? Aside from prioritizing church, what else can Christian parents do to instill healthy spiritual habits in their household?
Matt Chandler and Adam Griffin cover these questions and more in Family Discipleship: Leading Your Home through Time, Moments, and Milestones. And we're excited to offer this book to you for FREE as an eBook today.
Click on the link below to get instant access to your FREE Family Discipleship eBook now!