Editors' note:
Questions and Ethics is a new monthly series in which Russell Moore provides insight into how Christians should navigate through life's most challenging moral and ethical issues.
What can Christians do to increase the ethnic diversity in their congregation?
---
I've seen a lot of churches that have had communities that have changed in terms of ethnic and racial demographic around them, but those churches haven't changed for all sorts of reasons. That is a sign of some deep sickness going on in the congregation. I think one of the things that is necessary is saying it has got to be about more than saying whatever ethnic group is the majority group within that congregation. Your people can't have the mindset of, "We are going to minister to the other ethnic groups around us." Especially when your people have the mindset of, "We are here in this primarily Latino community­­­—or it is becoming more Latino­—so let's minister to the Hispanic people in our community." That is a mindset that I think needs to change, especially among majority ethnic groups of white people of America.
White people in America are really a tiny minority in the body of Christ. We are part of a cloud of witnesses, the Scripture says, in heaven. There aren't many white people there. Abraham is not a white guy, and neither is Jesus. These are Middle Eastern, Jewish people. Augustine is an African. You go through the whole list of everyone in the history of the church and that great cloud around us. We are not the people that God has given—whoever the majority race is or ethnic group in that church is­—to bless the nations. The nations are being blessed through the seed of Abraham, which is Christ. Which means we need to change that mindset.
We also need to recognize that the people in that congregation are not just going to minister to, but are going to be ministered to. It is easy, especially for some of us who have Messiah complexes, to want to minister to all sorts of people, because we can be in charge of that. We need to say, "We want to be ministered to in ways we don't even recognize we need to be ministered to." It changes a mindset, and it changes the way worship looks when you have people from various different cultures getting together. Finding ways to anticipate that ahead of time, and to signal that from the pulpit is important. We also need to start intentionally working to signal that in worship.
Jimmy Scroggins has done a really good job with this, especially at the level of worship by saying, "I'm in an ethnically very diverse place in south Florida, so I'm not going to be able to come in and say, 'Here are our worship styles.'" Instead it is almost a Kaleidoscope of different forms of worship that are intentionally saying to everybody that worship is not about finding your groove and ministering to you in it. It is about teaching and admonishing one another with Psalms, hymns, and spiritual songs. We need to recognize that this is going to take a while.
The Jew-Gentile division in the New Testament church meant that there was a lot of conflict going on with people who didn't understand one another and didn't know what was happening and that had to be explained. Most of the epistles in the New Testament are dealing with that divide that was theological at some level, but also was cultural. You are going to have that. Have some patience with that as time goes on. But starting to get your people to recognize if you are in an all-white church or an all-black church, you are starting to come in and say, "Hey people, this is not normal for the body of Christ." We are not going to solve this situation by saying, "We should all bring someone from another race next Sunday," but we are going to say, "If we still look this way 10 years from now, something is wrong." I think it is a long-term project.
Get a FREE eBook to strengthen your family discipleship!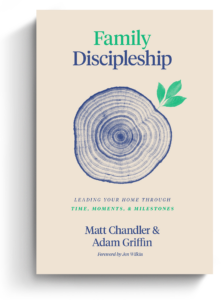 The back-to-school season is stressful for moms and dads. New rhythms of school, sports, and other extracurricular activities can quickly fill up a family's already busy calendar. Where do busy parents look for resources on discipling their family well? Aside from prioritizing church, what else can Christian parents do to instill healthy spiritual habits in their household?
Matt Chandler and Adam Griffin cover these questions and more in Family Discipleship: Leading Your Home through Time, Moments, and Milestones. And we're excited to offer this book to you for FREE as an eBook today.
Click on the link below to get instant access to your FREE Family Discipleship eBook now!