Editors' note:
This article continues a series addressing your specific questions related to ministry among women through the local church.
Question received: How can I help women dealing with lust, pornography, the pain of past sexual abuse, and other sexual issues? I'm not trained in these areas. My pastor does a great job of caring for people, and I try to encourage women in my church to meet with him, but sometimes they don't feel comfortable doing that.
---
This is a tough question. While sexual abuse may have led to the other struggles, the two issues should be dealt with separately. With this in mind, we need to see that this question has two different aspects to it—sexual abuse and sexual sin.
It's these two issues I'd like to address here.
Sexual Abuse 
Sexual abuse is a devastating invasion of a person's humanity. It strips away innocence and ushers in fear, regret, shame, even guilt. Unless you've been through it, you don't truly understand, and I think that's a good place to begin. As we serve and love those who've been sexually abused, we don't want to pretend to have all the answers. It's okay to say, "I don't know what you're feeling or how I can best help, but I love you and am here for you." Seek to know your friend deeply. If she came to you with this personal information, she obviously trusts and respects you deeply. Love her through listening and learning.
If you're not a counselor, advising your friend to seek counseling from a trained biblical counselor may be a wise next step. But even if she seeks outside help, don't just leave her to the counselor or your church leaders. Remember, she came to you. Persevere with her. Listen to her. Pray with her. And not just once. You should be a place where she can find ongoing grace, love, and the clear ministry of God's Word.
This is where we can pick up the second aspect of this question. Many of the challenges (shame, regret, questions of identity) connected to the painful sexual issues women face will apply to both the tragedy of sexual abuse and the reality of sexual sin. The application, however, will be slightly different.
Sexual Sin
Many Christian women who struggle with sexual sin feel great shame and embarrassment. This is aggravated by the fact that sexual sin is far too often deemed a men's issue. We're hearing from more and more women who struggle in this area. We can help by intentionally and unashamedly acknowledging the presence of sexual sin in our lives. More women will begin to open up and seek help the more they hear others share about their experience. As broken, sinful image-bearers who've been designed as sexual beings, each of us needs God's forgiving grace for sexual sin. The good news is that he delights to give us such grace.
If you have a woman in your church who confesses sexual sin, here are a few ways you can lovingly serve and come alongside her:
1. Get to know her
If this is the first you've heard of her struggle, then she may be dealing with other things. Don't assume her struggle is isolated. It could be a byproduct of sexual abuse, or there may be a backstory you'll need to know as you aim to serve her in love. So start by recognizing your relative ignorance and getting to know her. Ask questions and follow up.
2. Share Jesus
A host of other problems come with sexual sin, including shame, guilt, and identity confusion. Christian women struggling with sexual sin must know their identity is in Christ. He died for sexual sinners. And he rose and is interceding this moment—for her. As forgiven daughters, we can run to God's throne of grace to receive mercy in our time of need (Heb. 4:15). There is simply no condemnation for those who are in Christ (Rom. 8:1). You will surely talk about repentance, but first remind her first she is God's beloved daughter. Repentance flows from a forgiven heart.
Remember, this may be the first time she's ever heard there's grace and forgiveness for that sin. As Ellen Dykas writes in Word-Filled Women's Ministry:
Sexually broken women in our churches and communities need first of all to be called to Jesus, who is God with us. Many who assume they are believers may actually need to put their faith for the first time in this Redeemer who has come to us in our sin, died for that sin, and called us like he called the bent woman in Luke 13:12: "Woman, you are freed." (191)
3. Be There
Be there without shock, without shaming, and without judgment. Be there with prayer, both spoken and unspoken. Take time to grieve with her over her sin and brokenness. If a woman confesses her sexual sin and struggles with you, be someone who, like our Savior, extends compassionate grace while encouraging your sister to "sin no more." As Dykas observes:
As we seek to disciple women . . . who seek release from their own bondage to sexual sin, the compassion of Christ himself is a necessity—Christ, who waited patiently with that woman caught in adultery while all the others left, before he offered her not condemnation but a call to sin no more. (183–184)
We want to drip gospel truth from our lips and pray that our hearts would love our sisters like Christ. We want to listen well—without trying to have all the answers.
4. Speak the Truth in Love
As Dykas shares in Word-Filled Woman's Ministry, women need discipleship, not just doctrine. But discipleship after Jesus will mean maturity in sound doctrine. Teach her the Word of God, but don't try to do this all by yourself. Let the body of Christ do its work. Encourage her (or go along with her) to join a women's Bible study where the Word is taught and discussed and prayed. As Paul exhorts, "Let the word of Christ richly dwell within you, with all wisdom teaching and admonishing one another with psalms and hymns and spiritual songs, singing with thankfulness in your hearts to God" (Col. 3:16).
And remind your sister of the freedom of repentance. God's kindness leads us to repentance, and he is faithful and just to pardon and purify us when we confess (Rom. 2:4; 1 John 1:9). Share about God's design for men and women and our sexuality. Teach her about creation, fall, redemption, restoration. And continually remind her that her Maker is for her, not against her, because she is his beloved daughter for whom his Son died.
Finally, read chapter 8 in Word-Filled Women's Ministry titled "Sexual Wholeness: Affirming Truth with Compassion." I've scratched the surface, but that chapter takes you one step further in equipping you to serve the women around you. May the Lord fill you with grace and peace.
Get a FREE eBook to strengthen your family discipleship!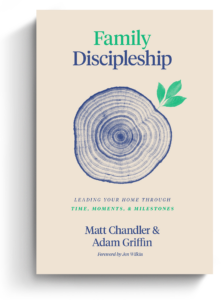 The back-to-school season is stressful for moms and dads. New rhythms of school, sports, and other extracurricular activities can quickly fill up a family's already busy calendar. Where do busy parents look for resources on discipling their family well? Aside from prioritizing church, what else can Christian parents do to instill healthy spiritual habits in their household?
Matt Chandler and Adam Griffin cover these questions and more in Family Discipleship: Leading Your Home through Time, Moments, and Milestones. And we're excited to offer this book to you for FREE as an eBook today.
Click on the link below to get instant access to your FREE Family Discipleship eBook now!