Deep into the first year of planting a church, God sent us a gift. A 94-year-old woman named Nancy politely informed me she would now be calling our little start-up church her home. She was lovely and bright, carrying herself with a regality only matched by her kindness. She became an instant friend to many, and especially connected to our young adults.
Church planting is often thought of as an arena for the young—attracting creative, bold, and undiscovered leaders, but also the less established, less stable, and often immature. Young ministers don't typically envision ministry to the elderly. Most of our creative energy is spent trying to attract the young—those like us, whom we feel we best relate to and reach. We come to believe the growth of the church only happens through reaching younger families, young adults, students, and children. Hence the reigning pressure so many ministers feel, both young and old, to constantly be "getting younger."
This emphasis is found not only within the church, but within our medical communities as well. In his bestselling book Being Mortal, Atul Gawande—a surgeon and public health researcher—highlights the lack of interest in adult primary care and geriatrics shown by young medical students in America. In fact, "97 percent of medical students take no course in geriatrics" (52). Gawande points to several reasons. "Incomes in geriatrics and adult primary care are among the lowest in medicine," he writes. "And partly, whether we admit it or not, a lot of doctors don't like taking care of the elderly" (36).
Not only does Gawande address why the elderly are unattractive to young doctors, he also touches on a deeper prevailing theme in our culture: "When the prevailing fantasy is that we can be ageless, the geriatrician's uncomfortable demand is that we accept we are not" (46).
Both the young doctor and the young minister now practice and minister in a medicalized age—an era in which men and women are living longer, raising significant questions for how someone like Nancy is to be cared for and ministered to well.
Instilling Hope
When I became Nancy's pastor she had lived longer than all her friends and almost all her family. Though cheerful and full of grace, she was tired. She would speak openly of her desire to die and enter heaven. She would say things like "I keep wondering why I'm still here" and "I gotta say, I'm a bit disappointed I woke up this morning."
As a young minister heavily practiced in encouraging people to find meaning and purpose in life, I struggled immensely with how to minister to Nancy. I wanted everyone in my ministry to live with the kind of hope that transformed their daily lives and made them active in the mission of Jesus.
In retrospect, I don't believe her offhand comments came from a place of depression or despondence, but from her resolved longing for the promise of heaven. Still, I wanted her to take a more "positive" view of her life. Our belief in Jesus's resurrection instills within his people a hope that is transformative. It can and should change the way we live out our days in this life. In my narrow way, I wanted to see that exhibited in Nancy in ways I knew how to recognize.
Christ or Gain
How do we continue instilling hope in those ready to die, particularly in this medicalized age? How do we live with resurrection hope when death looms near? What are we to make of Paul's words, "For to me, to live is Christ and to die is gain" (Phil. 1:21)?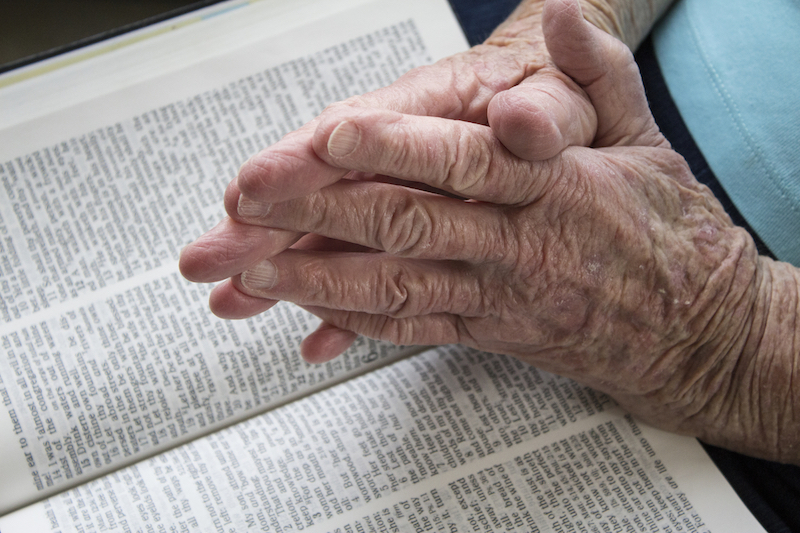 It seems the apostle affirms both our desire to live, and our longing to die. For the Christian, our communion with God is affirmed in life, and death. Of course, the hope of the resurrection is that one day death itself will die, and our resurrected bodies will be made fully alive in Christ. That death has been defeated reminds us it was, and always is, an enemy intruder.
Yet both the hope of the resurrection and the truth that "to live is Christ and to die is gain" reveal that death can also be a form of discipleship, and a friend of the Christian.
Death and Discipleship
I now wonder if my encouragement to Nancy to be "more positive" missed the mark entirely. Perhaps her longing for death wasn't a bout of negativity, but a positive display of discipleship. She was prompting a small start-up church made up of many young adults to have meaningful conversations about death, heaven, and resurrection hope.
John Witvliet writes:
Dying well heightens our sense of what is important; it helps us distinguish the important from the trivial. It carries with it a deep awareness, a profound knowing of both human failing and divine grace. It gives us wisdom "to count our days" (Ps. 90).
Nancy was counting her days, dying well, and, in turn, discipling me.
Whether 94 years old, dying from a terminal diagnosis early in life, or living with some form of dementia, disciples of Jesus continue to be disciples of Jesus. John Swinton, speaking directly of those living with dementia, observes:
A person does not lose her self; her community loses her. If this is so, then dementia is much more than a neurological disease which occurs within the brains of discrete individuals. Dementia is a communal and relational condition that involves but cannot be defined by neurological decline.
The aging, and those facing death, often describe not fully understanding their place in the community of faith. They feel marginalized by their age or perceived inability to contribute. Nancy's longing for death helped our community to not "lose her." Her willingness to enter into difficult and potentially uncomfortable conversations made way for the young adults of our church to gain a friend—and a deeper view of what living with resurrection hope looks like.
As we wander farther into a medicalized world and prepare for 75 million baby boomers in this country to age into retirement, what will help us attribute a deeper value to those among us facing death? As ministers, we're called to affirm the discipleship of all our members, the young and the old, the living and the dying.
Nancy was God's gift to our church. Last September she died, and we gathered for her funeral. Her service was one of the most meaningful I've been a part of, which makes perfect sense. She had come close and befriended us. With grace, Nancy stepped into relationship with those much younger, and discipled us. For the last two years of her life she enriched our grasp of those great words, "To live is Christ and to die is gain."
---
Editors' note: This essay originated from the Louisville Institute Grant sponsoring a small group of Congregational pastors as they explore the subject of death and resurrection hope in a medicalized age.