At the end of another year, we give thanks for how God has continued to use The Gospel Coalition to help strengthen pastors and Christians around the world, renewing the contemporary church in the ancient gospel of Jesus Christ.
We rejoice that in 2018, TGC's online resources, events, publications, international outreach, and women's training network, among other initiatives, have helped equip countless thousands of Christians to grow in faithfulness to the Lord Jesus and his transforming gospel.
Below are some highlights for how God has used TGC in 2018, as well as a call for you to join us as we continue to produce gospel-centered ministry for the 21st-century church, particularly for the growing gospel movements beyond North America.
Online Resources
The Gospel Coalition's website reached 23 million people in 2018, 63 percent of whom are younger than 45, and 43 percent of whom accessed the website from outside the United States.

TGC's talented team of

editors

and

columnists

produced more than 1,000 resources in 2018, including articles, book reviews, podcasts, and videos on topics such as

biblical theology

,

church membership

,

homosexuality

,

marriage

,

parenting

,

technology

,

vocation

, and many others. See editorial director Collin Hansen's

recent recap

for highlights from the last year.

Through a

partnership with Acts 29

, we produced weekly content geared specifically for church-planting pastors and other leaders.
Events
The MLK50 Conference in Memphis, co-hosted in April with the

Ethics & Religious Liberty Commission

, sought to advance racial unity in the church and the culture. You can

access media

from this event, which have already been viewed more than any other TGC event.

In June,

nearly 8,000 women from all 50 states and 27 countries gathered for three days in Indianapolis for TGC's fourth biennial women's conference, entitled "Listen and Live." Plenary speakers

expounded key passages

from Deuteronomy. In October we convened our first-ever TGC West Coast conference, with 1,300 gathered in Fullerton, California, around the theme of "

Enduring Faithfulness

."

Many of our regional and international chapters also hosted conferences, in places like Chicago, Miami, Albuquerque, Mississauga (Ontario),

Medellín (Colombia), Johannesburg (South Africa), among many others.
International Coalitions
Many Christians and church leaders around the world are hungry for resources to help them better preach and teach the gospel, distinguish it from false gospels, and apply it to all aspects of life. This hunger is seen in the rapid growth of The Gospel Coalition network beyond North America.
In 2019 we welcomed three new self-governing, self-supporting international councils—TGC Africa, TGC Brazil, and TGC Korea—to our existing family of coalitions, which also includes TGC Canada, TGC Australia, TGC Español, TGC Italia, Evangile 21 (Francophone Europe), Evangelium 21 (Germany), and Razem dia Ewangelii (Poland).
International Resources
To help alleviate the global hunger for gospel-centered resources, TGC has also launched initiatives like:
New websites in

Arabic

and

Chinese

, where theological resources are freely available to help root these growing Christian populations in the gospel.

A new

Latin American women's theological training network

to equip 2,000 women through 12 training events in 10 countries throughout the Spanish-speaking world in 2019–20.

A multi-year project to produce a set of

concise essential biblical and theological resources

for pastors around the world, first developed in English and then translated into Spanish, French, Chinese, Portuguese, and Korean to reach two-thirds of the world's population.
Join Us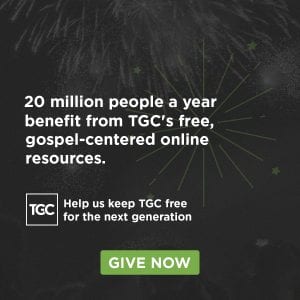 All of this content for the global church—just like hundreds of articles, videos, podcasts, courses, and other resources published annually on TGC.org—is given away for free, providing robust resources to believers who might not have access to formal theological training.
We want to keep these resources free, easy to access, and produced at the highest standards of quality. In order to do this, TGC relies on the generosity of supporters like you. As I note in the video below, everything we do depends on the generous gifts of God's people around the world.
If you have benefited from TGC, would you consider making a year-end gift to bless the many thousands of brothers and sisters across the world who are hungry for gospel-centered resources?
Thank you for your generous support, and may God grant you and your loved ones a blessed Advent season.