Let me tell you a little about Joe.
Joe was a business student at a university in the U.S. He spent one semester studying abroad in an international city. While there, he picked up some of the language, developed meaningful relationships, and wanted to find a way to go back. During his senior year, he landed a summer internship at an investment company in the same city. Joe loved it. Living and working in another culture became his passion.
After graduation, Joe got a job with the same company. They secured him a work visa, and he moved to his much-loved city the next fall. There, he not only started working but also attended an international church. This church had members representing over 30 nationalities. Joe's heart was stirred. He began to ask himself, Did God put me in this place for another purpose?
Marketplace Missions
Joe's story is like that of many Christians who are marketplace professionals in the global economy. They might ask, "Is it possible to live with missional intentionality and pursue career dreams at the same time?" I say yes. It's actually the opportunity all believers have wherever they are in the world. In Joe's case, this desire began in another country. What does it look like to pursue this overseas?
For Joe, it looked like taking discipleship seriously. An older believer invested in him. Joe became involved in various church ministries. And he began to connect with other professionals who wanted to embody God's purposes through their life and work abroad.
Eventually, Joe joined a group of professionals under a local missionary; the group sought to provide accountability for one another while reaching the professional community in ways that would be challenging for many "traditional" missionaries. Together, they formed a team, pouring into the life of their church and living intentionally for Christ in their workplaces.
Developing a career overseas and being an ambassador for Christ aren't mutually exclusive goals.
Like many expat believers, Joe has discovered God's purpose for him both inside and outside his employment. He sees himself as a sent one (John 20:21). He's realized that developing a career overseas and being an ambassador for Christ aren't mutually exclusive goals. This is the exciting frontier of marketplace missions.
Opportunities
Global marketplace workers have numerous opportunities to live on mission through their vocation. Let me name a few of them.
1. Credibility
People naturally relate to marketplace workers like Joe more than to vocational missionaries. He works in a familiar field and he's viewed as a contributor to society. He has no need to come up with a platform or identity. He's simply being himself. He works hard like they do. People can understand and appreciate that.
2. Access
Global professionals often can go places that "traditional" missionaries cannot. Marketplace workers like Joe also have natural, daily interactions with people. Vocational missionaries must find ways to connect with baristas, taxi drivers, and neighbors. But those connections are often transactional and temporary. Even if a conversation goes well, it will include the topic of vocation, and the missionary will have to explain his reason for being there. Joe's presence in the community, on the other hand, makes perfect sense. That gives him natural access and less complicated conversations.
3. Sustainability
Unlike traditional missionaries, marketplace workers don't rely on support and assignments from churches, donors, and missions organizations. Their livelihood instead comes from their work, which does require good job performance and a viable company. But having a single employer consolidates Joe's work expectations from one entity. He doesn't worry about justifying donations to his family or returning regularly to the States to renew support. He simply does his job and receives compensation for it.
Challenges
Of course, marketplace missions isn't all advantageous. In many cases, expat workers can stay in a country for only a few years due to tax laws or other legislation. Often, their companies will choose to relocate them. After all, they're there to make money, and these valuable employees may be beneficial elsewhere. Of course, if global professionals see themselves as sent by God, even these changes become opportunities for missional impact.
Individuals in the global marketplace must also work a lot. Their companies typically demand long hours. This lack of flexibility and free time can be tough. These workers, then, have to be strategic and intentional in the ways they spend their time. One of the best ways to do that is by connecting deeply with a local church and possibly a missionary team where they can serve and use their gifts.
Another challenge for these workers can be learning the local language and culture. Unlike vocational missionaries, they simply don't have time to learn language before starting their work. If they have a family, this will be even more difficult. However, even though English is an international business language, many will be able to practice the local language in their offices and learn culture from their coworkers. With some coaching and effort they can become competent speakers of the local language.
Marketplace Christians aren't plan B or the junior varsity in God's mission.
Should You Go?
Are global professionals like Joe better than vocational missionaries? Of course not. But marketplace Christians aren't plan B or the junior varsity in God's mission. They have a part to play in the kingdom.
Could God be preparing you to go overseas with your job or career? It's definitely something many Christian professionals should pray about and consider. And even if you might not be sent out like a vocational missionary, you can still seek the guidance and support of your local church. Because we need more people who are being salt and light wherever God places them. Just like Joe.
Get a FREE eBook to strengthen your family discipleship!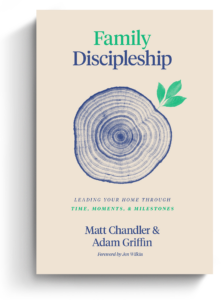 The back-to-school season is stressful for moms and dads. New rhythms of school, sports, and other extracurricular activities can quickly fill up a family's already busy calendar. Where do busy parents look for resources on discipling their family well? Aside from prioritizing church, what else can Christian parents do to instill healthy spiritual habits in their household?
Matt Chandler and Adam Griffin cover these questions and more in Family Discipleship: Leading Your Home through Time, Moments, and Milestones. And we're excited to offer this book to you for FREE as an eBook today.
Click on the link below to get instant access to your FREE Family Discipleship eBook now!