Washington's Birthday (a.k.a. Presidents' Day) has been an American holiday for almost 140 years. However, unlike many holidays—which we spend alongside family, lighting fireworks or giving thanks while feasting on a wild bird—Washington's Birthday ordinarily comes and goes without fanfare. No family gatherings. No long-held traditions. Just another day on the calendar. But what was once sadly a day of apathy has become a day of acrimony.
Think about it. The prevailing message most of us heard as children was some form of "respect the office, if not the man." But that's no longer in vogue. Instead, personal attacks on the president—from both the Left and Right—have become standard fare. While in office, President Obama was called, among other things, "delusional, a psychopath, [and] feckless." And sections of certain websites exist for no purpose other than to index nicknames for former president Trump, like "Adolf Twitler."
Remember the Past
Regrettably, the men who've held, and are holding, the highest office in our land aren't the only ones under attack. Rather, like so much else evocative of our national past, Washington's Birthday itself has come under fire. It technically remains a federal holiday, but the writing's on the wall. The cancel culture has already upped its efforts "to eliminate the Founders from our collective memory." As Newsweek's Peter Roff explained a year ago, the San Francisco board of education decided, by a six to one vote, to rename more than 40 area schools named for historic figures, including Washington.
What was once sadly a day of apathy has become a day of acrimony.
Despite the iconoclastic fervor emerging in our land, I'd encourage you to take time to reflect and remember our presidents, if only for today. That said, I'm not suggesting you spend this day—nor any other—in adoration of our presidents. As Christians, we worship a jealous God, and he alone is worthy of our worship (Ex. 20:5–6; Rev. 4:11). Moreover, we are Americans. And from the day our Founders declared their political bands with the British Crown dissolved, our political condition has been one of citizen to citizen rather than subject to king.
Of course, the 18th-century zeitgeist, coupled with the Founders' pragmatism, led the Founders to ratify the Constitution that appeared to them the "most advisable"—despite the fact that it left many within our borders in the lurch (among them the Founders' own wives and throngs of enslaved Africans, then considered property). Decades would pass before the full constellation of rights set forth in the great charters of our freedom became the possession of women and people of color. But though it often failed to live up to its ideals, ours was a nation founded upon the moral belief that all men are created equal.
Equality and Honor
It's jarring and oft-forgotten, but that belief—that all men are created equal—means each American has "by nature and the Constitution, as much of the common sovereignty as another." This is as true for presidents as it is for you and me. Although our presidents are endowed with an honorary title that befits the office and are entitled to a special measure of dignity and respect, the trappings of office are temporary. Eventually, presidents return among us, like Cincinnatus before them, bearing only—as George W. Bush powerfully reminded us—the title of citizen. But that doesn't mean we shouldn't celebrate them.
Of course, Scripture binds us to acknowledge that, as mere mortals, our presidents are deceitful, broken men (Gen. 6:5; Jer. 17:9). In other words, not unlike the leaves collecting along my fence line—swirling in the wind that comes sweepin' down the plain—presidents are, and will be, men inherently turned in upon themselves, corrupted by deceitful desires (Eph. 4:22). But broken people are still people. And all people are endowed by God with dignity and respect by virtue of their creation in his image (Gen. 1:26–27).
All people, presidents included, are endowed by God with dignity and respect by virtue of their creation in his image.
Our presidents are entitled to a special measure of both, not because they're perfect, but rather because, in the providence of God, presidents occupy an office akin to priests and parents, albeit different in degree (Rom. 13:1). Which means that this Presidents' Day, we should thank God for them.
Some presidents, like Washington or Lincoln, rightly get a disproportionate share of the publicity, but we mustn't forget the others—especially these days. Each president, merely by virtue of having assumed office, deserves a special measure of dignity and respect—regardless of his accomplishments, or lack thereof, during his term in office.
This Presidents' Day, take time to reflect and remember our presidents. But as you do, don't forget that it is God who, according to the counsel of his will, is orchestrating all things such that the arc of history in this land—and, indeed, the world—continues to bend toward ultimate justice and peace (Ps. 89:14; Isa. 11:6). "The king's heart," after all, "is a stream of water in the hand of the Lord; he turns it wherever he will" (Prov. 21:1). We should thank God for that.
Get a FREE eBook to strengthen your family discipleship!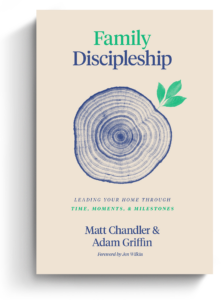 The back-to-school season is stressful for moms and dads. New rhythms of school, sports, and other extracurricular activities can quickly fill up a family's already busy calendar. Where do busy parents look for resources on discipling their family well? Aside from prioritizing church, what else can Christian parents do to instill healthy spiritual habits in their household?
Matt Chandler and Adam Griffin cover these questions and more in Family Discipleship: Leading Your Home through Time, Moments, and Milestones. And we're excited to offer this book to you for FREE as an eBook today.
Click on the link below to get instant access to your FREE Family Discipleship eBook now!