The U.S. Supreme Court's fall term opens this week with a number of cases that are of interest to Christians. Here are five specific cases you should know about that deal with abortion or religious liberty.
The Case
Dobbs v. Jackson Women's Health Organization
What It's About
A 2018 law passed in Mississippi, called the Gestational Age Act, allows abortions after 15 weeks of gestational age only in medical emergencies or instances of severe fetal abnormality. The law was blocked by lower courts as inconsistent with current judicial precedent that legalizes access to abortion. The court agreed to take up only one of the three questions posed by the petition: "Whether all pre-viability prohibitions on elective abortions are unconstitutional."
Why It Matters
This could be the case that dismantles Roe v. Wade and allows individual state to regulate early-term abortions. Even if the Court does not directly overturn Roe, though, a ruling that determines prohibitions before viability are constitutional could undermine abortion's legal precedents (see also: Supreme-Court Case Could Undermine Roe's Viability).
---
The Case
Cameron v. EMW Women's Surgical Center, P.S.C.
What It's About
Kentucky passed a law that generally bans the use of the "dilation and evacuation" (D&E) method to perform abortions. When the U.S. 6th Circuit Court of Appeals ruled the ban was unconstitutional, Kentucky's newly appointed health secretary declined to defend the law in court. The state attorney general asked to intervene to defend the constitutionality of the Kentucky statute but was denied by the federal appeals court.
Why It Matters
This case primarily involves procedural legal issues. But if the court allows state officials vested with the power to defend state laws to intervene, it could lead to a greater willingness for state officials to defend issues like abortion in the appeals process.
---
The Case
What It's About
Texas death-row inmate John Ramirez, who is scheduled to be put to death for a 2004 murder, asked to have his Baptist pastor put his hands on Ramirez's body and pray out loud as the prisoner is executed. When the state of Texas denied that request, Ramirez filed a lawsuit claiming the decision substantially burdens the exercise of his religion.
Why It Matters
For centuries in American history, clergy have been allowed to pray aloud and touch an inmate during execution. As Becket Law says, this long history of audible clergy prayer and clergy touch means Ramirez ought to prevail under the Free Exercise Clause of the First Amendment and the Religious Land Use and Institutionalized Persons Act.
---
The Case
What It's About
A Maine law excludes schools that provide religious instruction from participating in a program that pays tuition to out-of-district public or private high schools for students whose districts do not operate a high school. The question being considered in this case is whether a state law can prohibit students participating in an otherwise generally available student-aid program from choosing to use their aid to attend schools that provide religious, or "sectarian," instruction. Also at stake: whether this violates the Religion Clauses or Equal Protection Clause of the U.S. Constitution.
Why It Matters
The underlying question in this case is, "What is fair play in a pluralistic society?" As the Supreme Court ruled in its 2017 decision on the Trinity Lutheran case, the government can't discriminate against religious organizations and exclude them from receiving a generally available public benefit simply because they are religious.
---
The Case
What It's About
According to the lawsuit, the City of Boston designated its City Hall Flag Poles as one of several "public forums" for "all applicants," and encourages private groups to hold flag-raising events at and on the Flag Poles "to foster diversity and build and strengthen connections among Boston's many communities." In the course of 12 years, the city approved 284 such flag-raisings by private organizations—including LGBT and ethnic groups—with zero denials, allowing them to temporarily raise their flags on the City Hall Flag Poles for the limited duration of their events. But a group was denied from flying the "Christian flag."
Why It Matters
Whatever we feel about the "Christian flag" (see: 9 Things You Should Know About the Christian Flag), it should be allowed to be displayed by religious groups when the public forum is open to other organizations based on belief and identity.
In a season of sorrow? This FREE eBook will guide you in biblical lament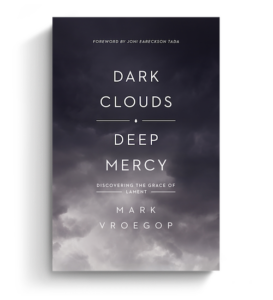 Lament is how we bring our sorrow to God—but it is a neglected dimension of the Christian life for many Christians today. We need to recover the practice of honest spiritual struggle that gives us permission to vocalize our pain and wrestle with our sorrow.
In Dark Clouds, Deep Mercy, pastor and TGC Council member Mark Vroegop explores how the Bible—through the psalms of lament and the book of Lamentations—gives voice to our pain. He invites readers to grieve, struggle, and tap into the rich reservoir of grace and mercy God offers in the darkest moments of our lives.
Click on the link below to get instant access to your FREE Dark Clouds, Deep Mercy eBook now!