UPDATE: As of late March, we reached our first support goal of 100 recurring givers! We thank God for so many who have responded this past year to help us reach this initial goal. These 100 have helped us to raise roughly 50% of what we currently need for ongoing ministry. Please pray with us and consider monthly support as we move towards 100% funding in the coming months.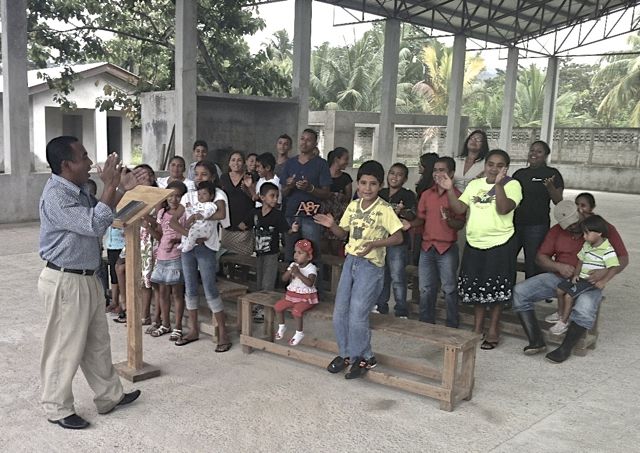 Jesús is a typical pastor in Honduras. In fact, his story is all too common in the Third World. He is 35-years-old and, like most Hondurans, he completed only six years of public education. He has no formal theological training, but has been pastor or co-pastor of various churches for ten years.  Read more of Jesús' story.
Imagine being a pastor of a local church in Asia, Africa, or South America.
You are trying to shepherd a small congregation, but have little access to formal education. Your understanding of the basic truths of the Bible is greatly lacking. You own only a few books of questionable value. Internet access is not reliable. And yet, every week, you are responsible for feeding and leading your local church. You and your small congregation are struggling to experience the life-changing power of the Gospel.
The Famine
This scenario describes millions in many countries. During the past century, the number of believers worldwide has grown dramatically. You may not be aware that 75% of Christians now live on the continents of Africa, Asia, and South America. This is great cause to give thanks, but the growth of the church has outpaced the supply of pastors and elders who are equipped to shepherd these followers. An estimated 85% of the 2.2 million evangelical churches worldwide are led by pastors with little to no training.
Think about the impact a key book has made on your spiritual life. We in the West are blessed with almost unlimited access to resources. Our bookshelves, computers, and e-tablets are overflowing.
You often hear about relief efforts that focus on providing food for undernourished people. Are we aware of the theological famine that exists, particularly in the Global South? A majority of Christians there are hungry for good biblical resources but struggle to find them.
The Relief Effort
We believe that International Outreach has great potential to expand TGC's global impact through Theological Famine Relief. The needs are great and we are being presented with incredible opportunities to make an impact worldwide.
In the past 12 months, many of you have supported our Relief Projects, enabling us to acquire a critical stock of resources in English and other languages. Through our Packing Hope initiative, and your partnership, last year God enabled us to donate and distribute 63,500 biblical resources to church leaders in 40 countries. Thank you!
Join Us
Now we are asking God to provide 100 individuals or churches who will help us grow the financial base of this mission so that TGC International Outreach can increase its capacity to create and deploy digital and physical relief resources to equip the global church.