Editors' note: This adapted excerpt from T. J. and Jenn Menn's Faith to Foster (Abeille Books) recounts the story of "Casey," documenting his time with the Menn family from arrival to departure and the aftermath. The Menns have welcomed 22 foster children into their home from multiple states across America, ranging in age from birth to high school. Names have been changed to maintain confidentiality.
---
Casey came into state custody when his little body tested positive for drugs at birth. Otherwise, he would have gone to live with his parents under a bridge in a tent. Ironically, once social workers took him into care, Casey was homeless, too. He stayed in the hospital because case managers couldn't find a home for a beautiful 3-day-old boy.
With the laundry still piled high from a road-trip with our three other children younger than 4, we took a call asking us to welcome Casey into our home.
After some discussion and prayer, T. J. and I told the case manager to call back if she couldn't find a place for Casey. T. J. was literally working 80 hours a week and would be deployed to war within a week. Sure enough, she called the next day. God lovingly offered us an uncomfortable choice.
Within an hour Mrs. Meyer arrived. I greeted her at the door, scribbled a quick signature, and handed her the paperwork in exchange for a bundle of blankets. After she passed off a plastic bag of formula and hospital discharge papers, she left without a word of instruction. I hurried to the first chair I could find to unveil my new bundle.
The exchange was like signing for a FedEx package.
Peeling back the blanket revealed a precious face peacefully asleep. I can't remember a thing I did that afternoon besides sit there and adore all five pounds of him.
Arrival in Joy
When Casey arrived, the wheels almost fell off the Menn wagon. Although I enjoyed caring for a newborn, Casey's needs consumed a lot of my energy. And the needs of our other foster children didn't diminish. Tamika barely toddled around and often lifted her arms for someone to carry her. Jasmine threw tantrums daily when stressed about getting dressed, exhausted after school, or confused about visitations. Darius raced through the house like every 3-year-old boy does.
I (T. J.) felt guilty and helpless accepting the responsibility of a newborn child, knowing I was leaving a few days later.
Departure in Sadness
When T. J. went to combat, I (Jenn) wept. My attention quickly shifted to the four children clamoring for love (and usually food). I operated at full speed while my counseling practice and other important tasks went on the back burner. I relied on the Lord's promise that he would provide for all our needs.
When T. J. returned home it was still busy, only now Casey was chubby and we slept more. My day-to-day routine centered on nurturing and praying for children, anticipating and meeting needs—we shared life. We went to playgrounds and tied shoes and celebrated new teeth.
But occasionally something would remind me that my role in their life may soon come to an end. The dread sometimes caused a frown or even words with friends.
Other times, the idea almost paralyzed me with grief. I remember a moment relaxed on the carpet cuddling Casey. He had just woken up from a nap happy as can be and was at the stage of taking steps as I held his fingers. He was probably 10 months old. He would walk as far as my arms reach, turn to smile in triumph, then rush back into me for a victory hug.
Only this time, right before he woke up, I received a two weeks' notice call. Casey would move to a relative out of state. So when he looked back in pride, my tears flowed like a river, and I sighed with a clenched face as I sobbed. He, of course, laughed. In these moments, I brought my anxious thoughts to God and found the Holy Spirit's reassurance. I held to the goodness of God in the command to love our neighbor rather than the cultural lie that says, "If something will hurt, you shouldn't do it."
The date kept getting pushed back for various reasons. So we hung in emotional limbo, grateful for each day with Casey. He dug into a mile-high meringue cake on his first birthday, and those assisted toddles soon became conquering climbs.
About a year and a half after Casey's birth, God saw fit to move him out of our lives. T. J. had to peel him out of my arms to hand him away.
And like a big hole, now we are Casey-less. I feel like I'm missing an organ. He appears in my dreams. I pull up videos to remember his laugh. I pray often on his behalf. But he is not homeless anymore. While we are totally out of reach from watching him grow up, we trust Casey is well taken care of—because God has never taken his eyes off of him.
Foundation for Life
Providing a haven of consistent, safe days is the role of foster care. The attachment we built with Casey lays a foundation for his life. It allowed for his brain to develop, and for him to build skills and personality. He learned the basics of trusting relationships in a stable, safe, and loving environment. Success is not based on "us together." Success is based on Casey's thriving. The separation we experienced no doubt caused trauma for him, just as it did for us. But the roots he grew while starting in a loving family will keep him from withering by God's grace.
During those first days, and even months, we actively chose to look for God's grace. We saw it everywhere. And because Jesus is defined by his resurrection, the pain of lost children does not finally define us. This foundational truth sustains and motivates our faith to foster.
Get a FREE eBook to strengthen your family discipleship!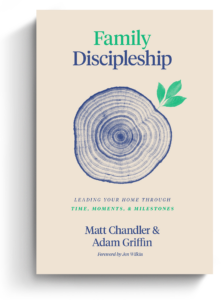 The back-to-school season is stressful for moms and dads. New rhythms of school, sports, and other extracurricular activities can quickly fill up a family's already busy calendar. Where do busy parents look for resources on discipling their family well? Aside from prioritizing church, what else can Christian parents do to instill healthy spiritual habits in their household?
Matt Chandler and Adam Griffin cover these questions and more in Family Discipleship: Leading Your Home through Time, Moments, and Milestones. And we're excited to offer this book to you for FREE as an eBook today.
Click on the link below to get instant access to your FREE Family Discipleship eBook now!