What just happened?
The Supreme Court issued its ruling in Kennedy v. Bremerton, a religious liberty case involving a Washington State high school football coach who lost his job because he prayed silently on the 50-yard line after a football game. The decision states, "The Free Exercise and Free Speech Clauses of the First Amendment protect an individual engaging in a personal religious observance from government reprisal; the Constitution neither mandates nor permits the government to suppress such religious expression."
What was the case about?
In 2015, the school district of Bremerton, Washington, sent assistant coach Joseph Kennedy a letter saying that praying on the field after a recent football game was unacceptable. In their letter to him, the school district gave two reasons.
First, that during the time he was praying on the field after the game, Kennedy was neglecting his responsibility to supervise what his players were doing. Second, that his conduct would lead a reasonable observer to think the district was endorsing religion because he'd prayed while "on the field, under the game lights, in BHS-logoed attire, in front of an audience of event attendees."
After two subsequent games, Kennedy again kneeled on the field and prayed, and the superintendent then wrote to inform him that he was being placed on leave and was forbidden to participate in any capacity in the school football program. The superintendent's letter reiterated the two reasons given in the previous letter.
A federal court found the firing to be justified, as did the Ninth Circuit Court of Appeals.
The case was appealed to the Supreme Court in 2019, but the justices said it was unclear whether Kennedy had been fired for neglect of duties or because he was praying. The school district later agreed that the coach had lost his job solely because of his religious expression, but the Ninth Circuit still upheld the termination.
The Ninth Circuit ruling deemed that virtually all speech by public school employees was government speech and thus lacked any First Amendment protection. The determination implied that even if Kennedy's prayer was private expression protected by the Free Speech and Free Exercise Clauses, the Establishment Clause nevertheless required its suppression. This determination was what Justice Alito had clearly said was a misreading of legal precedent, which is why the Supreme Court agreed in 2021 to hear the case.
What legal questions were considered in this case?
The questions the court was asked to consider are
1. whether a public school employee who says a brief, quiet prayer by himself while at school and visible to students is engaged in government speech that lacks any First Amendment protection; and
2. whether, assuming that such religious expression is private and protected by the Free Speech and Free Exercise Clauses, the Establishment Clause nevertheless compels public schools to prohibit it.
Who wrote the opinion for the court and how did the justices vote?
The vote in the ruling was 6–3. Justice Gorsuch wrote the opinion of the court and was joined by Justices Roberts, Thomas, Alito, and Barrett. Justice Kavanaugh also joined the majority opinion except for Part III–B. Justices Thomas and Alito wrote concurring opinions. Justice Sotomayor authored the dissenting opinion, joined by Justices Breyer and Kagan.
What was the court's reasoning?
In the majority decision, Justice Gorsuch said, "Both the Free Exercise and Free Speech Clauses of the First Amendment protect expressions like Mr. Kennedy's. Nor does a proper understanding of the Amendment's Establishment Clause require the government to single out private religious speech for special disfavor."
Based on Supreme Court precedents, Coach Kennedy merely had to show that his free exercise of religion had been violated by a policy of a government entity that is not "neutral" or "generally applicable."
"In this case, the District's challenged policies were neither neutral nor generally applicable," says Gorsuch. "Prohibiting a religious practice was thus the District's unquestioned 'object.' The District candidly acknowledged as much below, conceding that its policies were 'not neutral' toward religion."
Gorsuch noted that the speech rights of public school employees are not "so boundless that they may deliver any message to anyone anytime they wish." Public employees are not shielded when their speech is part of their official duties since "that kind of speech is—for constitutional purposes at least—the government's own speech."
But as Gorsuch added, "It seems clear to us that Mr. Kennedy has demonstrated that his speech was private speech, not government speech."
What is the significance of this ruling for Christians and believers of other religious faiths?
In a broad sense, this ruling adds another brick in the Supreme Court's foundational support for religious freedom. In the past decade, almost 20 rulings have been issued that protect the expression of faith by religious believers. While it can be tempting to look at the current trend and see this case as having been a foregone conclusion, we should not take this outcome for granted. We should give thanks to God for this ruling since "every good gift and perfect gift is from above" (James 1:17).
In a narrower sense, this ruling helps to reinforce a commonsense view of the Establishment Clause. No one truly believed that in praying after a football game Coach Kennedy was "establishing a religion" in Washington State. But such absurd claims were made in trying to find a legal rationale for preventing a public school employee from engaging in religious activity—praying in public—which the school district appears to have found embarrassing or unbecoming. Legal scholar Ed Whelan points out,
The district suggests that any visible religious conduct by a teacher or coach should be deemed—without more and as a matter of law— impermissibly coercive on students. Such a rule would be a sure sign that our Establishment Clause jurisprudence had gone off the rails. In the name of protecting religious liberty, the district would have us suppress it. Rather than respect the First Amendment's double protection for religious expression, it would have us preference secular activity.
By explaining that the Establishment and Free Exercise Clauses work in conjunction, rather than in opposition, the court has reaffirmed that American believers do not need to leave their faith aside when they enter the public square.
Get a FREE eBook to strengthen your family discipleship!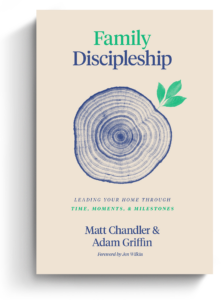 The back-to-school season is stressful for moms and dads. New rhythms of school, sports, and other extracurricular activities can quickly fill up a family's already busy calendar. Where do busy parents look for resources on discipling their family well? Aside from prioritizing church, what else can Christian parents do to instill healthy spiritual habits in their household?
Matt Chandler and Adam Griffin cover these questions and more in Family Discipleship: Leading Your Home through Time, Moments, and Milestones. And we're excited to offer this book to you for FREE as an eBook today.
Click on the link below to get instant access to your FREE Family Discipleship eBook now!