There was something unfinished causing a splinter in my mind.
​I began sensing it last year after I finished rewriting the song "Facing a Task Unfinished," but it came to a head in January. Over the last five years, we've started a new family and enjoyed incredible opportunities in music we never could've dreamed of—and, of course, don't deserve. All of this came out of writing music for the church.
​Even so, something was just not right.
​Then it arrived: the torturous day when I finally admitted to myself that little by little, we'd been moving away from what I'd set out to do at my core—write hymns. Time and focus was needed to feed new thoughts, collaborations, and sounds. It was time to face the music. Little did I know, I was about to find so much more.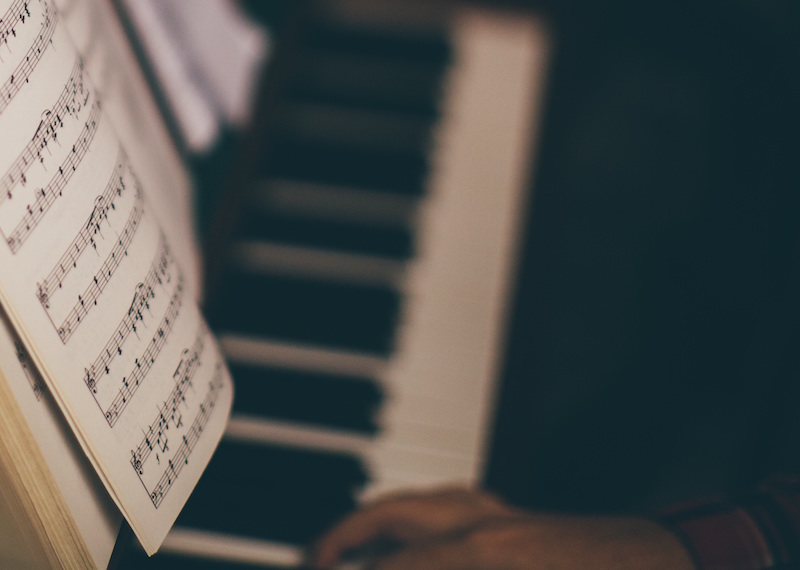 ​As the clouds broke, our focus shifted and sharpened, so we began putting pen and melody to a new project, Facing a Task Unfinished. (Download free sheet music for the songs "He Will Hold Me Fast," "For the Cause," and "Facing a Task Unfinished.") In the previous five years we'd only managed to write a couple of songs each year we were really pleased with, in contrast to earlier years of writing. But in the first three months of this year, we'd written eight new songs—a testament to the new perspective.
​In coming back to this calling, I began to freshly realize four things that reinvigorated our cause.
1. Singing Needs Mission
​There have never been more songs written than in the last generation. And yet never have we seen such a lack of passion in songs for mission. Few worship songs speak about sharing our faith in a focused way. As we've engaged with this project and with mission organizations, we've heard a desperate cry for more songs about mission.
​In the last decade, Christianity has seemingly become more privatized. Christians are almost apologetic about their faith; sadly, our songs have followed suit. We no longer sing "We've a Story to Tell To the Nations" or "Go Forth and Tell, Oh Church of God, Awake!" Perhaps there's a perception of offense, militant overtones, arrogance, or any number of other excuses.
​But if we're not singing about these things, there's a good chance we're not thinking about them. We're not as emotionally connected to them as we could be. We're less likely to discuss them, less likely to pray about them.
​Or weep for them.
​Why? Because how we sing affects how we live. Singing is a key intellectual foundation to how we think, feel, and pray. And thus it shapes the moment-by-moment decisions we make that forge our character, our witness, our legacy, and ultimately, all for which we'll one day stand before God to give account.
​When I first sang "Facing a Task Unfinished," I was deeply involved in student evangelism. Then, when I reconnected with the song after many years, I found it uncomfortable to sing. It reminded me of time in my life when I was more excited to share my faith. That was a hard pill to swallow.
​Our songs and our musicians must be missional. So many church choirs and music departments have died (or have done irreparable damage) because they've become more excited about the music than the mission. This doesn't have to be.
​Our music should fire us to mission.
2. Mission Needs Singing
​Kristyn and I lived in the Swiss Alps during our first year of marriage, during which we were asked to lead singing at an event for the first time. The invitation came from MedAir, an organization of gifted professional pilots who travel to the most war-torn regions of the world, lending their help to those in the most dire of circumstances. They witness humanity at its worst—life at its most disposable point.
​The retreat was intended to be a time of rest and refreshment for these heroes in what had been a particularly difficult year. So naively, I asked if they wanted us to do something fun, maybe even a concert. They said no. What they really wanted was to spend their time studying Scripture and singing hymns. These deep believers longed to sing from their deepest recesses.
​One of the ways we can become more missional is by passionately singing together. Last year, one of the guys in our office showed us some videos of singing among Chinese believers. The passion of these secret churches is extraordinary.
​From leading our families in our homes to planting churches, we need to be building singing communities that will, in turn, fire us to mission.
3. Global Music Revitalizes My Artistic Soul
​Artists paint with the colors they're given. And writing for the church is a curious thing since there are so many options. CCLI alone has more than 300,000 songs from which to choose. Thus you aim to write melodies and lyrics that are unique but also simple enough for people to grasp and sing. It's a distinctive niche; and after a while, what you write can begin to sound the same. I used to struggle with that challenge a lot.
​The Facing a Task Unfinished project opened my ears and voice to new sounds from a global perspective. I felt like a painter witnessing something entirely new, as if I'd always been painting the coast of Ireland and was suddenly exposed to the breathtaking contours of the Grand Canyon.
​This album is painted with a global palate. We worked with legendary jazz bassist John Patitucci, who has been involved at the Center for Global Music in Berkeley and has made nine albums with Chick Corea. We were also introduced to Scandinavian and Eastern European folk music. We played around with Middle Eastern music and Indian sounds. We worked with incredible Chinese folk musicians. We experimented with African and Latin American rhythms, even having the privilege of working with Ladysmith Black Mambazo. And with a number of new relationships in Nashville, we also collaborated with contemporary worship writers like Chris Tomlin, Jonas Myrin, and Nathan Nockels.
​World music gave us a new sound—a fresh palate with which to paint, the ability to try different things on an artistic level.
4. Global Music Revitalizes My Spiritual Soul
​If these things are true artistically, they're even more true spiritually. This project allowed me to engage with God's global church. It's sobering to receive letters and emails from believers around the world—from Cuba, China, the Middle East, and elsewhere—who desire to simply sing a hymn with us. More sobering, the "Facing a Task Unfinished" hymn was written—just as so many of these churches were birthed—out of horrendous persecution.
But such global awareness is also life-giving and inspirational. Each of us has the privilege of engaging with what God is doing in the world today. Through these songs, we're singing with Christ followers of every nation and language, every talent and trade.
​We celebrate with them, and with you, as we endeavor to sing about the task unfinished before us—the invitation to all people to come and experience the incomprehensible grace of our incomparable Savior.
---
Editors'​ note: Facing a Task Unfinished is the latest album from modern hymn writers Keith and Kristyn Getty (best known for "In Christ Alone"). The album, which champions congregational singing and mission, follows the example of the "greatest missions hymn" ever written, "Facing a Task Unfinished." Rewritten from its original 1931 version, the song's urgent call propelled individuals, families, and churches to global witness. This studio album features the Gettys's band, live congregational singing, and fresh global sounds as well as guest appearances by Ladysmith Black Mambazo, Fernando Ortega, John Patitucci, Chris Tomlin, and artists from around the world. For more information visit www.GettyMusic.com.