Every son of Adam, and perhaps especially those who follow the second Adam, knows the cycle of questions well. Do my friends at church think I'm godly? How many people liked my Facebook update this morning? How many of my Twitter followers view me as witty and intelligent from my ability to command 140 characters? Do my children think I'm the greatest parent ever? Do my co-workers admire me? Do most people like me?
How much time and energy does the average Christian expend over his or her lifetime worrying about what others think of them? We ask these questions and wring our hands over how others assess us for one simple reason: we are possessed with an acute fear of man. We fear men because our fallen tendency is to desire to be made much of, to sit on the throne of our lives, to exist at the center of our world.
Boasting in What?
The apostle Paul, however, takes precisely the opposite posture, calling Christians to worry more about God's assessment of things and less about how others view them. In the midst of warning Galatian believers of other gospels, Paul asks, "For am I now seeking the approval of man, or of God? Or am I trying to please man? If I were still trying to please man, I would not be a servant of Christ" (Gal. 1:10).
The apostle had far more to boast about in the sight of man than the average Christian or even the average minister. He was "circumcised on the eighth day, of the people of Israel, of the tribe of Benjamin, a Hebrew of Hebrews; as to the law, a Pharisee; as to zeal, a persecutor of the church; as to righteousness under the law, blameless" (Phil. 3:5–6). You have credentials? Paul had more.
The ecstatic experience he recounts in 2 Corinthians 12 ups the ante even more. He provides a remarkable account of being caught up into "the third heaven," essentially claiming he'd been given a glimpse into paradise itself. This vision was staggering, beyond human comprehension. Surely Paul would write a book about it, perhaps make a movie, or at least take to the conference circuit to share details with the world of his trip to heaven.
In his mercy, though, God laid low any notion Paul may have had toward using this experience for his own gain. To keep him humble about the visions, he says God gave him a "thorn in the flesh"—some type of (perhaps physical) malady, though Scripture specify what. And it worked. Paul declares he won't boast of the visions, only his weakness. Why? False humility? No. Because boasting in weakness makes much of Christ.
Model of Christian Maturity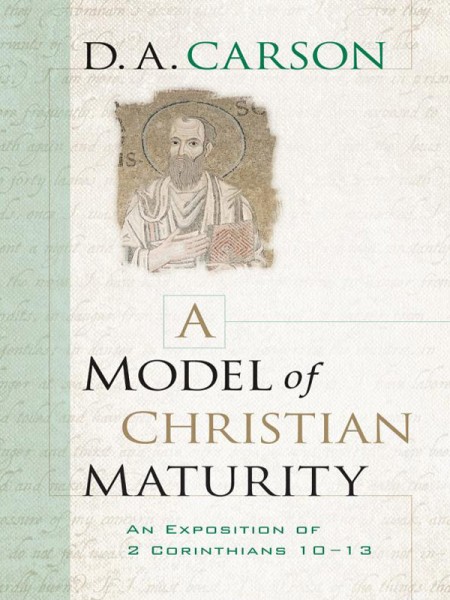 In his excellent book A Model of Christian Maturity: An Exposition of 2 Corinthians 10–13 (Baker, 2007), Don Carson teases out this point memorably. Paul had a different fear than most, he writes:
Most of us spend our lives in fear that others will not think highly enough of us; but Paul, offered the opportunity to boast straightforwardly about the most spectacular revelation ever afforded him, writes, "But I refrain, so no one will think more of me than is warranted by what I do or say." Paul fears that others will think too highly of him.
Further, Carson unpacks three Pauline convictions that underlie this restraint, convictions that ought to help us to think through issues of boasting and humility in light of our religious experiences or credentials. These insights are taken directly from A Model of Christian Maturity:
1. Paul refuses to let his reputation rest on inaccessible claims, appeals to ecstatic or supernatural visions. Even Paul's Damascus road experience and his subsequent meeting with Ananias had some reluctant witnesses; and therefore it is set apart from the very private vision mentioned in 2 Corinthians 12.
2. Paul will permit only his open conduct, what he does and says, to be used by his converts as the basis of their assessment of him. Behavior is of unsurpassed importance in the Christian way. No matter how spectacular the private claim, no matter how esoteric the putative vision, it cannot displace conduct and speech as more reliable indicators how how closely anyone follows Christ.
3. Paul is genuinely concerned lest others think too highly of him. This might simply reflect a brutal honesty; he knows his own heart well enough to realize that, apart from grace, it is capable of the most appalling abominations in God's eyes (cf. Rom. 3:10–20). But in fact it is more: it is the typical attitude displayed by this apostle, who is always concerned to insist that people should focus on the gospel and on the Savior, not the messenger. He will be a more effective witness to the message of Christ crucified if he draws little attention to himself and to his grace-empowered victories, being all the while unafraid to endure suffering, privation, and disgrace.
Paul's Humility and Ours
Paul's attitude is stunning: he is profoundly concerned that others might think too highly of him. Why? Because it would detract from his King. Because it would spotlight some alleged power in Paul. Because it would detract from the true source of his strength and ours.
What does that mean for us? Much indeed, but at least three lessons emerge:
1. Suffering designed to promote humility marked Paul's ministry. It must mark ours as well. Paul's life and ministry provided a clear and powerful illustration of the very gospel he preached.
2. It is through suffering and weakness, not human ingenuity and power, that the gospel triumphs. If God wants to make something out of us he will, but for his glory. In 2 Corinthians, Paul was defending his ministry over against a group of well-heeled, ultra-polished "super apostles" whose star power was rising among the congregation. Consistent with the world, they boasted in strength. Consistent with the gospel, Paul boasted in weakness.
Martin Luther put it memorably: "God creates out of nothing. Therefore, until a man is nothing, God can't do anything with him."
3. The oxymoronic notion of "Christian celebrity" would have scandalized Paul and should offend us as well. That was the stuff of "super apostles," not of authentic shepherds. In his other letter to the Corinthians, Paul's self-assessment was simply: "By the grace of God I am what I am" (1 Cor. 15:10). The minister (or ordinary Christian) who forgets that vital truth has turned Paul's application of the providentially placed thorn on its head.
"Don't like me too much" was Paul's suprising plea. By God's grace, we are likewise freed to quiet our frantic queries—"Am I good enough, smart enough, liked enough?"—with "It doesn't matter. I am weak. But my Savior is strong."