It sounds crazy: refugees living as missionaries in a Muslim-majority province of a Christian-majority nation. Yet God is using their displaced circumstances to advance his church.
Brian and Jerilyn White meet such refugees in Uganda through their work with East African Outreach (EAO). The American couple both graduated from Southeastern Baptist Theological Seminary in North Carolina before making short-term visits to East Africa over the course of a decade. Three years ago, they moved to Jinja, Uganda, as full-time workers. For years, the Whites asked God to expand their ministry into South Sudan, but disease and war there kept them from going.
But the Sudanese people eventually came to them.
Nation Overflowing with Refugees
The influx of Sudanese and other refugees has sparked a series of government-mandated settlements all over northern Uganda. Nearly 300,000 refugees live in Bidibidi—one of the largest refugee settlements in the world.
Uganda boasts what is arguably the world's most open refugee policy. The government allows refugees to enter with relative ease and gives them freedom to work, lease land, start businesses, and remain in the country as long as they wish.
More than 1 million refugees have flooded in from South Sudan, just north of the Ugandan border. Though South Sudan's civil war may have ceased with a recent peace agreement, these transplants will likely remain in Uganda.
Bible Training for All Who Come
Many of the refugees are Christians who hunger for biblical training—which East African Outreach offers. In the first year of ministry within Bidibidi, workers have trained more than 100 refugees. The most recent class of students in this settlement numbers 68, according to the Whites.
Many of the refugees in the program see themselves as missionaries, displaced from their homeland for the purpose of ministry.
A ministry of the missions organization Macedonian Call, EAO is a network of Bible-training schools (located throughout Uganda) that offers a 10-month course in biblical studies. Topics include Old and New Testament survey, basic Christian doctrines, hermeneutics, counseling, pastoral care, church history, and church government.
EOA students meet with teachers in monthly, one-week intensives that add up to what the Whites consider "the rough equivalent of an associate's degree." The majority of students are men, but the program is open to anyone interested—men and women, young and old, church leaders and laypeople. Though no printed resources are used for their courses, those who complete the program receive an ESV Global Study Bible provided by TGC International Outreach.
Many of the refugees in the program see themselves as missionaries, displaced from their homeland for the purpose of ministry. They minister to other Sudanese and to Ugandan Muslims who live in the area. Amazingly, some refugees working together to plant churches come from different tribes—the same tribes fighting each another in South Sudan.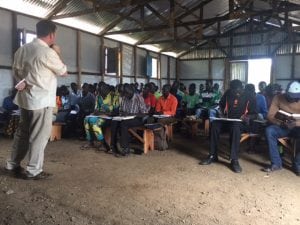 Training to Combat Poor Theology
The Whites say the greatest threat to sound doctrine in East Africa is the prosperity gospel, which blends well with local tribal religion in Uganda's melting pot of beliefs. Many are drawn to it by the sense of power it provides. According to Brian, adherents believe "I can bless this; I can curse that" on the basis of their level of faith.
East African Outreach's biblical-training curriculum emphasizes the need to spot lies when they appear. Students are trained to identify heresy and explain why it's wrong. The Whites note that Prosperity? Seeking the True Gospel, another free resource provided by TGC International Outreach, has been particularly helpful to EAO ministry efforts.
With 10 schools to oversee and a constant demand on their time and resources, the Whites ask for prayer. Pray that their family would be strengthened by God and would steward their time, energy, and resources to avoid burnout. Pray also that God would send more workers to help train leaders in Uganda and, more importantly, that he will raise up capable leaders from within East Africa itself.