Editors' note:
Photos courtesy of Michael Heitland. Read more of Michael Heitland's mission dispatches by visiting www.ES4M.org.
The missionary from North Dakota arrived safely in Kathmandu but then came down with a mild case of despair. The timing of his visit landed him in the midst of the autumn feast of Diwali, which honors the Hindu goddess of light and wealth. The annual celebration signifies the victory of light over darkness, knowledge over ignorance, good over evil, hope over despair.
Michael Heitland should be getting used to the cultural divide between East and West. He travels to the South Asian country of Nepal on a regular basis as the director of Equipping Saints for Ministry (ES4M). But maybe there was something in the air during that week of bright lights, fireworks, and singing.
"This is nothing short of the prince of the power of the air," Heitland observed. "Satan, masquerading as an angel of light." From Nepal he posted regular dispatches to ES4M's website and mentioned 2 Corinthians 11:14–15 as one of several scriptures that helped him understand and combat the despair he felt.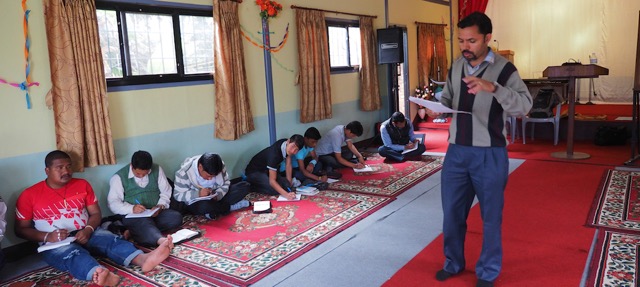 ES4M teams make four to five trips yearly to countries where theological famine is prevalent. In Nepal they work with several partner organizations that come together for Mission Nepal, which includes pastoral training, discipleship, and evangelism. Their efforts are facilitated by SARA Church in Kathmandu. Heitland says the ministry's vision is "to equip the next generation of leaders with sound doctrine and a thorough knowledge of the whole counsel of God."
Confounding Truth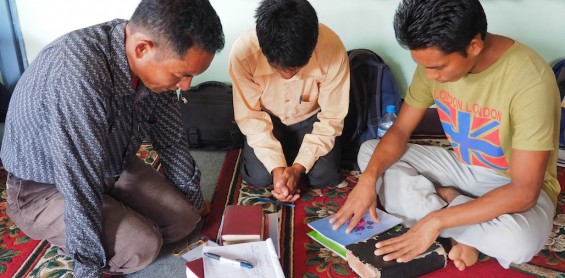 Nepal is the size of Arkansas but with 10 times the population. More than 28 million of its people are considered unreached. It suffers from the spiritual darkness of either Hinduism, with millions of deities, or the self-deifying religion of Buddhism. But Heitland expresses hope: "The gospel is going out; the church in Nepal is on the move! Since 2007 alone, the number of Christians has increased exponentially to more than 2.5 million believers in more than 8,500 churches. Christianity is exploding in Nepal."
In a late October dispatch, Heitland explained the big challenge in Nepal's Eastern culture: "Many times I have heard a Nepali say, 'There are many ways to the top of the mountain.' With this logic, both Christians and Hindus are correct. . . . Many approach religion like they would cake. Some like chocolate, others prefer vanilla."
ES4M works to prepare those who are called by God as ambassadors to their own nation. Heitland says that Westerners will fall short in reaching Nepalis, which is why ES4M is "devoted to equipping national leaders in this country, so that they can do the work of preaching, reaching, and teaching."
While some areas of Nepal are modern in comparison to other developing countries, few solid theological resources exist in the Nepali language. Heitland says that false teaching fills the void, because it's easier to access prominent Christian websites that promote "strange doctrines that diminish God's sovereignty and glory."
Exponential Training
Heitland first partnered with TGC International Outreach (TGCIO) in 2011—the same year he gave up his engineering career to establish ES4M. He traveled to Malawi and Tanzania that year and took along a small box of books provided through TGCIO's Packing Hope. He recalls the African pastors who traveled three days to reach him. They opened the box and wept at the sight of its contents. He saw a pastor's shelf of ministry resources that consisted entirely of tracts from a mission agency. Heitland returned home with a burden to help pastors in need of theological support.
"Remoteness is a challenge," he says. "In Nepal, Christians are scattered among mountainous areas, and it can take a day through muddy roads to get to a village."
ES4M trains 40 pastors at each session at SARA Church. Attendees commit to making short- and long-term plans to share their training with others—family, friends, community, and church members.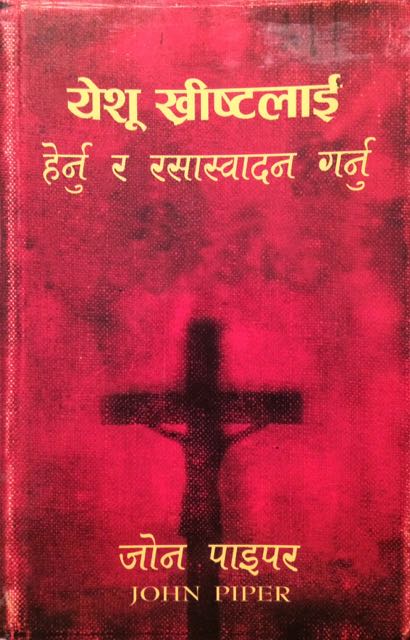 Before the end of a recent training course, the ES4M team handed each pastor two John Piper books provided through the efforts of TGCIO. The fully-funded Packing Hope projects were published in the Nepalese language and printed by a Christian partner in Kathmandu for easy and affordable access.
Christ-exalting Truths
The trainees received Piper's Fifty Reasons Why Jesus Came to Die and The Dangerous Duty of Delight. The first book shows God's purposes in sending his Son to die, with the "reasons" serving as springboards for pastors to provide a wealth of solid teaching to their congregations—as well as foundational truths for evangelism. In the second book, Piper shows from Scripture that a Christian's ultimate satisfaction is found in Christ and how this perspective changes our attitude about everything.
SARA Church Lead Pastor Tej says having these books in their language is great for spiritual nourishment and growth. His brother, associate pastor Karna, adds that other theological books they can find are mostly large textbooks, "and some of these do not even cite Bible verses. Having smaller resources that can be used to grow the believer is important."
Another fully-funded TGC-IO Nepali project is also printed in Kathmandu. Piper's Seeing and Savoring Jesus Christ looks at the Jesus of Scripture to impart "a spiritual beauty that speaks directly to our souls and says, 'Yes, this is truth.'"
All of these biblically-sound resources—ready and waiting—will benefit Nepal's first-generation believers.