Mike cuts dog food labels every day. He works the second shift—from 3 p.m. to 11 p.m.—at his printing plant, which is a 30-minute drive from his home in Topeka, Kansas. With the exception of a 30-minute dinner break at 6 p.m., Mike spends eight hours on his feet, feeding sheets of paper into cutting equipment. Although the equipment is computerized, it requires constant manual adjustments to function properly.
Some refer to Mike's labor as "blue collar" since it involves manual work at a factory. He says it's monotonous—"the same stinkin' thing all day"—but not stress-free or thoughtless. If his measurements are only slightly off, and he fails to catch it, he'll ruin thousands of labels—and be held responsible for it.
Mike's pastor, Kent Duncan, did his doctoral studies in the area of faith-and-work integration for blue-collar workers. But he faced a hard sell in trying to convince his congregation—which includes many blue-collar workers like Mike—of the importance of such integration. That's because, historically, distrust and suspicion have marked the relationship between blue-collar and white-collar workers.
After hearing Duncan preach for many weeks and participating in a small group Bible study about how we image God by working, how we fulfill the cultural mandate, and how Christ is Lord over all of life—especially our work lives—Mike finally made a real connection between Adam's creative activity in cooperation with God and his own work. "Even if I am cutting dog food labels," Mike says, "I'm making something that was not there before. I'm cooperating with God in the creation of something new."
While Mike represents a success case, not all workers—blue-collar or white-collar—make this connection. When we fail to connect our faith and our work, we lose our sense of vocation and our ability to connect our everyday lives to the mission of the church.
Four 'Arteries' of Ministry
Mike's story was one of many we heard as we interviewed more than a dozen pastors for Made to Flourish's first eBook, Discipleship with Monday in Mind, which features practical ways rural, suburban, and urban pastors across America are integrating a theology of faith, work, and economics (FWE) into the life of their congregations. There are four main "arteries"—pastoral practice, corporate worship, discipleship and spiritual formation, and mission and outreach—that mirror the four practice areas of Made to Flourish in local church integration.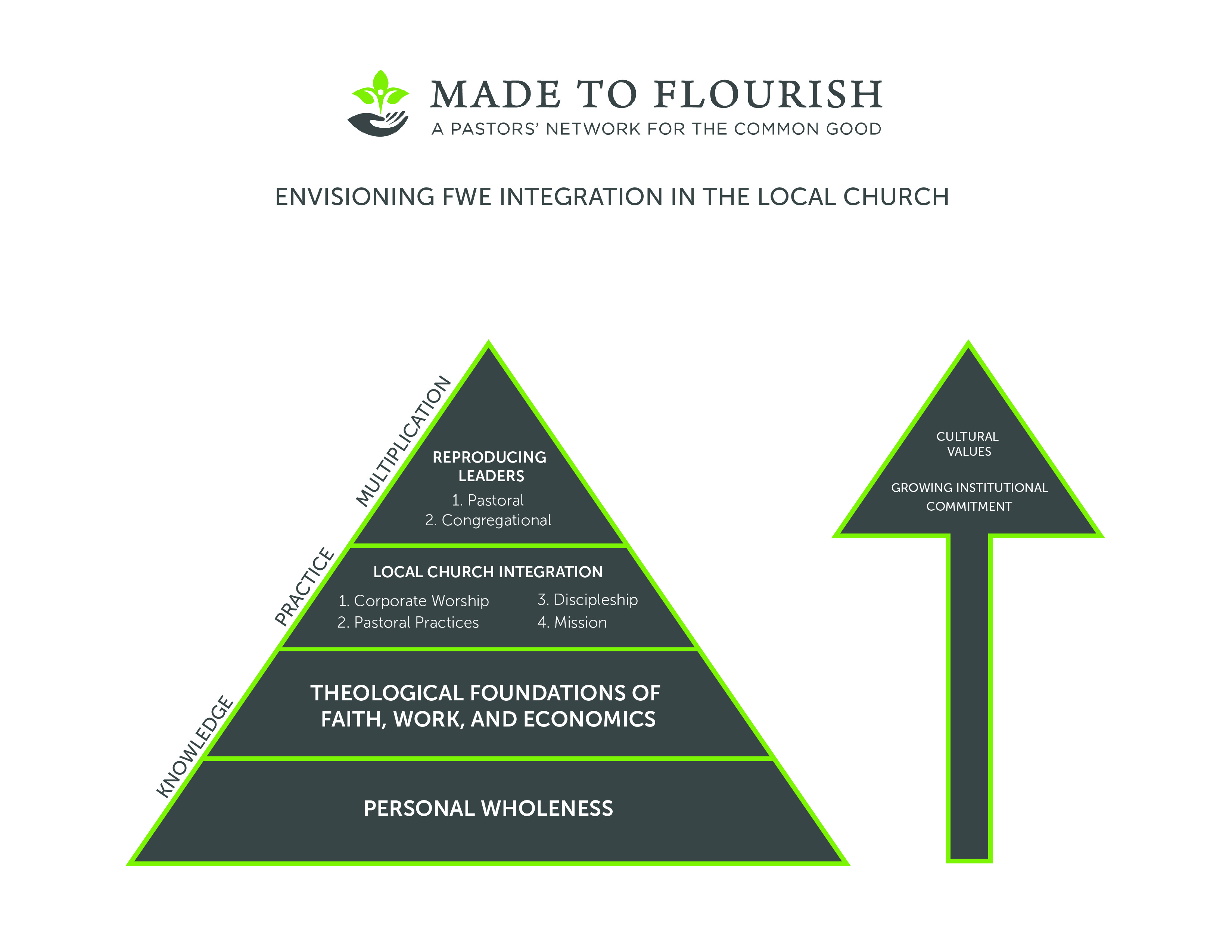 Pastoral Practice. Some pastoral practices are commonplace, like praying and ministering the Word (Acts 6:4) or visiting the sick. When FWE theology informs pastoral practice, though, some new practices might be helpful. For example, when safe and allowable, some pastors can visit their parishioners at their workplaces to help them draw connections between their faith and their work. Others provide vocational counseling sessions with their members. Such practices require a humble curiosity to learn from parishioners, reading about their occupations and asking to be taught about their work.

Corporate Worship. Many FWE pastors seek to abandon dichotomous language in corporate worship, such as "secular vs. spiritual" or "full-time ministry." Instead, they speak of all vocations contributing to the common good. Just as we commission foreign missionaries in our church services, FWE pastors can lead commissioning services for their congregants' mission fields—their daily workplaces. Pastors can also conduct "all of life" interviews or preach from the pulpit on the vital intersection on faith and work. Remember Mike in the opening paragraph; it was because of such pastoral practices by his pastor that Mike came to see his work differently.

Discipleship/Spiritual Formation. Christ forms us, and he often does so through our work. He uses our work to make us increasingly like him, sanctifying us into his image. Our workplace is our "discipleship laboratory," allowing us to put into practice our theology. When pastors preach, they can intentionally equip their congregants with the tools to help them navigate their workplace environments in God-honoring ways. This formal equipping can occur through small group Bible studies, sermons, seminars, vocational affinity groups, or intensive discipleship schools.

Outreach/Missions. Good work contributes to the flourishing of all people. It allows us to build capacity (like skills, money, access to resources, partnerships, and networks), which—when coupled with compassion—fosters real and tangible aid for others. What would it look like if God's people use their capacities to help aspiring entrepreneurs launch new businesses, to invent ways to alleviate poverty through good and dignified employment, to create jobs for those needing work? The Front Porch Cafe in Akron, Ohio, for example, is doing this. Connected to a local church, Front Porch hires and trains ex-cons to be consistent, hardworking, and ethical employees to boost their employability. While "graduates" of this program don't receive a certificate, they are given something much more valuable: a letter of recommendation. Helping an image bearer of God re-enter the job market is a form of restoration, through dignity in working. While not all ex-offenders will complete the process and successfully transition into employment, Front Porch staff attest that 85 percent who do complete the program successfully step into employment.
The church, by God's design, is a vehicle of God's glory in the world. Discipleship with Monday in Mind illustrates how many pastors across the country are leading their congregations in connecting Sunday worship to Monday work. And this connection has a wonderful effect: God's people image him in the workplace as agents of hope to a world in need of good news—the gospel of Jesus Christ.