As a hospital chaplain working specifically in palliative care and end of life, death is something I encounter and contemplate often. In 2020, we've all probably thought about death more than normal. With more than 1 million deaths globally as a result of the COVID-19 pandemic, many are considering the fragility of life in a new way.
Fittingly for this year, Netflix also has death in focus. Two recent, critically acclaimed Netflix films—Charlie Kaufman's I'm Thinking of Ending Things and Kirsten Johnson's Dick Johnson Is Dead—are meditations on mortality. But their approaches are strikingly different. 
Nihilistic Dread: I'm Thinking of Ending Things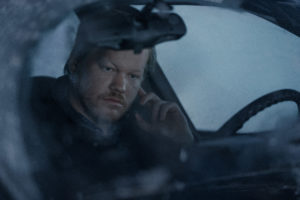 Charlie Kaufman is one Hollywood's most creative filmmakers, but also one of the bleakest. He gained prominence as screenwriter for Spike Jonze's pair of quirky films, Being John Malkovich (1999) and Adaptation (2002), and then won a screenplay Oscar for 2004's Eternal Sunshine of the Spotless Mind. His films probe the minds of sad, sometimes pitiful characters in a postmodern way that doubles as a commentary on art, memory, and the existence of truth. He took these themes to the next level with his 2008 directorial debut, Synecdoche, New York, about a dying theater director's desire for his art to mean something in light of his impending demise. This year's I'm Thinking of Ending Things—adapted from Iain Reid's 2016 novel—similarly concerns a sad, aspiring male artist confronting his own mortality.
The film follows a young couple who've just started dating. The unnamed young woman (Jessie Buckley) and Jake (Jesse Plemons) drive through a snowstorm to meet Jake's parents in their rural home. Their heady conversations revolve around art, poetry, paintings, musical theater, film, and even film criticism. As the night goes on, viewers begin to question reality and the identities of the characters. The third act is quite the puzzle—taking viewers to baffling yet mesmerizing places as it zeroes in on the regrets and melancholy memories of an aging janitor, who may be an elderly Jake (Guy Boyd).
At one point Jake recounts a traumatic childhood memory in which his father showed him a dying pig. As Jake is quite literally contemplating ending his life, he sees the pig and himself as the same: an animal who dies and is buried. There's nothing else. One line sums up the film's bleak worldview: "Other animals live in the present. Humans cannot. So they invented hope." As in Synecdoche, New York, there is nothing after death and no higher purpose or hopeful meaning to which one's mortal life points. Humans are no different from farm pigs. Both live for a time and then cease to exist. Kaufman echoes Ecclesiastes 1:2 (NIV) in his existential despair: "'Meaningless! Meaningless!' says the Teacher. 'Utterly meaningless! Everything is meaningless.'"
Honest Hope: Dick Johnson Is Dead
Kirsten Johnson is an acclaimed documentary filmmaker whose excellent 2016 memoir Cameraperson pondered how the camera and cameraperson interact with suffering and the diversity of human experience. Her latest documentary, Dick Johnson Is Dead, is a creative experiment she made to preserve the memory of her 86-year-old father, Dick Johnson. Dick's wife and Kirsten's mother died in 2007 from Alzheimer's disease, and now Dick is himself suffering from dementia as he nears the end of his life. Kirsten opens her film by saying: 
Just the idea that I might ever lose this man is too much to bear. He's my dad. . . . But now it's upon us. The beginning of his disappearance. And we're not accepting it. . . . I suggested we make a movie about him dying. He said yes. 
The film shows Kirsten and Dick staging Dick's death multiple times, in increasingly humorous and sometimes jarring ways, involving stunt men and occasionally fake blood. They find the process of making the film both a bonding experience and an oddly therapeutic way of processing Dick's actual death.
Dick is a devout Seventh-day Adventist and retired psychiatrist. He's a kind, selfless, pleasant family man devoted to his grandkids, daughter, former patients, and chocolate cake! As the film goes on, Kirsten lets the viewer listen in on her candid conversations with her dad about his faith (which she also grew up in), his wife's death, the pain of dementia, and his hopes for the next life. 
In one comedic and glorious moment after one of Dick's staged deaths, we see Dick in a hilariously cinematic "heaven" with Jesus himself. Though much of the sequence is played for laughs—slow-motion, fake clouds, golden confetti, with the music of "Holy, Holy, Holy" playing—it's also a sincere reflection of Dick's hope for restoration, healing, celebration, and reunion. Earlier in the film Dick reveals his lifelong embarrassment over his deformed toes—a source of shame he always covers up with socks and shoes. In the "heaven" scene we see Jesus washing Dick's feet and giving him a new pair of feet with "normal" toes. It's a beautiful visual expression of the groanings of our current mortal, broken bodies for restored and whole heavenly bodies (2 Cor. 5:2–4). Even if some viewers will see this as a mere dream, for Dick the hope for a resurrection body (1 Cor. 15:35–49) is utterly sincere. 
We can live with defiant joy—rather than hopeless nihilism—because we have a Savior who defied death and will one day resurrect us.
Late in the film, Kirsten articulates the hope of her father's faith: "Jesus will return to earth to resurrect his followers, the righteous, and bring them up with him to heaven for eternity. So in the face of death, there's hope that everything will be OK." 
In contrast to I'm Thinking of Ending Things, Dick Johnson Is Dead does not see death as the end and life as hopeless. The film's final scenes—which I will not spoil—are especially potent in their framing of death in the context of resurrection hope.
Grief, Death, and Hope
I'm Thinking of Ending Things offers no silver lining, no higher purpose, and leaves the viewer feeling the existential ache of facing death alone. Dick Johnson Is Dead offers hope amid grief. It's not a Hallmark card full of trite cliches like, "He's in a better place" or "God wanted another angel." Rather, the film struggles with death, loss, and "the long goodbye" of dementia. It's a bittersweet mix of gallows humor and earnest grief. Dick Johnson can be grieved, but he will not grieve without hope (1 Thess. 4:13).
As Ecclesiastes 3 asserts, there is a time for death, weeping, and grief. And there is much to grieve in 2020. But there is also a time to laugh, heal, and dance. As Johnson says in her film:
It would be so easy if loving only gave us the beautiful. But what loving demands is that we face the fear of losing each other. That when it gets messy, we hold each other close. And when we can, we defiantly celebrate our brief moments of joy. 
Christians can honestly face death, grieving it for the grievous thing that it is us. But we can also live with defiant joy—rather than hopeless nihilism—because we have a Savior who defied death and will one day resurrect us.
Get a FREE eBook to strengthen your family discipleship!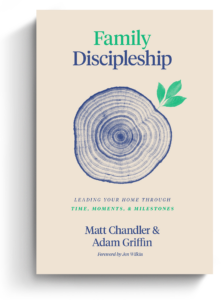 The back-to-school season is stressful for moms and dads. New rhythms of school, sports, and other extracurricular activities can quickly fill up a family's already busy calendar. Where do busy parents look for resources on discipling their family well? Aside from prioritizing church, what else can Christian parents do to instill healthy spiritual habits in their household?
Matt Chandler and Adam Griffin cover these questions and more in Family Discipleship: Leading Your Home through Time, Moments, and Milestones. And we're excited to offer this book to you for FREE as an eBook today.
Click on the link below to get instant access to your FREE Family Discipleship eBook now!