"Therefore, since we are surrounded by so great a cloud of witnesses, let us also lay aside every weight, and sin which clings so closely, and let us run with endurance the race that is set before us, looking to Jesus, the founder and perfecter of our faith…" Hebrews 12:1-2
There is an article by Stephen Altrogge making the rounds on social media this week titled "Dear Moms, Jesus Wants You to Chill Out." It is a great post, reminding moms that the yoke of legalism is a heavy burden to bear, and that majoring in the minors does nothing to help us love God, our spouses or our children better. I applaud Altrogge's insight into the comparison-plagued mind of the typical Christian mom, daily sailing between the Scylla-and-Charybdis scenarios of motherhood (doctor or doula? Bottle or breast? Gluttony or gluten-free? Public or private? And on we sail…) Modern moms are so often characterized by (and crushed by) the side-long glance of comparison.
But are all comparisons to others harmful to our mothering?  I don't think so. In Hebrews 11-12, scripture challenges believers to look to those who have gone before – Abel, Enoch, Noah, Abraham, Isaac, Jacob, Moses, Rahab – those who endured great hardship and opposition for the sake of doing exactly the thing Altrogge (and Jesus) want us to do: Grow in holiness by loving God and others. What is mothering, if not a race for holiness? Hebrews 11-12 gives us a comparison that is worth our time – a comparison not to those who majored in the minors of legalistic one-upsmanship, but to those who majored in the majors of faith-bolstered preferential love of God and others. And it calls them as witnesses to our own efforts.
That makes this mom want to get off the couch.
It makes me want to redouble my efforts to fix my eyes on Jesus and on the faces of those he has entrusted to my care, to fix my thoughts on the transforming grace of the cross so that my life models holiness to my kids, to fix my efforts on creating a home that celebrates what God celebrates – shared time, shared faith, shared affection. Moms, daily remind yourselves not to major in the minors, but do something else as well: daily remind yourselves to major in the majors.
In matters of legalism, rest – yes – but in matters of holiness, run. Run like your hair is on fire. Cast off everything that hinders: all false measures of righteousness cloaked as homemade bread or spotless kitchen surfaces. But let your newly-found chill mentality toward Pinterest and June Cleaver free up energy to run the race that counts. Because this good work of loving God and loving others is a race for the fit and the fleet, particularly if you're a mom. Psychologists tell us that a child's moral framework – the way they view right and wrong – begins forming at eighteen months and is set by around age eleven.  So if you thought you had eighteen years to train them in the fear and admonition of the Lord, you might want to bump up your timetable. You might want to run.
In the faith-fueled race of holiness, some days you will run well and some days you will run out of steam. There is grace for that, and majoring in the majors will require you to draw on it constantly. But get up and run again. Your family does not need you to bake the perfect pie, but they do need you to run with endurance the race marked out for you—-a race that we run for the joy set before us: the joy of running in the very steps of Christ. Not an easy race, no, but a course we can surely complete because of the completed work of the cross. Dear moms, Jesus wants you to run.
Get a FREE eBook to strengthen your family discipleship!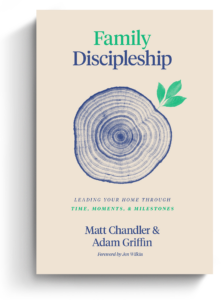 The back-to-school season is stressful for moms and dads. New rhythms of school, sports, and other extracurricular activities can quickly fill up a family's already busy calendar. Where do busy parents look for resources on discipling their family well? Aside from prioritizing church, what else can Christian parents do to instill healthy spiritual habits in their household?
Matt Chandler and Adam Griffin cover these questions and more in Family Discipleship: Leading Your Home through Time, Moments, and Milestones. And we're excited to offer this book to you for FREE as an eBook today.
Click on the link below to get instant access to your FREE Family Discipleship eBook now!