So this is what it looks like when the Chicago Cubs finally win the World Series, when baseball's most notorious losers complete the transformation into indelible winners: Grown men, exhausted, tearful, and lost for words after surviving a crazy Game 7 that was, as one of the commentators put it, a battle of attrition. Every pitch from the middle innings on seemed like slow torture. Exemplary Christ-follower Ben Zobrist delivered the go-ahead hit in extra innings and was named series MVP.
Contrary to what's expected of them, the lovable losers endured to the end.
Dream Come True—Finally
As a lifelong Cubs fan, I've dreamed of this moment for 40 years. I've envisioned countless scenarios in which Ryne Sandberg or Andre Dawson or Mark Grace or Kerry Wood (or countless Cubs stars of various eras) played the hero and finally ended our futility. Fans in the generations preceding mine harbored the same dreams with the likes of Ernie Banks, Billy Williams, and Ron Santo playing the starring roles.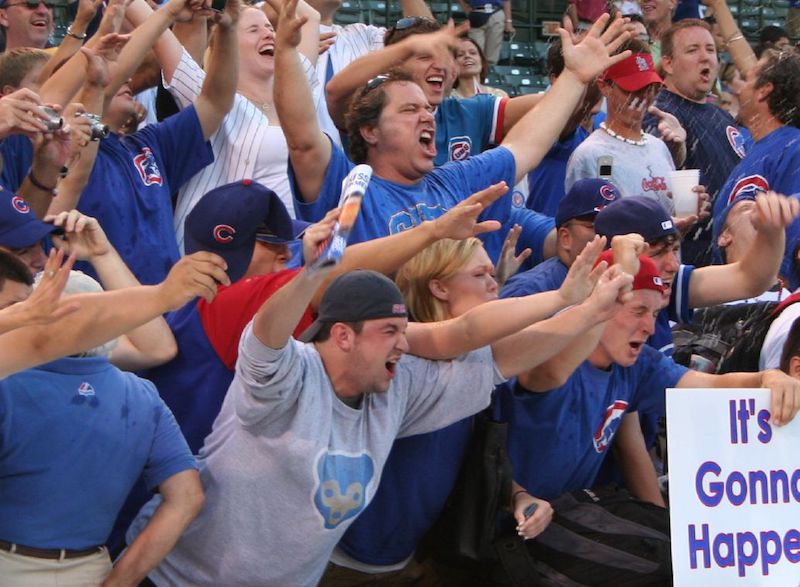 Now, as I watch Zobrist and Rizzo and Bryant and the rest of this amazing bunch hoist the Commissioner's Trophy, it's surreal. This club persevered and overcame all the moments of adversity under which the Cubs have traditionally collapsed. After dropping a heartbreaker in an early-round playoff game (they squandered a ninth-inning comeback, losing in extra innings), this team rallied again in the ninth the next night to take the series. It wasn't down for the count after trailing two games to one (and being shut out twice in a row) in the National League Championship Series. Nor were the Cubs done after falling behind three games to one in the World Series. Nor did they fold in Game 7 after Rajai Davis's eighth-inning home run tied the game and swung the momentum to Cleveland.
Those players of the past weren't members of this team, of course, but their roles in the journey to baseball's summit seem significant. They endured all the ups and downs that made the Cubs' story what it is. The same can be said, though to a lesser degree, of all loyal Cub fans who've endured decades of heartbreak without giving up hope. It's like we've all been enfolded into this unreal moment. We're not the ones getting the glory, but we're basking in the glow of it and feeling we're somehow part of it. This is an untainted moment of earthly joy that will long burn brightly in our memories, and all the hard stuff involved in getting here only makes the story's final chapter sweeter.
Glimpse of Greater Glory
I don't want to go overboard and speak of ending the 108-year championship drought with exaggerated significance. In the grand scheme of things, it's only baseball, a blip on the historical radar of pop culture in a relatively tiny part of the world. But that doesn't mean the Cubs' accomplishment is totally trivial, either.
As John Calvin said, all of creation contains "sparks of God's glory." Those sparks can certainly be found in baseball. There's much to enjoy in the aesthetic beauty of the game, the strategic calculation involved in cobbling together a victory, and the athletic prowess of those who engage in this mentally and physically demanding competition at the highest level.
God gives us 98-mile-per-hour fastballs, 400-foot home runs, and dramatic storylines so they would bring us delight. No wonder families and friends naturally forge closer bonds as they take in a game or closely follow their team season after season. It only makes sense that many Cubs fans would be moved to tears as this storyline reaches its climax. They're flooded with images of fathers, mothers, sons, daughters, and grandparents for whom following this club has been a shared lifelong passion.
Like all great stories, though, the most important part of this one is that it can serve as a picture of gospel hope in miniature. The Cubs' saga, because the drought was so much longer and more desperate than any other North American professional sports franchise, actually illustrates that hope uniquely. Think of it: more than a century of constant struggle, doubt, and disappointment. Hopes for a glorious and cathartic future of which we'll all be an emotionally and spiritually invested part, despite not being the main actors.
We hope for we do not yet see, and our great God kindly gives us earthly windows into the glory that will come if we faint not (Gal. 6:9).