"You don't act like the rest of them do."
A former friend's words embarrassed and astounded me. She was speaking to Marcia Mitchell, an African American woman who left an abusive relationship and had moved in with my family.
I bit my lip and squeezed my eyelids shut.
Marcia huffed, shook her head, and walked back to the car. I followed her example, leaving my friend standing in the parking lot.
In my friend's mind, she'd given Marcia a compliment. But before I lay too much condemnation at her feet, I have to confess I've made comments just as thoughtless and stupid. Instead of proving me innocent of racism, her words revealed a heart that still needed changing.
Getting Personal
Marcia lived with us for more than a year. Before then, I believed most African Americans who decried racism in America were being overly sensitive. America gave everyone an equal footing. That was before I witnessed exchanges like the one in the parking lot, which occurred nearly every day. Racism is better understood when experienced than when explained. Getting to know and care for Marcia made those comments personal to me. I began to feel firsthand the realities of living in her world.
Marcia had earned a college degree from an unaccredited institution no employer would recognize. She worked two jobs and still couldn't pay her bills. The climb out of poverty proved steep, and the government's helping hand rarely extended to her, the working poor. A welfare check would have given her more income, and qualified her for government housing as well, but Marcia wouldn't take it. Why?
"Because that's not right," she said. "It's not what a Christian is supposed to do. I don't know what's going to happen with all this, because it's not as if I have anybody to call. I guess I'll find out what it means to trust God, won't I?"
Bringing Marcia Home 
Brian Fikkert, founder and executive director of the Chalmers Center for Economic Development at Covenant College, writes, "Once you define poverty as being rooted in broken relationships, it changes everything in your approach to working with the poor."
Broken relationships peppered Marcia's life. Her mother passed away years ago. Her dad only called when he needed money. I was staring at the living example of Fikkert's words.
His use of the word relationship challenged me. I believed the Lord called me not merely to bring Marcia into my home, but rather to bring her home, to a place where she would become part of the family—an adoption of sorts. As the psalmist declares, God is "a father to the fatherless, a defender of widows," and he "sets the lonely in families" (Ps. 68:6).
Offering Marcia a place to stay would be hard, but doable, even for a long period. But what of offering her a place in our hearts, as a member of the family? Marcia and my family had many cultural differences. The only thing we had in common was Christ. Would he be enough for her and for us on this new adventure?
Sovereign Provision
One day on her way home from work, Marcia's car breathed its last breath. The hood had been held together by bungie cords. They finally snapped apart as the overheated engine seemed to vomit car parts out onto the road. A bystander helped her push the remains out of traffic. When I arrived shortly thereafter, Marcia had one hand on the hood of her car, and one hand toward heaven. Tears streamed down her face.
"Lord, you see; you know my need. You are my provider."
It's one thing to trust God when your job seems secure and your savings account is fully funded, but Marcia possessed greater faith than that.
Our deacons maintained a car ministry where members donated used vehicles to those in need. The ministry chair contacted me that afternoon and asked, "Hi Gaye, do you know anyone in need of a car?"
"What!? You're kidding, right?"
Five years later, Marcia still drives the donated vehicle. She drove it to classes at night and continued to work two jobs. She drove it to her graduation from correctional officer basic training and to her current full-time job. She located an affordable apartment downtown near several members of our church, which is now her church too.
Unity Is Not Uniformity 
As a member in our church, Marcia reminds us that unity is not uniformity. Predominantly white churches anxious to open their doors to African Americans, Hispanics, and Asians aren't always aware of the price minorities pay when they align with our churches.
Someone in Marcia's family asked her, "Why do you want to go to that white church?" She replied, "Because they preach Jesus, and they love me. That's my definition of church."
There've been awkward moments when well-intentioned church members have said the wrong thing. Noticing Marcia's membership name badge, someone once told her, "You don't look like a typical First Presbyterian member." Marcia just smiled, "Who knows what that looks like? If more people like me join the church, there may come a time I'll be telling you the same thing."
Instead of shaking her head and walking away, she felt safe enough to challenge that person's thinking. When you know you're loved, you can say what you need to say.
Part of the Family 
Marcia took her place not only in our church but also at family gatherings. She was the over-the-top family member who hollered, "You go girl!" when my daughter graduated from college.
When I went with Marcia to a medical appointment, the doctor scratched his head and pointed to me. "And who are you to Miss Mitchell?" Marcia quickly answered. "My mother. Being a doctor, don't you see the family resemblance?"
At my husband's funeral, my father-in-law stopped in the aisle when he saw Marcia and took her hand. "You are sitting with us. He was your dad too."
One of the things that carried me, a new widow, from fear to faith was Marcia's prayer: "Lord, you see; you know my need. You are my provider."
Loving Marcia and walking toward what it means to be part of racial reconciliation cost both her and my family more than we knew—a price neither of us could pay. I don't claim to have all the answers for poverty and racial reconciliation, but I have to wonder: how different would our churches look if we were willing to take on someone else's hurts as our own?
Get a FREE eBook to strengthen your family discipleship!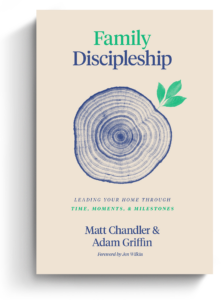 The back-to-school season is stressful for moms and dads. New rhythms of school, sports, and other extracurricular activities can quickly fill up a family's already busy calendar. Where do busy parents look for resources on discipling their family well? Aside from prioritizing church, what else can Christian parents do to instill healthy spiritual habits in their household?
Matt Chandler and Adam Griffin cover these questions and more in Family Discipleship: Leading Your Home through Time, Moments, and Milestones. And we're excited to offer this book to you for FREE as an eBook today.
Click on the link below to get instant access to your FREE Family Discipleship eBook now!