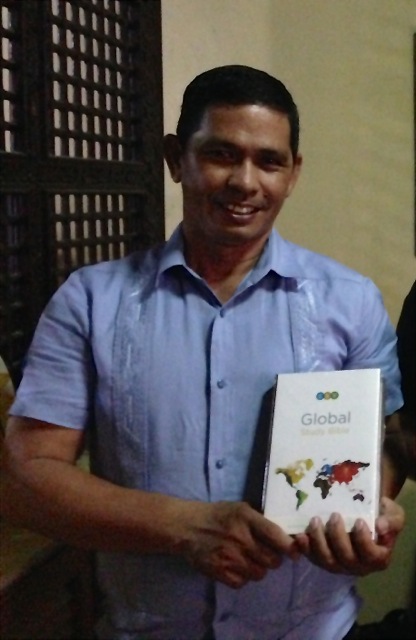 Crossway Christian Church in Bay City, Michigan seized an opportunity to encourage a young church-planter.
Pedro Junior—"Jun"—Taguinod originally left Manila, Philippines to come to the United States to plant churches. When financial difficulties cut short his plans three years ago, he prepared to return home. And Crossway's preaching pastor, John Botkin, saw the chance for his congregation to help Jun to equip pastors back in his country.
"The best way we thought we'd be able to encourage him was to simply be there," Botkin says. Crossway began planning their first trip to the Philippines.
Jun's home mission field of Santa Maria, Bulacan is located in an area on the outskirts of Manila. Over 25 million people reside in metro Manila, exceeding 1800 people per square mile.
Amid the myriad of people in this part of the world, religious workers and clergy are held in high regard. Botkin says, "Last year politicians in Manila invited religious leaders to pray, and Jun was able to go and pray at a public prayer rally."
A majority of churches have young men with no formal training attempting to lead their congregations. (This problem mirrors the larger picture in the Philippines, where more than half of the nation's almost 100 million people are below the age of 20). Bookstores are full of Christian books, according to Botkin, "however, a vast majority are prosperity-gospel related."
Competing with a false gospel
Christians in this densely packed region, though largely conservative in beliefs, struggle to know their true identity in Christ. Impoverished conditions in greater Manila seem to have yielded ground for a false gospel, one that offers the allure of temporary satisfaction, an exchange of the Creator for the created.
"I've been to a lot of places in the world, and despite poor conditions people have access to media, where prosperity gospel messages thrive," Botkin says.
Despite the widespread prosperity teaching in greater Manila, there is a hunger for solid teaching and the desire for equipping church leaders.
On the Crossway team's most recent trip to the Philippines in March, 2014, Botkin's hope was to encourage and equip pastors by hosting a pastors' conference with Jun, to specifically warn against prosperity teaching.
"These pastors have very little resources—they're in poverty themselves," Botkin says. (When one pastor died unexpectedly, he left a family of eight behind with nothing). "We wanted to help equip pastors, which we know will influence preaching, which we know will hit the pews."
Pulpit support
Botkin realized that Jun could best equip pastors by supplying theological support. His team carried along 165 pounds of resources provided by The Gospel Coalition-International Outreach (TGC-IO) for "theological famine relief." The materials included ESV Global Study Bibles (32 copies) and books that support pulpit ministry, including: The Supremacy of God in Preaching, by John Piper (88 copies); Galatians and You, by Tim Keller (68 copies); and Proclaiming a Cross-Centered Theology, by Mark Dever and Ligon Duncan (52 copies).
One young recipient said, "I can't believe you actually brought these books!"
Another church Jun started has used the English Standard Version for preaching for years, but members haven't been able to follow along, having no ESV Bibles of their own. Thanks to Crossway's partnership with TGC-IO, each member of this church can now follow along with their own ESV Global Study Bible.
Botkin's congregation, a small church of 60, has learned the truth of Romans 12:4, one body with many parts. He says, "God has entrusted us and challenged us to think about how we can best use the resources he's given us to make disciples not only here, but in the Philippines as well."
The congregation at Crossway Christian Church hopes and prays that the church in the Philippines will grow in discernment and develop a love for God's word, to be able to know truth from error. John Botkin says that by God's grace more and more will be undergirded by a love of the riches, depths and surpassing greatness of Jesus Christ.
"If they aren't going out with that foundation, then the other things don't matter."