Editors' note:
We are working to provide solid, biblical content to Spanish-speaking pastors and church leaders in North and South America. We partner with translators, publishers, and missions networks to provide new access to resources in digital and physical formats. Please consider a donation to our Theological Famine Relief fund to continue equipping the church.
Does communism prevent church growth? For Cuba—after nearly 60 years under a communist government— the answer is no.
Believers in Cuba remained resilient through difficult early years of the Revolution under the atheistic-leaning philosophy of Fidel Castro. And over the last two decades they have enjoyed more religious freedom.
Just 90 miles south of Key West, Florida, this largest island in the Caribbean is part paradise and part prohibition. The churches of Cuba continue to face some limitations, yet their numbers multiply through house churches and small groups. And this growth necessitates biblical training that leads to healthy discipleship.
Supporting the Local Church
One missionary who lives in Cuba (name withheld) partners with TGC International Outreach (IO). He explained that Cuba's challenges are unique:
"The church is very much alive and growing. However, larger group events where there is the desire to rent a stadium or use mass media are very difficult. But, for the most part, you can freely talk about Jesus. People can openly share their faith one-on-one in homes and attend worship services in local churches."
This man's mission group works throughout Latin America to develop national leaders. The workers offer Bible training along with training on the family, Christian counseling, and spiritual leadership. The IO partner says, "We focus on processes instead of events by simply coming alongside to support the local church in what they are doing."
Accessible Resources
This organization also provides resource centers in different parts of Cuba by using space in existing churches, Bible institute libraries, and, in some cases, homes. Internet use is widely inaccessible to most Cubans, who have little discretionary income; and the cost of online access at public locations is per hour, which makes it difficult to download a lot of information. The resource centers address this need by offering free teaching materials through both physical books and digital downloads. With local WiFi available in these centers, biblical resources can be easily put on flash drives.
In 2016, TGC IO had the privilege of providing this mission organization with 240 units of the Spanish Pastor's Book Set for distribution in many places. These books are now available for check out in their resource centers around Cuba.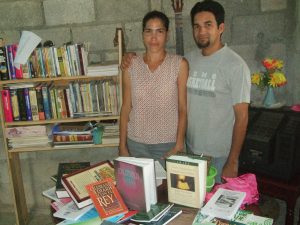 One support-team volunteer (name withheld) for a center in the southern part of the island shared his thoughts on the value of these kinds of libraries and resources: "They put many books in the hands of Christian leaders that have been very helpful and a blessing for them in their spiritual preparation. These are books they can't buy but can easily access in the centers. In any other way, this would be too hard or even impossible."
The IO missionary partner said he appreciates the way God creatively networks ministries for Kingdom purposes: "We have learned that developing leaders requires many people and resources—that it takes the whole body of Christ to get the job done."