The test results were clear: HIV positive. The woman shared this devastating news with her pastor and heeded his instruction to trust God for healing. Two years later, extremely sick from not taking medication, she felt hopeless.
The Malawian woman found free medical care at an HIV clinic in Lilongwe, the capital city of Malawi. Partners in Hope Medical Center (PIH) initially started in 2001 as an HIV project to address the disease that infects up to 20 percent of adults in the country's urban cities and around 10 percent in rural areas.
My passion has been to see our staff grow in their spiritual lives, to equip them for ministry—to have as much of a spiritual impact on our patients and community as we do a medical impact.
The PIH center has grown to include two clinics, a hospital ward, a laboratory, a pharmacy, counseling services, and a community outreach program. Both Western and Malawian medical staff work at the center, and they strive to give their patients quality care—both medical and spiritual.
Strengthening Nationals to Meet the Needs
Malawi ranks in the top 10 for poorest countries, and finding healthcare is especially challenging. World Bank reports a sobering shortage of doctors: 0.019 for every 1,000 people.
Dr. Barrett Jones, a family medicine physician from Mississippi, improved that statistic in 2014. Compelled to demonstrate the PIH motto, "Christ's love in word and deed," he joined the medical center staff in Lilongwe.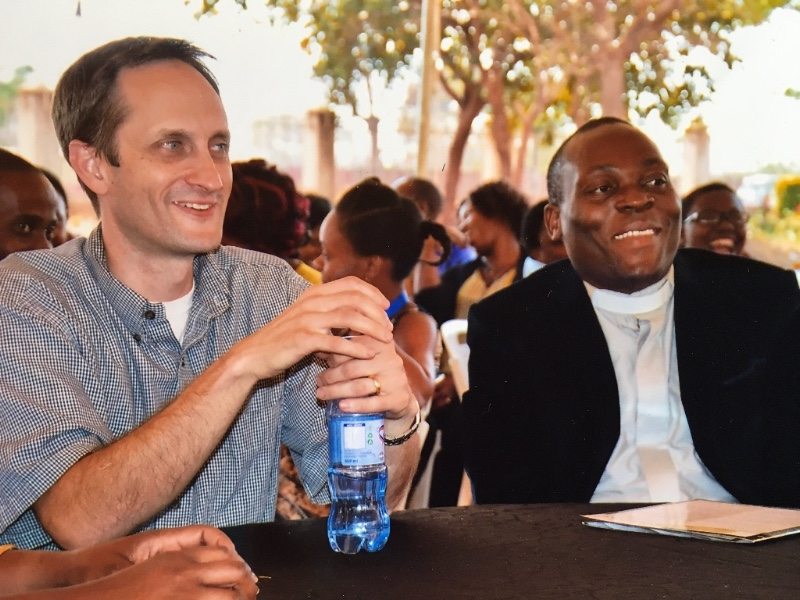 "God can use medical professionals' skills in healing and repair to give authenticity to the words of truth we share with the gospel," Dr. Jones said.
The physician moved his family to Malawi and says they are "learning contentment" in Christ as they adjust to life and ministry overseas. "Things don't work smoothly all the time," he explained. "We are in the midst of brokenness."
Now serving as the PIH Medical Director, Dr. Jones oversees 107 Malawian workers and leads the effort to place the center under national leadership. The organization sees this shift as crucial to reaching more people, especially those with HIV/AIDS.
"My passion has been to see our staff grow in their spiritual lives, to equip them for ministry—to have as much of a spiritual impact on our patients and community as we do a medical impact," Dr. Jones said.
Malawian-Led Discipleship and Evangelism
In early 2017, as PIH continued to expand its efforts to serve the community, Dr. Jones hired a chaplain to sustain the medical center's Christ-centered focus. The added role facilitates staff discipleship and equips employees to provide spiritual counsel for patients.
The new chaplain, Joseph Chirwa, is a local pastor with over 16 years of ministry experience. He is bi-vocational, like many Malawian pastors whose churches cannot financially support them full-time.
Chirwa's PIH ministry includes working with the community outreach team to evangelize and grow church relationships, but he says they face a major challenge because cultural traditions hold more sway than Bible teachings—even among Christians. "One prominent church elder is also a leader of his tribal traditional cult," he said.
The chaplain sees a lack of biblical training and a "famine for literature" for Christian leaders as a key issue in Malawi. He explained, "The church cannot provide enough money for the upkeep of their pastor, let alone buy resources."
A Biblical Foundation to Process Suffering
Partners in Hope takes advantage of free theological resources provided by TGC International Outreach (IO). In a preaching workshop for pastors, the PIH chaplain used Preaching the Cross, by Mark Dever. Studies for workers have incorporated many IO-supplied books, including copies of the ESV Global Study Bible.
Recently, Dr. Jones, along with their Spiritual Ministry Team—all Malawian—completed a lunchtime Christian book study for PIH employees ranging from cleaners and gardeners to medical staff. Written primarily by African pastors, Prosperity? Seeking the True Gospel, provides a biblical framework to process why believers experience suffering, sickness, or poverty, and how to look for hope in the midst of challenging circumstances.
Dr. Jones said the study deeply resonated with participants because, "like much of Sub-Saharan Africa, false prosperity teaching is rampant here. It is a plague on the church. Many of our leaders are influenced by it."
Joseph Chirwa hopes to raise funds for the medical center to add a 500-seat chapel with counseling rooms and a library that offers access to online biblical support. His goal reflects the organization's efforts to put both PIH leadership and good resources into Malawian hands.