We are living through an unsought social experiment: what happens when an individualistic culture collides head-on with a scenario requiring unprecedented self-sacrifice and obedience to authority?
Times of crisis quickly test our foundations. They expose whom and what we trust and value, revealing the glue that holds—or fails to hold—a society together. How does a society avoid a descent into self-help and panic when crisis hits?
In the 21st-century West, self-actualization is virtually an article of faith, materialism our fundamental doctrine, "live and let live" our unwritten constitution. But how well do these foundations serve us when the going isn't so good, when the shelves are empty, when death and disease snap at our basic assumptions? Ugly scenes of panic-buying don't bode well for Christian witness.
Pictures of Dangerous Love
Christianity is a boogeyman to our age of radical individualism, but it contains immense resources for times of crisis. It's a faith forged not in 21st-century apathy, but in the blood of the Colosseum. It follows not a wealthy celebrity, but a tortured Savior.
Across millennia, through persecution, plague, famine, and war, the saving sacrifice of Jesus and the sovereign purposes of God have inspired Christian communities to respond to crisis not with self-help, but with remarkable solidarity.
Christianity is a boogeyman to our age of radical individualism, but it contains immense resources for times of crisis.
In World War II France, while French Jews were being deported to Nazi concentration camps, a quiet miracle took place in the sleepy French village of Les Chambons-sur-Lignon. At enormous personal risk, Huguenot Christians embarked on a radical, risky campaign to shelter thousands of Jews. Philosopher Richard Hallie later recalled how the pastor of Les Chambons, André Trocmé, had urged his flock to embody the radical, others-centered love of Jesus:
It was this strenuous, this extraordinary obligation that . . . Trocmé expressed to the people in the big grey church. The love they preached was not simply adoration; nor was it simply a love of moral purity, of keeping one's hands clean of evil. It was not a love of private ecstasy or a private retreat from evil. It was an active, dangerous love that brought help to those who needed it most.
The quiet, compassionate courage of the villagers was not coincidental to their Christian faith. Their collective response to evil was forged in gratitude that the Lord Jesus left heaven's glory to die for their sins. Their dangerous love mirrored that of their Lord.
In 1665, the Great Plague of London ravaged Southeast England, leaving the North relatively unscathed until one September day when the village of Eyam received a bale of cloth infested with fleas. Realizing the devastation that would result if infected villagers carried the plague to nearby cities, the pastor of Eyam, the Rev. William Mompesson, urged his parishioners to quarantine themselves. For 14 desperate months—as a third of the villagers perished, including Mompesson's wife—barely a soul left village boundaries. By their sacrifice, they prevented catastrophic loss of life.
There was no possible motive of worldly self-interest to those Christians. Instead of trusting their own strength, they followed in the footsteps of their Savior, entrusting themselves to a sovereign and merciful God. They embodied Paul's words in Romans 14, that "whether we live or whether we die, we are the Lord's."
Four Key Truths
Ironically, it's now fashionable to criticize the Christian gospel as immoral. Yet it contains four essential truths for meeting a crisis with outward-looking compassion:
We can have perspective on trials, since we know our sovereign God is working for eternal good.
We can treat neighbors with equal value and dignity to ourselves, remembering we're all created in God's image.
We can forgive and bless others, even our enemies, as recipients of undeserved forgiveness ourselves.
We can trust sickness and death do not have the final say, because Jesus defeated death.
These interlocking realities provide a rock-solid foundation for responding collectively to times of crisis, a foundation absent from the spirit of our secular age. Secular humanism provides no imperative for why any individual should deny their own flourishing for the sake of another. Relativistic morality cannot explain why self-denial is any more virtuous than selfishness. Why not take all the toilet rolls? Why not sneeze in your neighbor's face? Why take any risks to help someone you don't even know?
Our only hope in life and death is not that we have a four-month supply of toilet paper.
Of course, Christians have no monopoly on compassion and self-sacrifice. But for the Christian, unlike the secular humanist, to act selfishly and without compassion cuts against the fabric of the faith. If the Creator stooped to die for sinners like us, then with much fear, stumbling, and repentance, we must seek to show the same sacrificial love to those around us.
We cannot know what the coronavirus pandemic might call us to sacrifice. The humble heroism of the Christians of Les Chambons and Eyam feels alien to the 21st century. Though we're weak, the same compass that led saints of the past points just as true today. It leads in the footsteps of Jesus.
We're Not Little Gods
When death and uncertainty stalk the earth, and the cold winds of our finitude blow across the carefully constructed walls of identity, wealth, and privilege, the strengths of our foundations are revealed. The world hates the gospel in every age because it exposes the lie that we can, like little gods, build heaven on earth by being smart enough or working hard enough.
Our only hope in life and death is not that we have a four-month supply of toilet paper. Only one hope enables us to look outward to the needs of others when self-help is our overriding temptation. It is not a new hope, nor a fashionable hope, nor a politically correct hope.
It is the unwavering enemy of our self-actualization, our vacant materialism, and the febrile echo chambers of identity politics. But as Christians in crisis from Rome to Eyam to Les Chambons-sur-Lyons found, it's the hope that will never fail us, come famine, war, or plague. It is the hope of Jesus Christ.
In a season of sorrow? This FREE eBook will guide you in biblical lament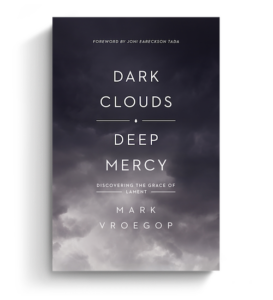 Lament is how we bring our sorrow to God—but it is a neglected dimension of the Christian life for many Christians today. We need to recover the practice of honest spiritual struggle that gives us permission to vocalize our pain and wrestle with our sorrow.
In Dark Clouds, Deep Mercy, pastor and TGC Council member Mark Vroegop explores how the Bible—through the psalms of lament and the book of Lamentations—gives voice to our pain. He invites readers to grieve, struggle, and tap into the rich reservoir of grace and mercy God offers in the darkest moments of our lives.
Click on the link below to get instant access to your FREE Dark Clouds, Deep Mercy eBook now!