Editors' note:
I'm grateful for Elizabeth's hard work on this important article. It illustrates so well how Packing Hope distribution happens through partnership with missions going all over the world. The issue of the prosperity gospel and its false teaching is incredibly pressing one these days. We recently raised funds for a project addressing this issue, and we hope to have books ready by the end of the year. Pray with us for these pastors to be greatly impacted by the teaching of the Scriptures represented in these books we're putting into their hands. (Bill Walsh, director of TGC International Outreach)
Nairobi's celebrity husband/wife pastor team lives in a sprawling gated estate not far from Kibera, the city's largest slum and Africa's largest urban slum. But their luxury vehicles don't venture into the neighborhood where millions live desperate lives in streets lined with trash and human filth.
Allan and Kathy Kiuna preach a lucrative "gospel." Their multi-million-dollar income places them among the wealthiest citizens of a nation in which nearly half the people live on less than $1.25 per day. According to a report last year, Allan Kiuna told his congregation their money would double if they'd transfer half of it to his account. Hundreds rushed forward to give.
Like the rest of Africa, the church in Kenya battles evangelism that peddles a counterfeit gospel, with name-it-and-claim-it messages attracting massive followings and bringing in much money. In many ways this challenge mirrors the exploitations of European "Christian" colonizers some 500 years ago. Today, though, it's their own countrymen who masquerade as Christians.
Thankfully, the Lord is at work through other Kenyan pastors to help turn the tide.
Battling Prosperity Theology
Celeste Chen came from the U.S. to Kenya with her husband, Michael, through Samaritan's Purse to work at Christian Tenwek Hospital in Bomet. She brought along a Pastor's Book Set—provided at no cost by The Gospel Coalition International Outreach (TGC-IO)—to reach indigenous pastors and church leaders.
Chen has given out the books as she visits pastors' homes in the lush, tea-farming region of the former Rift Valley. "If you want to equip me," they tell her, "equip me with books." The Chens have been overjoyed to hear these pastors preach what they've learned.
One pastor, Wesley, recently finished training at a pastor's college in Kenya and works full time as a prison chaplain. He took the books with joy. "This morning when I put up my bookshelf I had three books on it," he told Chen. "Now you have given me three more and I have six!" Chen says the pastor is now teaching through R. C. Sproul's Essential Truths of the Christian Faith, taking notes from such books to pass on to his congregation.
Norah is a single mother who frequently closes her shop to help lead women in her community out of prostitution by teaching them the Bible. From Chen she received an ESV Global Study Bible to help her better understand and share her learning.
"Her eyes lit up! She was so happy," recalls Chen. "My Kenyan co-worker told her, 'Now that you have this resource, you need to live up to the responsibility it gives you.' I was humbled by that statement. What a high responsibility I have with my bookshelf full of resources. I have not lived up to my responsibility, but I'm encouraged by Norah because she's ready to live up to hers."
In Need of the True Gospel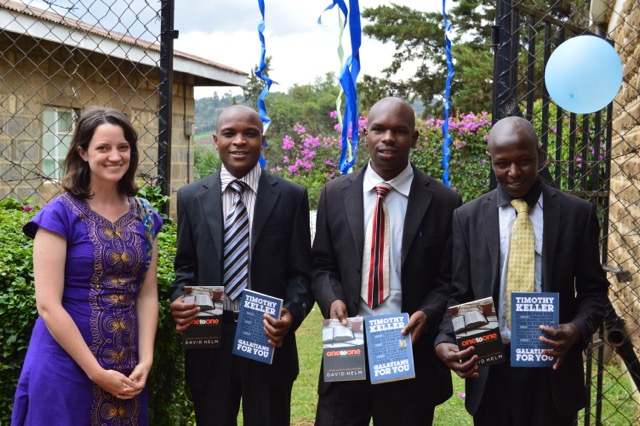 Though Kenya is considered a Christian nation (Operation World says nearly 83 percent identify with the faith), ethnic cultural practices are frequently mixed with biblical truths, and the need for trained leaders in more than 80,000 congregations is massive.
Chen, who teaches from a Reformed perspective at the Tenwek International School of Chaplaincy, said, "It didn't take us long to realize that the many hundreds of churches in rural Kenya love the name of Jesus but know very little of what the true gospel is. Almost every Sunday we were saddened and burdened by church services we attended. We heard either legalism or prosperity messages without any true message of grace.
"Few pastors have any theological education; anyone can self-identify as a pastor without any qualifications in the local denomination here. Those who do have theological education still seem to view preaching as more akin to a motivational speech than to teaching the Word of God. . . . Much of the focus is on how to obtain blessings from God, basically that if you follow the rules you will receive blessing."
Feeding the Faithful
The Chens attend Imani Fellowship Africa Gospel Church at Bomet and gave pastor Willy Koskey two of the TGC-IO books. Koskey explained it's not only a challenge for untrained ministers to access theological materials; they lack the training to handle them. "It's like giving someone a gun to use without training," he said. Unfortunately, he said, some Christians assume theological training is unnecessary.
Yet there is great hope, in part because of those in the global church who will partner with others to strengthen Christians in need of theological support.
"Thousands of people go to church faithfully every Sunday," she said. "They pray fervently with great faith. They're willing to attend services which can last four to five hours without any coffee breaks or snacks available. People are hungry for truth, and they devour it readily. We've been humbled by the dedication of our brothers and sisters here. Many are much better missionaries than we could ever be."
Get Involved
There are two ways to get Christ-centered resources to church leaders in Kenya and other countries where theological famine exists. One is through donating to any International Outreach translation project in the works. The other way is through Packing Hope, taking these free resources with you on a short-term mission trip.