Book lovers who attend The Gospel Coalition 2016 Women's National Conference this week will be treated to steep sales on more than 2,000 different books and resources from more than 20 different publishers. There will be featured areas for TGC speakers' books, best-selling Bibles, Spanish titles, and gospel-centered resources for children and parents.
Before you hit the road or board a flight, we want to make you aware of several of these book deals so that you can leave room in your suitcases. If you prefer to have books shipped back home, you can have them packed and mailed directly from LifeWay's TGCW16 bookstore.
---
Betsy Howard, Seasons of Waiting: Walking by Faith When Dreams Are Delayed (Crossway/TGC, 2016).
$6.50 (Retail: $12.99)
"We're all waiting for something. It might be a spouse or a baby. It might be healing or a home. Regardless of what we're waiting for, it's easy to feel discontent when things aren't going as planned and our dreams are delayed—especially when questions of 'Why?' and 'How long?' remain unanswered. God uses seasons of waiting to teach us patience and make us more like himself. But sanctification is not the only purpose God has in mind. When we wait faithfully with unmet longings, we become a powerful picture of the bride of Christ waiting for the day when he returns and God's kingdom reigns."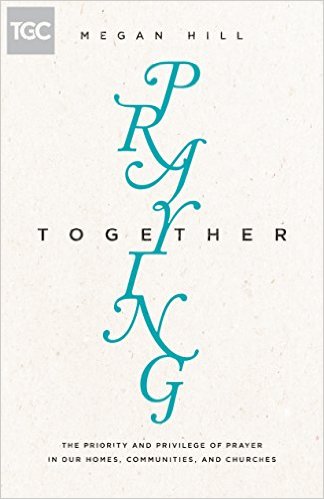 Megan Hill, Praying Together: The Priority and Privilege of Prayer in Our Homes, Communities, and Churches (Crossway/TGC, 2016).
$6.50 (Retail: $12.99)
"Nearly all Christians would affirm the centrality of prayer for a healthy Christian life. And yet, for many, prayer is often a challenge, requiring intense personal commitment and self-discipline. However, as Megan Hill points out in Praying Together, our normal approach to prayer leaves out a crucial component: other people. While personal prayer is important, God designed the church to be a community of believers who regularly pray together. Exploring the Bible's rich teaching on what it means to gather at God's throne with one voice, Hill lays a theological foundation for corporate prayer and offers practical guidance for making it a reality—in our families, churches, and communities."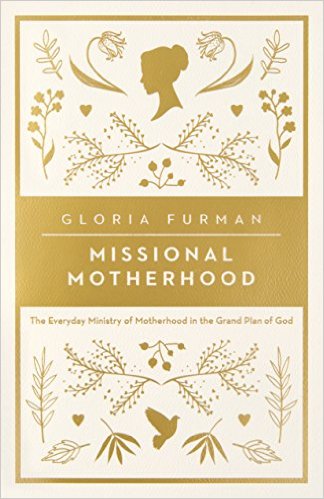 Gloria Furman, Missional Motherhood: The Everyday Ministry of Motherhood in the Grand Plan of God (Crossway, 2016).
$8.99 (Retail: $14.99)
"There's no such thing as 'just' a mom. Despite the routine tasks and mundane to-do lists, motherhood is anything but insignificant. God has designed motherhood as part of his greater plan to draw people to himself—instilling all women, whether called to traditional mothering or not, with an eternal purpose in nurturing others. In this book, Gloria Furman searches the Scriptures for the mission of God in motherhood. She opens our eyes to God's life-giving promises—promises intended to empower each and every woman as she makes disciples in her home, in her neighborhood, and around the world."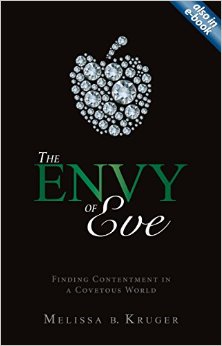 Melissa Kruger, The Envy of Eve: Finding Contentment in a Covetous World (Christian Focus).
$8.99 (Retail: $14.99)
"What's truly at the heart of our desires? The Envy of Eve guides readers to understand how desires grow into covetousness and what happens when this sin takes power in our hearts. Covetousness chokes out the fruit of the Spirit in our lives, allowing discontentment to bloom. The key to overcoming is to get to the root of our problem: unbelief—a mistrust of God's sovereignty and goodness. An ideal resource for deeper study or group discussion."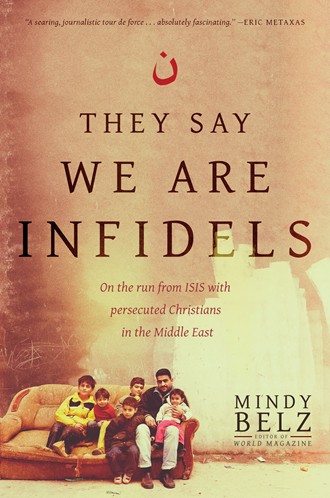 Mindy Belz, They Say We Are Infidels: On the Run from ISIS with Persecuted Christians in the Middle East (Tyndale Momentum, 2016).
$15.59 (Retail: $25.99)
"Sweeping from Syria into Iraq, Islamic State fighters (ISIS) have been brutalizing and annihilating Christians. How? Why? Where did the terrorists come from, and what can be done to stop them? For more than a decade, journalist Mindy Belz has reported on the ground from the Middle East, giving her unparalleled access to the story no one wants to believe. In They Say We Are Infidels, she brings the stark reality of this escalating genocide to light, tracking the stories of real-life Christians who refuse to abandon their faith―even in the face of losing everything, including their lives."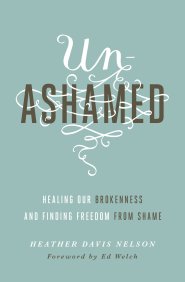 Heather Davis Nelson, Unashamed: Healing Our Brokenness and Finding Freedom from Shame (Crossway, 2016).
$6.50 (Retail: $12.99)
"Shame is everywhere. Whether it's related to relationships, body image, work difficulties, or a secret sin, we all experience shame at some point in our lives. While shame can manifest itself in different ways—fear, regret, and anger—it ultimately points us to our most fundamental need as human beings: redemption. Shame never disappears in solitude, and Heather Davis Nelson invites us to not only be healed of our own shame but also be a part of healing for others. She shines the life-giving light of the gospel on the things that leave us feeling worthless and rejected, giving us courage us to walk out of shame's shadows and offering hope for our bondage to brokenness. Through the gospel, we discover the only real and lasting antidote to shame: exchanging our shame for the righteousness of Christ alongside others on this same journey."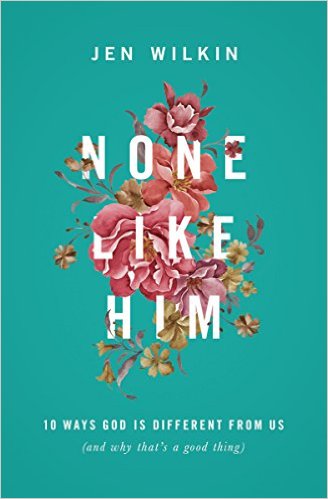 Jen Wilkin, None Like Him: 10 Ways God Is Different From Us (Crossway, 2016).
$6.50 (Retail: $12.99)
"God is self-existent, self-sufficient, eternal, immutable, omnipresent, omniscient, omnipotent, sovereign, infinite, and incomprehensible. We're not. And that's a good thing. Our limitations are by design. We were never meant to be God. But at the root of every sin is our rebellious desire to possess attributes that belong to God alone. Calling us to embrace our limits as a means of glorifying God's limitless power, Jen Wilkin invites us to celebrate the freedom that comes when we rest in letting God be God."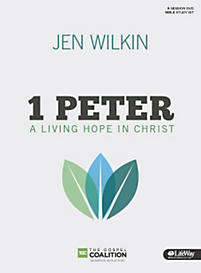 Jen Wilkin, 1 Peter: A Living Hope in Christ (Lifeway, 2016).
$12.99 (Bible Study Book)
"Our inheritance through Christ is imperishable, undefiled, and unfading. In 1 Peter, a man of faith and flaws and eyewitness to the life of Christ challenges us to look beyond our current circumstances to a future inheritance. Our inheritance through Christ is imperishable, undefiled, and unfading. In 1 Peter, a man of faith and flaws and eyewitness to the life of Christ challenges us to look beyond our current circumstances to a future inheritance. He shares his concerns on big picture issues for the early church, describes believers' true identity in Christ, and ultimately helps readers discover what it means to experience the Living Hope they have in Christ. Key themes of humility, submission, and identity in Christ guide the study of 1 Peter as participants are challenged to read the book in its entirety each week (9 sessions)."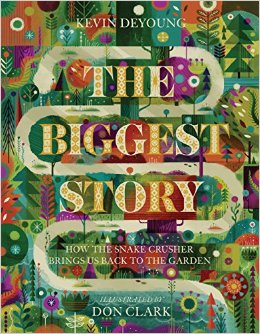 Kevin DeYoung, The Biggest Story: How the Snake Crusher Brings Us Back to the Garden (Crossway, 2015).
$9.00 (Retail: $17.99)
"The Bible is full of exciting stories that fill children with awe and wonder. But kids need to know how all those classic stories connect to Scripture's overarching message about God's glorious plan to redeem his rebellious people. In The Biggest Story, Kevin DeYoung—a best-selling author and father of six—leads kids and parents alike on an exciting journey through the Bible, connecting the dots from the garden of Eden to Christ's death on the cross to the new heaven and new earth. With powerful illustrations by award-winning artist Don Clark, this imaginative retelling of the Bible's core message—how the Snake Crusher brings us back to the garden—will draw children into the biblical story, teaching them that God's promises are even bigger and better than we think."