This is the fourth installment in a new series in which we publish brief answers from experienced church leaders to this question:
In addition to Scripture and sound doctrine, what should young pastors today be studying? Is that any different from what you would've recommended 20 years ago, or even 10 years ago?
---
Paul Tripp, author and president of Paul Tripp Ministries:
If you are a pastor, your ministry should be guided by the Two Great Commands.
Because you love God, you commit yourself to be a student and accurate exegete of Scripture, and because you love people, you commit yourself to be a constant student of and accurate exegete of people.
It's this second field of study that pastors often neglect. Here are nine helpful questions to ask yourself as you attempt to be a student and exegete of your people:
What are the cultural idols that are particularly attractive to my people?
Where do they tend to buy into an unbiblical world with its accompanying hopes and dreams?
Are there themes of spiritual struggle that I need to speak to?
Where do they tend to get discouraged and need the hope of the gospel?
What is the level of their biblical literacy and theological knowledge?
How many of them are actively involved in service, and how many are "ecclesiastical consumers"?
What do they tend to struggle with in the workplace?
What do they wrestle with at home?
What are they reading, watching, and listening to and how are they influenced by it?
These, and many other questions with similar heart focus and gospel-centered intent, will help you in your preaching and counseling as you connect the transforming message of the gospel to the real experiences of the people God has entrusted to your care.
---
John Frame, professor of systematic theology and philosophy at Reformed Theological Seminary (Orlando, Florida):
Young pastors need above all to learn how to show godly love to people—in evangelism, counseling, church administration. Twenty years ago I said the same thing, but I would also have emphasized their need to study logic, so that they will be able to make a good case in their preaching and teaching. I still think logic is important, but second to the ability to display the love of Christ.
---
John Yates, rector of The Falls Church (Falls Church, Virginia):
Above all, just read the Bible thoughtfully, carefully, prayerfully, every day. Yes, I would have said that 10 years ago, but I say it even more emphatically today. And focus on the parts that are hardest for you to accept, because those are probably the sections from which you will learn lessons you need to be learning for today.
---
Editors' note: Previously in the series: Sam Storms, Wayne Grudem, David Wells; Don Carson, Danny Akin, Scotty Smith, David Powlison, David Dockery, Tim Keller
Get a FREE eBook to strengthen your family discipleship!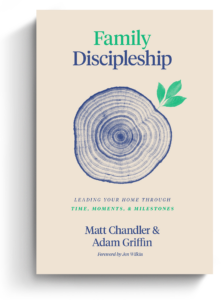 The back-to-school season is stressful for moms and dads. New rhythms of school, sports, and other extracurricular activities can quickly fill up a family's already busy calendar. Where do busy parents look for resources on discipling their family well? Aside from prioritizing church, what else can Christian parents do to instill healthy spiritual habits in their household?
Matt Chandler and Adam Griffin cover these questions and more in Family Discipleship: Leading Your Home through Time, Moments, and Milestones. And we're excited to offer this book to you for FREE as an eBook today.
Click on the link below to get instant access to your FREE Family Discipleship eBook now!