After winning 290 electoral votes to incumbent Donald Trump's 214, Joe Biden has become the projected winner of the 2020 U.S. presidential election and is set to be inaugurated on January 20, 2021.
Here is what you should know about the man who will be the 46th president of the United States.
1. Joseph Robinette Biden Jr. was born in 1942 in Scranton, Pennsylvania, but moved to Delaware when he was still in elementary school. He went on to graduate from the University of Delaware in 1965 and from Syracuse University College of Law in 1968. While in college and law school he received five student-draft deferments during the Vietnam War, but was disqualified from military service because of asthma. After graduating law school, he worked as a public defender and later in corporate law. He began his career in politics by serving on the New Castle County Council from 1970 to 1972.
2. At the age of 29, Biden unexpectedly beat a Republican incumbent in 1972 to win his first Senate race. He would be elected six more times and serve from 1973 through 2009—a total of 36 years and 13 days. During his tenure, he served on two influential committees, the Committee on the Judiciary and the Committee on Foreign Relations. In his 17 years as chairman of the Judiciary Committee, Biden had a major influence on about a dozen Supreme Court nominations. As Melanie Mason of the Los Angeles Times notes, Biden will "enter the Oval Office with more experience in confirming judges than any president in the modern era."
3. Biden ran for the Democratic presidential nomination in 1988 and 2008. During the 1988 race he was forced to withdraw after it was discovered he had misrepresented his academic career and had used, without attribution, portions of speeches by Robert F. Kennedy, Hubert H. Humphrey, and Neil Kinnock (a British Labor Party leader). According to The New York Times, he had also been disciplined as a first-year law student for using portions of a law review article in a paper without proper attribution. In 2008, he dropped out of the presidential primary race after coming in fifth place and winning less than 1 percent of the vote in the Iowa caucus. Seven months later, he became the vice-presidential running mate for Barack Obama.
4. When he was 4 years old Biden developed a stutter, a neurological disorder affecting 3 million Americans that causes disruptions in their speech. In school he was called "Stutter Boy" and "Stutterhead," and at his Catholic elementary school a nun once called him "Mr. Buh-Buh" because he had trouble pronouncing his name. In college, Biden says his nickname was "Dash" because his stutter was "like Morse code." He later taught himself to control his stutter by reading poems aloud.
5. Biden met his first wife, Neilia, during spring break of his junior year of college. They married in 1966, while he was still in law school, and had three children—Beau, Hunter, and Naomi. One week before Christmas, and a few weeks after he had won his first Senate race, his 30-year-old wife and 13-month-old daughter were killed in a car accident after a tractor-trailer carrying corn broadsided the family's station wagon (the two sons survived that crash). Biden married his current wife, Jill Tracy Jacobs, in 1977. In 2015, Biden lost another child when Beau—a Bronze Star–winning Army veteran and former Delaware attorney general—died of brain cancer at the age of 46.
6. As vice president, Biden played an active role in the administration and served as an influential adviser to President Obama. Biden was a key voice on issues of foreign policy and traveled to more than 50 countries as a representative for the administration. Biden also aided in domestic policy, such as by serving as the first-ever White House adviser on Violence Against Women to "support and coordinate national and global efforts to combat domestic violence, sexual assault, and other forms of gender-based violence." For his service to the administration, President Obama surprised Biden in 2017 by awarding him the Presidential Medal of Freedom.
7. Over the course of his political career, Biden has shifted on issues relating to abortion. In 1986, he told the Catholic Diocese Newspaper that "abortion is wrong from the moment of conception." Yet in his 2008 book, Promises to Keep, he describes his view since the 1970s as being "middle-of-the-road," adding that while he was "personally opposed" he would not vote to "curtail a women's right to choose abortion." However, he also said he would not vote to support partial-birth abortion or use federal funds to fund abortion. In a letter to a constituent in 1977, Biden mentions the 1978 "March for Life" and that he opposed the use of federal funds to pay for abortions "unless the life of the mother is in danger." In a similar 1994 letter he said, "Those of us who are opposed to abortions should not be compelled to pay for them." As late as 2019, he still supported the Hyde Amendment, which prevents government health programs like Medicaid from paying for abortions. That same year, however, Biden announced he no longer supports the amendment, reversing a position he'd held for the past 40 years. Biden has also promised that as president he will restore federal funding for Planned Parenthood, will rescind the Mexico City Policy (which prohibits nongovernmental organizations [NGOs] that receive federal funds from using those funds for abortion), will "work to codify Roe v. Wade," and that his "Justice Department will do everything in its power to stop the rash of state laws that so blatantly violate Roe v. Wade."
8. Similar to his shift on abortion, Biden has changed his political views on homosexuality and LGBT issues. In 1993, Biden supported legislation that prohibited openly gay individuals from serving in the U.S. military. Three years later, he also supported the Defense of Marriage Act, which prohibited the federal government from recognizing any same-sex marriage. In 2006, he said "marriage is between a man and a woman," and in his 2008 vice-presidential debate with Sarah Palin, he opposed "redefining from a civil side what constitutes marriage." But four years later, as vice president, he said he supported same-sex marriage. He has also promised as president to "advance global LGBTQ+ rights and development" and ensure coverage of transgender transitioning procedures such as "gender confirmation surgery" (i.e., sex-reassignment surgery).
9. Biden is only the second Roman Catholic to be elected president (John F. Kennedy was the first). In a 2015 interview, Biden called his faith a "gift." "Jesus Christ is the human embodiment of what God wanted us to do," he said. "Everything Jesus did was sort of consistent with what generically we were supposed to do: treat people with dignity." How his faith relates to and informs his political policies, though, is opaque. For example, he has said, "My faith teaches me that we should be a nation that not only accepts the truth of the climate crisis, but leads the world in addressing it," and "My faith implores me to embrace a preferential option for the poor and, as president, I will do everything in my power to fight poverty and build a future that moves us closer to our highest ideals. . . ." In a 2019 editorial he said, "Scripture is clear: It's not enough to just wish the world were better. It's our duty to make it so." But when it comes to issues such as abortion or homosexuality, in which the Catholic Church disagrees with the Democratic Party, Biden has consistently held that his faith should not determine his policies. "I'm prepared to accept for me, personally, the doctrine of my church" about when life begins, he's said about abortion, "but I'm not prepared to impose that on every other person."
Get a FREE eBook to strengthen your family discipleship!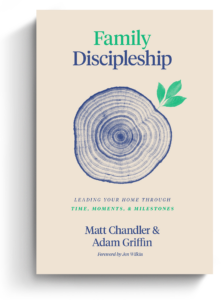 The back-to-school season is stressful for moms and dads. New rhythms of school, sports, and other extracurricular activities can quickly fill up a family's already busy calendar. Where do busy parents look for resources on discipling their family well? Aside from prioritizing church, what else can Christian parents do to instill healthy spiritual habits in their household?
Matt Chandler and Adam Griffin cover these questions and more in Family Discipleship: Leading Your Home through Time, Moments, and Milestones. And we're excited to offer this book to you for FREE as an eBook today.
Click on the link below to get instant access to your FREE Family Discipleship eBook now!