Christians are the single most widely persecuted religious group in the world today. As we pray for the persecuted church, here are nine things you should know about the plight of believers around the globe:
1. Christian churches around the world have set apart the month of November to remember and pray for the persecuted church, through the International Day of Prayer for the Persecuted Church (IDOP).
2. According to the U.S. Department of State, Christians in more than 60 countries face persecution from their governments or surrounding neighbors simply because of their belief in Christ.
3. With the exception of four official state-controlled churches in Pyongyang, Christians in North Korea face the risk of detention in the prison camps, severe torture and, in some cases, execution for practicing their religious beliefs. North Koreans suspected of having contact with South Korean or other foreign missionaries in China, and those caught in possession of a Bible, have been known to be executed.
4. In Syria, Christians are increasingly becoming the target of violent attacks. Catholic and Orthodox groups in Syria say the anti-government rebels have committed "awful acts" against Christians, including beheadings, rapes and murders of pregnant women. A special 'Vulnerability Assessment of Syria's Christians' conducted by the World Watch unit of Open Doors International from June 2013 warned that Syrian Christians are the victims of "disproportionate violence and abuse." They warned further that Christian women in Syria are particularly vulnerable to sexual abuse.
5. In August 2013, Egypt faced what has been called the the worst anti-Christian violence in seven centuries: 38 churches were destroyed, 23 vandalized; 58 homes were burned and looted and 85 shops, 16 pharmacies and 3 hotels were demolished; 6 Christians were killed in the violence and 7 were kidnapped.
6. The bloodiest attack on Christians in Pakistan's history occurred in September 2013. Two suicide bombers exploded shrapnel laden vests outside All Saints' Church in the old city of Peshawar. Choir members and children attending Sunday school were among 81 people killed. The attack left 120 people wounded, with 10 of them in critical condition.
7. During an attack on a shopping mall in Nairobi in September, Islamic terrorists asked people for the name of Muhammad's mother or to recite a verse from the Quran in order to identify non-Muslims. One of the terrorists announced, "We have come to kill you Christians and Kenyans because you have been killing our women and children in Somalia. Any Muslims can go."
8. Four Christians in Iran will get 80 lashes each this month for drinking wine during a communion service. Ahmed Shaheed, UN special rapporteur on human rights in Iran, said that it is common practice for Christians to be punished for violating theocratic laws. In the UN report Shaheed wrote: 'At least 20 Christians were in custody in July 2013. In addition, violations of the rights of Christians, particularly those belonging to evangelical Protestant groups, many of whom are converts, who proselytize to and serve Iranian Christians of Muslim background, continue to be reported.'
9. An average of 100 Christians around the world are killed each month for their faith. (Note: There are several sources that claim the numbers are as high as 100,000+ a year. In the absence of solid evidence for those numbers, though, I chose to go with the more empirically verifiable estimate.)
Get a FREE eBook to strengthen your family discipleship!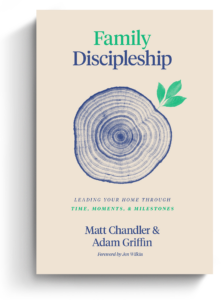 The back-to-school season is stressful for moms and dads. New rhythms of school, sports, and other extracurricular activities can quickly fill up a family's already busy calendar. Where do busy parents look for resources on discipling their family well? Aside from prioritizing church, what else can Christian parents do to instill healthy spiritual habits in their household?
Matt Chandler and Adam Griffin cover these questions and more in Family Discipleship: Leading Your Home through Time, Moments, and Milestones. And we're excited to offer this book to you for FREE as an eBook today.
Click on the link below to get instant access to your FREE Family Discipleship eBook now!