Edith Schaeffer, co-founder of L'Abri Fellowship and widow of theologian-philosopher Francis Schaeffer, died on Friday at age 98. Here are 9 things you should know about Mrs. Schaeffer:
1. Schaeffer was born in Wenzhou, China to missionaries who were serving with the China Inland Mission.
2. In addition to her English name, her parents gave her the Chinese name Mei Fuh, meaning "beautiful happiness".
3. On June 26th, 1932, Edith attended a meeting in her liberal Presbyterian church where a Unitarian minister delivered an address on "How I know that Jesus is Not the Son of God, and How I Know that the Bible is not the Word of God." She was prepared to offer a rebuttal when a young man stood up and said, "My name is Francis Schaeffer and I want to say that I know Jesus is the Son of God, and He is also my Savior." After Francis delivered his testimony, Edith added a brief apologetic for the truth of the Bible. The two began dating that night and married three years later.
4. To put her husband Francis through seminary, Edith tailored men's suits and made gowns and wedding dresses for private clients.
5. After three years serving in active parish ministries in the United States, the Schaeffers moved their family to Switzerland in 1948 to help churches in their efforts to resist both liberalism in theology and existentialism in the culture after World War II.
6. L'Abri Fellowship began in Switzerland in 1955 when Francis and Edith decided in faith to open their home to be a place where people might find satisfying answers to their questions and practical demonstration of Christian care. It was called L'Abri, the French word for "shelter," because they sought to provide a shelter from the pressures of a relentlessly secular 20th century.
7. By 1960, L'Abri had become such a phenomenon that it attracted the notice of Time magazine. Edith's "Family Letter" had a circulation of 1,300, and her Sunday evening "High Tea" was hosting upwards of 50 people from around the world every week.
8. Edith helped to restore and popularize the all-but-lost arts of hospitality and homemaking within the evangelical community during the last twentieth-century. As she wrote in her book, What is a Family?, "There needs to be a homemaker exercising some measure of skill, imagination, creativity, desire to fulfill needs and give pleasure to others in the family. How precious a thing is the human family. It it not worth some sacrifice in time, energy, safety, discomfort, work? Does anything come forth without work?"
9. Edith wrote or co-wrote 20 books, two less than her husband. Two of her books (Affliction) and (The Tapestry: the Life and Times of Francis and Edith Schaeffer) won the Gold Medallion Award from the Evangelical Christian Publishers Association.
Get a FREE eBook to strengthen your family discipleship!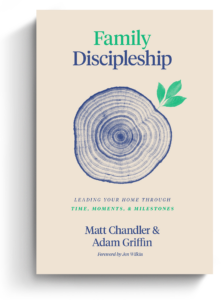 The back-to-school season is stressful for moms and dads. New rhythms of school, sports, and other extracurricular activities can quickly fill up a family's already busy calendar. Where do busy parents look for resources on discipling their family well? Aside from prioritizing church, what else can Christian parents do to instill healthy spiritual habits in their household?
Matt Chandler and Adam Griffin cover these questions and more in Family Discipleship: Leading Your Home through Time, Moments, and Milestones. And we're excited to offer this book to you for FREE as an eBook today.
Click on the link below to get instant access to your FREE Family Discipleship eBook now!