Each year in November, the President of the United States issues a proclamation to announce National Adoption Month, a time dedicated to raising awareness of the need for adoptive families and to encourage citizens to become involved in the lives of children and youth in foster care. Here are nine things you should know about adoption in America:
1. Adoption has been and remains rare. Between 1973 and 2002, the percentage of ever-married women 18–44 years of age who had adopted a child fluctuated between 1.3 and 2.2 percent. Men were twice as likely as women 18–44 years of age to have adopted a child. Among ever-married persons, men (3.8 percent) were more than 2.5 times as likely as women (1.4%) to have adopted.
2. Relinquishment of infants at birth is extremely rare. Only 1 percent of children born in the United States in 1996–2002 to women 18–44 years of age as of 2002 were relinquished for adoption within their first month of life.
3. Surveys reveal that women currently seeking to adopt would prefer to adopt a child younger than two years old, without a disability, and a single child rather than two or more siblings. (Two-thirds of women would not accept a child 13 years of age or older or a child with a severe disability.) The data also suggest that women would prefer to adopt a girl rather than a boy.
4. In 2012 there were 397,122 children in foster care and 101,666 waiting to be adopted. The average age of a child in foster care waiting to be adopted was 7.8 years old. The average age of children in foster care being adopted was 6.3 years old.
5. On average, a child will wait three years in foster care awaiting adoption. About 55 percent of these children have had three or more placements with foster care families, and 33 percent had changed elementary schools five or more times, losing relationships and falling behind educationally.
6. In 1851 Massachusetts passed the Adoption of Children Act, the first modern adoption law in America. The law is considered an important turning point because t required judges to determine that adoptive parents had "sufficient ability to bring up the child" and that "it is fit and proper that such adoption should take effect."
7. The beginning of the foster care concept in America was the Orphan Train Movement. Between 1854 and 1929, as many as 250,000 children from New York and other Eastern cities were sent by train to towns in midwestern and western states, as well as Canada and Mexico. According to the Adoption history project, families interested in the orphans showed up to look them over when they were placed on display in local train stations, and placements were frequently made with little or no investigation or oversight.
8. Each year thousands of U.S. citizens adopt children from abroad. In 2013, Americans adopted 7,092 children from abroad. The total number of intercountry adoptions from 1999 to 2013 was 249,694. According to UNICEF, approximately 13 million have lost both parents.
9. The Child Welfare Information Gateway, a government-funded adoption information service, estimates the average U.S. adoption costs of various types of adoptions:
Intercountry Adoptions — $15,000 – $30,000
Independent Adoptions — $8,000 – $40,000+
Licensed Private Agency Adoptions — $5,000 – $40,000+
Facilitated/Unlicensed Adoptions — $5,000 – $40,000+
Public Agency (Foster Care) Adoptions —  $0 – $2,500
Get a FREE eBook to strengthen your family discipleship!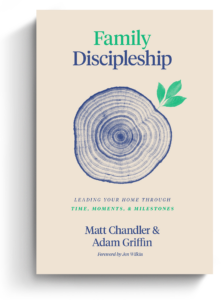 The back-to-school season is stressful for moms and dads. New rhythms of school, sports, and other extracurricular activities can quickly fill up a family's already busy calendar. Where do busy parents look for resources on discipling their family well? Aside from prioritizing church, what else can Christian parents do to instill healthy spiritual habits in their household?
Matt Chandler and Adam Griffin cover these questions and more in Family Discipleship: Leading Your Home through Time, Moments, and Milestones. And we're excited to offer this book to you for FREE as an eBook today.
Click on the link below to get instant access to your FREE Family Discipleship eBook now!