Advent always comes at just the right time.
In the midst of hectic holiday schedules and at the end of another violent, troubled year, our hearts in December are often heavy; our bodies weary; and our souls ready for the justice and shalom that only Jesus, the Prince of Peace, can provide.
And so we pause to remember the first coming of Christ. Immanuel, God with us. The three weeks of Advent still our hearts and focus our attention on the miracle of the newborn King: Mild he lays his glory by / Born that man no more may die / Born to raise the sons of earth / Born to give them second birth.
But we also long for the second advent of Christ. Just as we rejoice that "the people who walked in darkness have seen a great light" (Isa. 9:2), we also wait expectantly for that moment when "night will be no more" and there will be no need for "light of lamp or sun, for the Lord God will be their light" (Rev. 22:5). In a world where war and famine and injustice persists, where the wounds of Charlottesville and Vegas and Sutherland Springs are still fresh, we cry out again for God's presence: Come and cheer / our spirits by thine advent here / Disperse the gloomy clouds of night / and death's dark shadows put to flight.
Beginning on Sunday, December 3, and lasting until Christmas Eve, Advent 2017 is another opportunity for us as individuals, families, and churches to rejoice and contemplate together the two advents of Christ—one already, and the other not yet.
Advent invites us into both festive joy and worshipful waiting. Here are eight newly released resources—books, devotionals, music, and more—to help you and your family enter meaningfully into this beautiful season.
Come, Let Us Adore Him by Paul Tripp (daily devotional)
This collection of 31 daily devotional readings takes readers through every day of December, seeking to "reactivate" their awe and wonder at the Christmas story. As Tripp says in the promotion video for the book, "There are layers and layers of life-altering, heart-rescuing, agenda-setting truths that are embedded in every piece" of the Christmas story. Similar in structure to his 2014 daily devotional, New Morning Mercies, Tripp begins each devotion in Come, Let Us Adore Him with a concise thought—in this case inspired by literal tweets—followed by a three-to-four page meditation and Scripture passage for further study. Each devotion ends with Tripp identifying one central theme and suggesting questions for parents and children to discuss together. Purchase on Amazon.
Immanuel by Melanie Penn (album)
The third studio album from singer-songwriter Melanie Penn, Immanuel is not just your standard mix of Christmas covers and holiday anthems. This is a beautifully Christ-centered album of artful, worshipful originals and new Christmas carols that will add depth and beauty to your Advent playlist. The songs retell the Christmas story through the perspective of those who lived through it—Mary, Joseph, the magi, the innkeeper, and even the Star of Bethlehem. Album highlights include "Love's Coming Down (Isaiah)," "Gift of Love (Angel Chorus)," and "Immanuel (Shepherd)." Purchase on Amazon or listen on Spotify.
The Littlest Watchman: Watching and Waiting for the Very First Christmas by Scott James, illustrated by Geraldine Rodríguez (children's book)
This new Advent children's book—by Scott James of The Church at Brook Hills—tells the story of Benjamin, a fictional boy in first-century Bethlehem whose job as a watchman is to stare at a "boring old tree stump" and wait for a sign that will signal the arrival of a King who will restore the broken world. Even though the waiting is long (it's been hundreds of years of silence since the prophecies about the "stump"), Benjamin is patient, waiting and longing for the Messiah's arrival. Purchase on Amazon. See also James's The Expected One: Anticipating All of Jesus in the Advent.
The One True Gift by Tim Chester (daily devotional) 
This collection of 24 concise daily readings explores Advent through the lens of Philippians 2. Tim Chester—author and pastor of Grace Church in Boroughbridge, North Yorkshire, UK—helps readers rediscover the joy of Christmas and the hope of the gospel amid the sometimes stressful and emotionally taxing Christmas season. Each day includes ideas for reflection and application, as well as carols and prayers to help readers prepare their hearts for Christmas. Purchase on Amazon.
Grafted In by Amy Gannett (Advent study) 
This 25-day (5-week) study by Amy Gannett focuses on exploring the members of Christ's family tree. By diving deeper into specific names in the Matthew 1:1–17 genealogy of Jesus—including Jacob, Tamar, Ruth, and Rahab—Grafted In reminds readers of the truth that, "through Jesus Christ, we have been grafted in to the family of God." Featuring Scripture-reading assignments, interactive theological commentary, questions for reflection, responsive prayer points, and a "family tree" illustration, Grafted In is a great Advent resource for personal or group study. Purchase here.
The Advent Project by Biola University (daily artwork and devotional) 
Biola University's Center for Christianity, Culture, and the Arts puts together a beautiful free online devotional for Advent each year, focused around experiencing the beauty and mystery of Advent through art. Each day includes a Scripture passage and devotional, as well as a work of visual art, a piece of music, video, poetry, and prayer. Read here. 
Advent Study Books by She Reads Truth and He Reads Truth (daily devotional) 
The 2017 Advent store from She Reads Truth and He Reads Truth is full of great resources for men, women, and children. The Advent studies available for women and for men include daily Scripture readings, maps and charts, recipes, gift tags, sheet music for carols, and more. The online store also includes Scripture calendar ornaments, Advent cards for kids, and art prints.
Christmas Collection, Vol. 1, Sleeping at Last (album) 
Sleeping at Last has been recording and releasing Christmas songs for many years, usually one or two a year. This newly released collection brings them all together in one album of 18 tracks. Aside from one original (the beautiful "Snow"), the songs here are all covers of classic Advent hymns and Christmas carols (like "The First Noel," "O Holy Night," or "What Child Is This") recorded in the minimalist, plaintive, orchestral style characteristic to Sleeping At Last. Listen on Spotify or iTunes.
Get a FREE eBook to strengthen your family discipleship!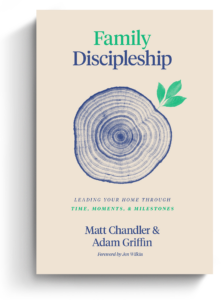 The back-to-school season is stressful for moms and dads. New rhythms of school, sports, and other extracurricular activities can quickly fill up a family's already busy calendar. Where do busy parents look for resources on discipling their family well? Aside from prioritizing church, what else can Christian parents do to instill healthy spiritual habits in their household?
Matt Chandler and Adam Griffin cover these questions and more in Family Discipleship: Leading Your Home through Time, Moments, and Milestones. And we're excited to offer this book to you for FREE as an eBook today.
Click on the link below to get instant access to your FREE Family Discipleship eBook now!