In response to four recent videos showing representatives of Planned Parenthood (PP)and their associates engaging in activities related to the sale of fetal body parts, a group of liberal clergy members have rushed to the company's defense.
The Planned Parenthood Clergy Advocacy Board released a statement on Wednesday denouncing the videos and claiming that, "People who work for Planned Parenthood give care and respect to those in need, doing God's work. For this we are grateful."
That some clergy from denominations such as the United Church of Christ, Episcopal Church, and American Baptist Churches would turn a blind eye to the sale of body parts from children slaughtered in the womb is not surprising. Almost all mainline denominations officially support unrestricted access to abortion.
But these ministerial shills have the audacity to frame their support for America's largest abortion provider as a defense of women. Their kneejerk support for Planned Parenthood reveals a willful ignorance of one of the most anti-woman organizations in America.
Because the ministers of the Planned Parenthood Clergy Advocacy Board don't care about defending the most vulnerable humans—those in the womb—it's not surprising they shrug at the horrors revealed in the four videos produced by the Center for Medical Progress. But how do they dismiss the following four videos which provide a sample of Planned Parenthood's established pattern of harming women?
Cover-up of Sexual Abuse of Minors
Over the past ten years, there has been extensive documentation of Planned Parenthood covering up statutory rape. In this undercover video, Lila Rose poses as a 14-year-old girl who is pregnant by a 31-year-old man. The staffer counsels Rose to lie to a judge about her boyfriend's age in order to bypass parental notification laws. The PP rep admits that she should report the abuse, but chooses to violate the law by saying "I'm not gonna tell anybody, okay."
Altogether, Rose found eight Planned Parenthood clinics in five different states that were willing to cover-up sexual abuse and disregard mandatory suspected statutory rape reporting laws. Several clinics also provided instructions on how to circumvent parental consent laws.
Other investigations have uncovered similar results. In 2002, the Traditional Values Coalition recorded over a hundred phone calls to Planned Parenthood clinics in California in which the organization offerred to cover-up statutory rape.
Lying to Women About Healthcare and Abortions
When people work for a company that kills children you shouldn't expect them to be exemplars of honesty and integrity. The executives at Planned Parenthood, along with their defenders, constantly misrepresent the actions of their business in order to deceive politicians, the media, and the American public. A prime example is when the president of PP claimed that defunding of the company would cause millions of women to lose access to mammograms. This falsehood was even repeated by President Obama until it was pointed out that PP does not do mammograms.
Similarly, workers at PP clinics have repeatedly shown a willingness to lie to they women they claim to serve. In this video a PP counselor provides deceptive and medically inaccurate abortion counseling to a pregnant woman.
Complicity in Sex Trafficking
In 2011 members of the pro-life group Live Action posed as a pimp and underage prostitute and revealed to workers at Planned Parenthood that in their sex work operation, they "managed" several very young girls – 13 to 15 years old – from foreign countries. The following video, in which the PP worker tells the pimp to pose at the underage sex slave's "guardian", is an example of the reaction they received.
Live Action's investigation revealed seven facilities in four different states willing to aid and abet the trafficking of minor girls by supplying confidential birth control, STD testing, and secret abortions to underage girls and their traffickers.
Targeting of Baby Girls Through Sex-Selective Abortions
There are few policies more anti-woman than targeting the next generation of females for destruction. Yet Planned Parenthood not only willingly engages in sex-selective abortions that kill female babies in the womb, they coach women about how to go about it more effectively. In this video a PP worker tells a girl that she should get on Medicaid in order to pay for an ultrasound to determine the sex of the baby. She also encourages her to continue with the pregnancy until near the five month mark so that the sex of the baby can be clearly established before an abortion is performed.
These types of anti-woman actions by Planned Parenthood have been going for more than 80 years. And for decades your tax dollars have been going to fund this operation that kills children and harms women.
As long as Christians continue to support pro-abortion politicians, preventing Planned Parenthood from getting taxpayer funding will be nearly impossible. But we can still let our elected representatives know how we feel about our money going to fund this operation and urge them to take legislative action. See Justin Taylor's article for instructions on how to contact your legislators and a sample letter urging them to please support S.1881: Bill to Defund Planned Parenthood.
In a season of sorrow? This FREE eBook will guide you in biblical lament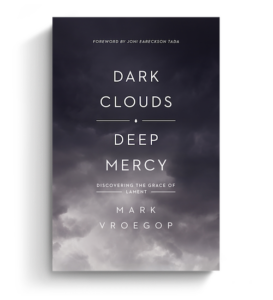 Lament is how we bring our sorrow to God—but it is a neglected dimension of the Christian life for many Christians today. We need to recover the practice of honest spiritual struggle that gives us permission to vocalize our pain and wrestle with our sorrow.
In Dark Clouds, Deep Mercy, pastor and TGC Council member Mark Vroegop explores how the Bible—through the psalms of lament and the book of Lamentations—gives voice to our pain. He invites readers to grieve, struggle, and tap into the rich reservoir of grace and mercy God offers in the darkest moments of our lives.
Click on the link below to get instant access to your FREE Dark Clouds, Deep Mercy eBook now!