I had no idea. I mean, the first pastor I served under was a jolly old elf who loved Christmas like the best of them. He had an undeniable joy that he wanted his church to reflect during Advent. Being a fellow comrade-in-arms of all things Christmas, I assumed all pastors were like him—and by that I mean like Ebeneezer Scrooge on the morning after his ghost visitations. In my yuletide naïvety, I held my fellow men of the cloth in the same esteem I held Mr. Grinch after the Whos in Whoville had melted his heart, and he sat merrily serving generous helpings of roast beast.
Little did I know how wrong I was. As my areas of influence and friendship among pastors have widened over the years, I've been increasingly disappointed to find that many not only are lukewarm to Christmas, but have even developed an outright disdain for it. Christmastime seems to bring exasperated groans, cynical smirks, and Grinch-like eye-rolls.
But isn't Christmas supposed to be a pinnacle of the church year? Isn't it about light dawning in the darkness, and angel choirs ushering in peace for those whom God loves? Isn't it that peculiar time of year when you hear "to save us all from Satan's power while we were gone astray" played in Starbucks, Linus preaching Luke 2 on network television, and scores of unbelievers attending Christmas services to hear the gospel proclaimed? What's not to love?
Santa-Sized Pressures
Yet even as the merriest proponent of all things Christmas, I'm not immune to the pressures it brings to the pastor. Some of you, depending on your context, are faced with a massive increase of social obligations and an overload of service planning—and you have a Christmas ham's worth of anxiety to prove it. For others, Christmas has become a false and commercial festival that sparks increasing frustration each year as you see your sheep sucked into the vortex of materialism.
A common theme I hear from pastors is that Christmas feels stale and repetitious, having something they need to get through so they can return to the regular ebb and flow of ministry life. Do I really have to prepare another sermon about angels, peace and goodwill to men, or how the manger story isn't what everyone thinks it is?
If this sounds like you, pastor, I want to encourage you to do more than simply get through another December with dislike dancing in your heart. Since you've been making lists and checking them twice, here's another one to help you steal Christmas back from the joyless drudgery it may have become.
1. Put the Christ back in your Christmas.
Don't roll your eyes; I'm not being snarky. And I'm not talking about casting Isaiah-level judgment on the world for not keeping a holiday they don't believe in. I'm talking about you. It's easy to grow cynical from all the Christless Christmassing happening around you, but why let the world steal Christ from your Christmas? Have you become inoculated to the humble glory of the incarnation? Perhaps it's time to reorient your thoughts around the astonishing revelation of the Messiah's birth.
Why not compile a list of Christmas hymns by your favorite artists, and ponder the depths many of these lyrics reflect so profoundly? Maybe work your way through an Advent devotional with your spouse or child and discuss the rich and astonishing surroundings of Christ's birth. Are you an Elf on the Shelfer? Let that creepy guy send your kid on mission with ways to serve the neighborhood.
2. Let Christmas reshape your routine.
Does it bother you that the Christmas season hijacks your day-to-day routines? If you're like most pastors I know, you're annoyed that the season's demands cause "real ministry" to come shrieking to a halt.
Why not take control of your calendar, say no to some good things, and create a rhythm that's different than the rest of the year? Use your time of personal prayer, study, and meditation to focus on the unique beauty of the Advent story—the light of God piercing the darkness of man with breathtaking wonder and down-to-earth grace. This renewed sense of awe could be precisely how God prepares your soul for the coming ministry year.
3. Become a herald for Christmas joy.
Reject Christmas cynicism by proclaiming Christ with your mouth. Be a happy herald for his birth. It's fine if all the holly jolly embellishments aren't your thing. But don't let the commercial trappings obscure the miracle of your Savior's birth. Instead, use this time as an easy onramp to talk openly about the gospel to others and to yourself.
So defend your joy, guard your hope, and replenish your affections. It's not too late to take Christmas back, and allow the Holy Spirit to humble your three-sizes-too-small-heart so it beats with joy over Christ's death-destroying birth.
Get your FREE 7-day devotional!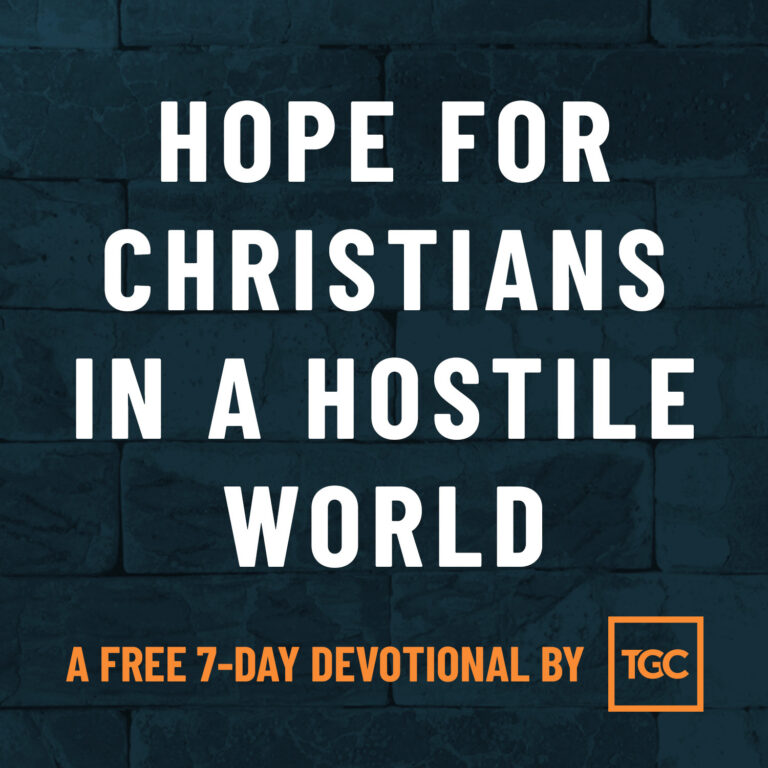 God's people have always been strangers and sojourners in this world. Do you feel that way, too?
You're not alone. Since the church's beginnings, Christians have often felt ostracized. And the Bible offers great encouragement for how to live with hope.
If you're feeling the weight of cultural exile today, our new 7-day devotional, Hope for Christians in a Hostile World, will encourage you.
If you sign up for this FREE resource, we'll send you an email each day for a week with a daily devotional featuring Bible readings and reflections written by TGC staff and friends.