There has been no shortage of discussion and debate on the results of the latest Pew Research survey on the changing religious composition of the United States. Most researchers agree the data shows that Christianity as an identity is declining while confessional evangelicalism is either holding steady or increasing. While the number-crunchers debate the health of evangelicalism, we can all clearly see that secularism is on the rise. The old social compact that saw Christianity as good for the common good has been broken. While evangelical Christianity might continue to grow as Christ builds his church, it will also start to look even stranger to the rest of the world.
Much has been written about what this trend means for the shape of our public witness, but we haven't given enough thought to what it might mean for personal evangelism. Here are three ways I think our evangelism strategies will change in a post-Christian age.
1. We need to assume less about people's biblical literacy.
Many of our evangelism methods over the last several decades assumed an essentially Protestant or Roman Catholic understanding. Evangelism pursued a contrast between a works-based dependence on religion and a grace-based faith in the finished work of Christ. Evangelists could skip much of the Christian story and get right to a few verses in the Gospel of John or in Romans and clear up confusion about the biblical gospel. This may be why methods such as Evangelism Explosion or the Romans Road or the Four Spiritual Laws were so effective.
In a secularized society, though, core Christian beliefs can't be assumed. We must still preach justification by faith through the death and resurrection of Christ, but we may start in Genesis rather than Romans. Increasingly, the people to whom we are delivering the gospel will not be former Roman Catholic altar boys or lapsed Lutherans, but people for whom the entire Christian story is foreign. Before we tell them what Paul says about their sin, we my need to tell them what sin is and why Paul matters.
In some ways this change is freeing. It allows us to do what we should have been doing all along: retelling the entire Bible's whole story, from creation to fall to redemption to consummation. In a sense, a whole-Bible, one-story gospel releases us from the temptation to close the deal and produce fake conversions or offer a kind of fire insurance that doesn't truly save. Secularists aren't interested in insurance from a fire that they don't believe in.
2. We need to allow time for gospel truths to take root.
As the shape of our evangelism changes, so must our expectations. The timeframe from presentation to conversion is often shorter for those who can connect the divine dots than for someone for whom the gospel story is brand new.
The Holy Spirit will still do miraculous things in our day. However, the experience of seeing masses of nominally religious people read gospel tracts and fall on their knees in repentance might be less common than in days past. Our mission in a post-Christian society may look less like that of Billy Graham and D. L. Moody and more like that of William Carey, who waited seven years before he saw his first convert in India.
This kind of ministry will take patience and trust in the Holy Spirit's work. It will take pastors who understand the times (1 Chron. 12:32) and prepare Christians for gospel witness in a post-Christian reality. Evangelism strategies will center less around "closing the deal" and more on long-term, intentional relationship building.
3. We need to commit to long-term, committed, relationships with unbelievers.
A model of evangelism that looks at unbelievers as "projects" becomes even less effective when drive-by gospel proclamation no longer works. Evangelicals need to recover the idea of friendship, purposely and intentionally building relationships with unbelievers that are genuine, normal, and life-giving.
This isn't "relational evangelism" that avoids conversations about the gospel. It requires we share the gospel even more, because Christianity is not that thing we only do on Thursday nights, it's a way of life. We don't just speak of Jesus in a forced way in order to check it off our list; we speak the gospel in a natural way because our life is hid with Christ in God. We become like Peter and John, who said to the religious authorities in Jerusalem, "We can't help but speak of what we have seen and heard" (Acts 4:19-20).
Two Challenges
Our changing environment challenges us in two ways. First, we should be motivated, afresh, to pursue Christ in such a way that our love for him overflows into every area of our lives. It was said of the apostles, by their enemies, "They recognized them as men who had been with Jesus" (Acts 4:13). Would it be said about us, from our Muslim or Buddhist or Mormon or secularist neighbors, "It is evident that they have been with Jesus"? Gospel proclamation must flow out of a gospel lifestyle.
Second, this trend should motivate us to intentionally seek out friendships with people who are not like us, who live and work in our spheres of influence. We are the ones God is sending to declare to them the good news of the gospel. There are no others. And if we take this commission seriously, we'll intentionally die to ourselves and live for others by developing long-term relationships. We nurture friendships with people who are not like us, not in a way that sees people as projects to be crossed off a list, but as people created in the image of God. We embed ourselves in our communities in a way that helps communities flourish by our presence. These acts not only fulfill our creation mandate and demonstrate what the kingdom will look like in full, but they also place us as ambassadors of reconciliation in the lives of the people God plans to save.
Our day is not a time for hand-wringing or false nostalgia about by-gone days. Instead, like every generation of the church, we embrace our mission with joy, knowing that God has not called us to minister to the culture we want, but the culture that is.
Get a FREE eBook to strengthen your family discipleship!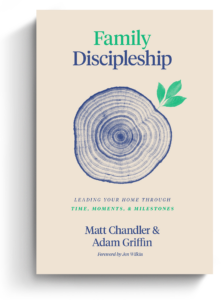 The back-to-school season is stressful for moms and dads. New rhythms of school, sports, and other extracurricular activities can quickly fill up a family's already busy calendar. Where do busy parents look for resources on discipling their family well? Aside from prioritizing church, what else can Christian parents do to instill healthy spiritual habits in their household?
Matt Chandler and Adam Griffin cover these questions and more in Family Discipleship: Leading Your Home through Time, Moments, and Milestones. And we're excited to offer this book to you for FREE as an eBook today.
Click on the link below to get instant access to your FREE Family Discipleship eBook now!