The legacy of the Protestant Reformation—marking its 500th anniversary this month—has echoed down through the centuries in almost every area of life. But what about the movies? Where has the story and spirit of Protestantism been seen on screen?
Though there have been countless films with Protestant characters (sadly, often villains), a handful of movies about Martin Luther, and at least one recent documentary on Calvinism, what films have captured well, if less directly, the best parts of Protestantism?
I asked a handful of Christian film writers and scholars to consider this question and suggest films that seem either overtly Protestant or which provide a compelling picture of a Protestant principle, particularly sola gratia—the notion that salvation comes not by works but through the unmerited gift of grace.
Here are 20 we came up with: films that may not be "religious" but nevertheless spark theological reflection and speak to the Reformation's big ideas:
Ordet (Carl Theodor Dreyer, 1955): Shot in a slow, minimalist visual style that echoes the spare landscape, stern piety, and repressed emotions of its rural Denmark setting, Dreyer's film is demanding but worth the effort. Ordet (Danish for "The Word") visualizes the central Protestant idea that salvation consists in having a personal relationship with Jesus, not merely being a member of the "right" religious institution. Every Christian individual is called to devote his or her entire life to the radical pursuit of Christ, and Dreyer reminds us just how "insane"—indeed, how miraculous—such scandalous personal faith is bound to appear, even in a so-called "Christian culture." [Watch on Filmstruck] — John McAteer (Ashford University)
Chariots of Fire (Hugh Hudson, 1981): I am writing this film description from the town of St. Andrews, the location in Scotland of the iconic opening beach scene. The birthplace of golf, it's also the town where Protestant Reformer John Knox preached some of his first sermons at Holy Trinity Church. Chariots of Fire embodies this Christian conviction through the faith of Olympic runner and Church of Scotland missionary Eric Liddell (Ian Charleson). Eric sees his running abilities as a gracious gift from God, his devout faith shining through in every step of every race. [Watch on Amazon] — Joel Mayward (CineMayward.com; @JoelMayward)
Babette's Feast (Gabriel Axel, 1987): Gabriel Axel's elegantly crafted drama, based on an anecdote by Isak Dinesen, tells the story of a French refugee (Stéphane Audran) living in a quaint Danish village toward the end of the 19th century, and how she becomes an unlikely agent of grace through the preparation of a lavish meal laid out for the stiffly religious townsfolk. The final sequence, in which old grievances give way to forgiveness and reconciliation, allows the viewer to see the wisdom and beauty of a previously hidden design, suggesting the presence of the divine amid the mundanities of material existence. [Watch on Amazon] — Nathaniel Bell (Azusa Pacific University)
Le Fils (The Son) (Luc and Jean-Pierre Dardenne, 2002): Belgian filmmaker brothers Jean-Pierre and Luc Dardenne have crafted an affecting cinematic parable of radical grace. Olivier (Olivier Gourmet) is a carpenter who takes a new teenage apprentice (Morgan Marinne) under his tutelage, albeit with hesitation and strange behaviors. The audience is left in suspense about Olivier's dubious motives until the final cathartic scene bursts forth with a violent mercy. Filmed with an intense realism, Le Fils resists convention and confounds audience expectations, yet offers great rewards for those with eyes to see and ears to hear. [Buy on Amazon] — Joel Mayward (Cinemayward.com; @JoelMayward)
The Return (Andrey Zvyagintsev, 2003): At one point in The Return—a Russian film about the complexities of father-son love—young Ivan (Ivan Dobronravov) asks his absentee father (Konstantin Lavronenko), through tears: "Why did you come back? You don't need us." The father's answer? "I want to be with you." The pursuit of the father toward his children is the heart of this film, which is rich with Christian symbolism. The father breaks bread and pours wine for them at supper, spends time with them on fishing boats and beach campfires, and runs after them when they rebel. Though his mercy is at times severe, it is always motivated by love. [Watch on Amazon] — Brett McCracken (@BrettMcCracken)
Sophie Scholl: The Final Days (Marc Rothemund, 2005): Few films incarnate the rabble-rousing spirit of the Reformation as well as Marc Rothemund's Sophie Scholl: The Final Days, a 20th-century story that would justly fit in Foxe's Book of Martyrs. Detailing the last days of a 21-year-old member of the anti-Nazi German resistance movement, the film is a profoundly moving narrative of faith and courage in the face of persecution—and the ways God uses unlikely sources as lodestars of truth. This is faith-based filmmaking at its finest. [Watch on YouTube] — David Kern (@DaKern)
Secret Sunshine (Lee Chang-dong, 2007): Korean filmmaker Lee Chang-dong's brutal, tragic drama follows a grief-stricken woman who finds solace in evangelical Christianity. One scene stands out as a jarring picture of the offense of grace. Shin-ae (Do-yeon Jeon) visits her son's killer in prison with hopes to forgive him, face-to-face. She is shocked to learn, however, that he has become a believer in prison and accepted God's grace. "God . . . has forgiven your sins?" she mutters in horror. "Yes," he replies, "And my repentance and absolution have brought me peace." Shin-ae, like so many others, can't handle the scandal of this grace: only God's to give, and as freely available to a murderer as to his innocent victim. [Watch on iTunes] — Brett McCracken (@BrettMcCracken)
The Road (John Hillcoat, 2009): The film adaption of Cormac McCarthy's 2006 novel understands total depravity well. Its gray, ashen, post-apocalyptic landscape is savage and bleak. But within its debased, dog-eat-dog world, a father (Viggo Mortensen) and son (Kodi Smit-McPhee) experience mercy, grace, selfless love, and sacrifice—both modeling it and, more importantly, receiving it with gratitude. [Watch on Netflix] — Brett McCracken (@BrettMcCracken)
True Grit (Joel and Ethan Coen, 2010): I mostly consider Joel and Ethan Coen to be Old Testament filmmakers, but they tiptoe toward the New with this remake of a John Wayne Western about an alcoholic U.S. marshal (Jeff Bridges) hired by a young girl (Hailee Steinfeld) to capture the man who murdered her father. It's a misguided mission of revenge, but one that's continually countered by the literal strains of one of the great Solus Christus hymns: "Leaning on the Everlasting Arms." [Watch on Amazon] — Josh Larsen (Think Christian/Filmspotting)
The Interrupters (Steve James, 2011): What we "deserve" no longer matters if we're saved by grace alone. That truth is enacted in this stirring documentary about a Chicago crime-intervention program. In confronting a troubled teen with a message of reconciliation rather than handcuffs, one of the film's "violence interrupters" asks her: "Do you want to be loved? Absolutely. Do you deserve to be loved? Absolutely." In other words, God's love is offered even to her, no matter what she has or hasn't done. [Watch on Amazon] — Josh Larsen (Think Christian/Filmspotting)
The Mill and the Cross (Lech Majewski, 2011): This gorgeous and gritty film by Polish filmmaker Lech Majewski is a 95-minute walk through Christ's passion via the dozens of characters in Pieter Bruegel's 16th-century painting "The Way to Calvary." Bruegel's painting depicts the brutal Spanish repression of the Reformation in the Netherlands. In the film as in the painting, Christ's crucifixion is carried out by Spanish troops, though the film never shows Jesus's face. "They all look at Simon," who is helping to carry the cross, "not at the Savior," Bruegel says in the film. [Watch on Tubi TV or iTunes] — Emily Belz (World Magazine)
The Tree of Life (Terrence Malick, 2011): At the center of Malick's masterpiece is the semi-autobiographical story of his difficult relationship with his strict father (Brad Pitt) growing up in 1950s Texas. Drawing thematically and structurally in equal measure from the Book of Job and Augustine's Confessions, Malick takes this small coming-of-age story and embeds it in a cosmic context extending from creation to the eschaton, revealing the ultimate significance of every individual's life and teaching us to see the glory of God at work in natural beauty, in our everyday lives, and even in the midst of our suffering. [Watch on Amazon] — John McAteer (Ashford University)
The Kid With a Bike (Luc and Jean-Pierre Dardenne, 2012): This gritty slice of social realism from the Belgian Dardenne brothers (Jean-Pierre and Luc) centers on a preadolescent boy (Thomas Doret) who longs for his absentee father, and his relationship with the hairdresser (Cécile de France) who becomes his advocate and protector. The Dardennes steep the action so thoroughly in the physical realities of the situation that when grace manifests itself in the form of abundant, unexpected love, it seems to invade the film like a heavenly visitation. [Watch on Amazon] — Nathaniel Bell (Azusa Pacific University)
All is Lost (J. C. Chandor, 2013): This "survival at sea" thriller finds Robert Redford alone and lost in the Indian Ocean when his yacht starts taking on water. Until its final seconds, the film is a visceral portrait of a lost man using all the wits, grit, and strength he can muster to try and save himself. But will that be enough? Or will his salvation, in the end, come from outside himself? [Watch on Amazon] — Brett McCracken (@BrettMcCracken)
Captain Phillips (Paul Greengrass, 2013): A metaphor for the helplessness we must feel before we can accept God's unearned grace, Captain Phillips stars Tom Hanks as the real-life captain of a container ship hijacked in 2009 by Somali pirates. Phillips tries to regain control, but in the end salvation comes from completely outside himself. C. S. Lewis once acknowledged that "we are born helpless." Sometimes we need to be as broken down as Phillips is by the end of the film to admit it. [Watch on Amazon] — Josh Larsen (Think Christian/Filmspotting)
Short Term 12 (Destin Daniel Cretton, 2013): Short Term 12 is one of those movies that gets to the very heart of God—whether it realizes it or not—and pushes us to do the same. The film follows Grace (Brie Larson), whose name seems no coincidence, in her job supervising a group home for troubled teens and foster youth. Though the stories of its characters are raw and heavy, Short Term 12 is marked more by joy and hope than sadness and cynicism. With an emphasis on showing love and mercy to the least of these, the film moves the viewer toward a Christian vision of compassion and sacrifice. [Watch on Amazon] — David Roark (@DavidRoark)
The Overnighters (Jesse Moss, 2014): Ostensibly The Overnighters is a classic American gold rush story, a documentary about the fracking boom in North Dakota. But the central character is Jay Reinke, pastor of a Missouri Synod Lutheran Church in Williston, North Dakota, whose church opens its doors to the homeless, family-less ex-cons and drug addicts flooding the town. The film reflects on both the ex-cons and pastor's need for grace and forgiveness. [Watch on Netflix or Tubi TV] — Emily Belz (World Magazine)
Selma (Ava DuVernay, 2014): DuVernay's film is not just about the Protestant icon Rev. Martin Luther King, Jr. (David Oyelowo) and the attack on his peaceful march, but also about how, in God's kingdom, weak is strong, down is up, and what looks like death is life. One scene really sticks: King is in a morgue to see the family of Jimmie Lee Jackson—a peaceful protester killed by state troopers in 1965. King greets Jackson's grandfather with several moments of silence. "There are no words," King says at last. "But I can tell you one thing for certain. God was the first to cry for your boy." [Watch on iTunes or Amazon] — Emily Belz (World Magazine)
Arrival (Denis Villeneuve, 2016): In what seems initially like just another alien invasion blockbuster, Arrival turns out to be deeply affecting, profoundly theological and probably the most Calvinist sci-fi film of all time. In addition to wrestling with suffering, foreknowledge, free will, and God's sovereignty, Arrival presents a beautiful image of the incarnation. All of these heady ideas are presented in a spirit of epistemic humility: we don't and can't know everything, but we can recognize a gift when we see one. [Watch on Amazon or Redbox] — Brett McCracken (@BrettMcCracken)
Silence (Martin Scorsese, 2017): Martin Scorsese's brutal yet beautiful adaptation of Shusaku Endo's celebrated 1966 novel marks an exploration of surprising, scandalous grace. A meditation on suffering, doubt, and apostasy, the film tells the story of two Jesuit priests (Andrew Garfield and Adam Driver) who enter the persecution of 17th-century Japan while seeking to locate their mentor. Even in a world filled with strict Catholic rule and ritual, Silence presses into the faithfulness of God—his unending, unchangeable love—despite the faithlessness of His people. [Watch on Amazon] — David Roark (@DavidRoark)
Get a FREE eBook to strengthen your family discipleship!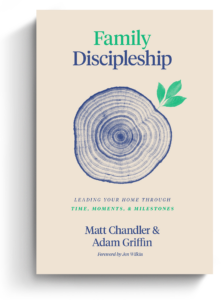 The back-to-school season is stressful for moms and dads. New rhythms of school, sports, and other extracurricular activities can quickly fill up a family's already busy calendar. Where do busy parents look for resources on discipling their family well? Aside from prioritizing church, what else can Christian parents do to instill healthy spiritual habits in their household?
Matt Chandler and Adam Griffin cover these questions and more in Family Discipleship: Leading Your Home through Time, Moments, and Milestones. And we're excited to offer this book to you for FREE as an eBook today.
Click on the link below to get instant access to your FREE Family Discipleship eBook now!